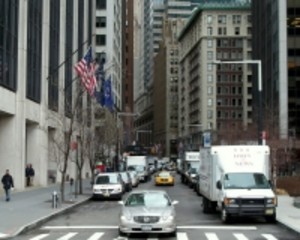 Volatility is rampant in global markets, and no one can settle or calm it. I looked back over the largest moves up and down and they all occurred around the sell offs in 1987, 2008, 2012, and this one. I look this morning and China attempted to smooth volatility via circuit breakers and market adjustments — and it is not working. It never works in free-trading, free-floating markets.
The US Markets made a top, pulled back to the first deviation support, and got a relief rally. The reason they are volatile is because they are going lower for the next two years and investors (both retail and pro's) have not accepted this. The investing world isn't sure if they are getting a bargain at discounted prices, or should be selling and running for the door. This defines volatility.
US markets will have a rough go of it for the next 2-3 years, and few traders, portfolio managers, or retail investors have seen a shift in the secular bull market. Even fewer are willing to accept markets can change in front of their eyes. Don't forget, we are in a new paradigm with Global Trading 4.0 where everything is yakked up and condensed into a 10% file. Things that used to take 30 days can now happen in 3, so I guess the logical answer is that we can expect higher levels of volatility.
Markets are trending lower. No government can stop this, not with QE3 or QE25 or silly inexperienced tweaks by the PBOC. The market is surly and snorting. The Chinese may have an iconic symbol for the year, be it a cat or a rat, but in 2015 the bull has changed into a fire breathing dragon with an iPhone, a cloud account, a fluid search engine, and regulators who have zero idea how the market operates day to day. They are at the mercy of computerized trade engines running amok. This is the Big V 2015 style with a healthy topping of social media.
Make no mistake, we are going lower and once corporate buybacks stop, we will have an elongated decline. The walk up appreciation in stocks most market participants have experienced since the bottom in 2008 appears to be over. The rally is in, and unless you are long FANG or are willing to buy Uber or AirBNB or some other Unicorn coming out of the Silicon Valley closet, you will need to be a stock picker. Most investors are not stock pickers, they are momentum players by training. So say hello to the Big V, 2015 style, and get ready to sharpen your pencil and do your homework. My suggestion is start looking at smaller stocks, because you cannot trade around mega cap volatility. Neither can most pro traders.
2015 is the year of the Fire Breathing Dragon with a big V on her chest.
DISCLOSURE: The views and opinions expressed in this article are those of the authors, and do not represent the views of equities.com. Readers should not consider statements made by the author as formal recommendations and should consult their financial advisor before making any investment decisions. To read our full disclosure, please go to: http://www.equities.com/disclaimer