The Best Reasons to Attend Berkshire Hathaway's Annual Meeting
Elizabeth Kopple Follow |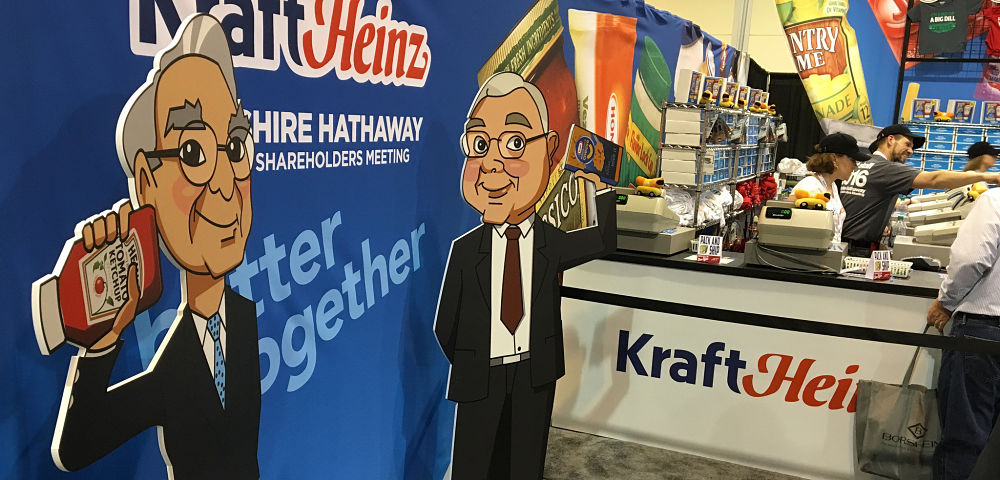 Image via Kurt Haubrich/Flickr CC
You may come for the investment advice, but you'll stay for the shopping and parties. The Berkshire Hathaway Annual Meeting is so much more than a business meeting. Berkshire's (BRK.A) yearly event is also about the networking, corporate parties, brunch, shopping and even a 5K race.
The main event is a five-hour open mic marathon meeting in the packed CenturyLink Center Omaha auditorium, which houses nearly 19,000 people. This year it will be held on Saturday, May 5, 2018.
Attendees will gather Saturday morning to hear from Chairman and CEO Warren Buffett and Vice Chairman Charlie Munger. The crowds vary greatly, from business students taking selfies to longtime investors taking notes with pencil and paper. You may also see some knitting when things get slow. The formal business meeting and shareholder vote will take place at the end of the day.
On Sunday, participants have the chance to race in the "Invest in Yourself 5K" and everyone enjoys brunch at Borsheims jewelry store.
Ready to shop? The exhibit hall in the CenturyLink Center basement is a shopping extravaganza. It's full of Berkshire Companies, all exhibiting and selling their wares. You can walk into a house made entirely of See's Candies, gorge on Dairy Queen, buy Berkie Boxers at Fruit of the Loom and score amazing deals on jewelry at the Borsheims booth. Meanwhile, Berkshire groupies can take photos with the GEICO gecko and Warren and Charlie cardboard cut-outs. It's good, clean family fun.
Then, it's time for the parties.
Investment banks and hedge funds throw parties all weekend in the neighboring hotels and restaurants. You can stroll the hallways, introduce yourself as a value investor and help yourself to a cocktail. But be aware, these folks are hardcore value investors who rarely look up from their monitors, so it's not necessarily going to be a super exciting crowd.
The weekend also boasts some closed-door events by invitation only. This year, Pinebase investor group is hosting a Friday afternoon conference and Gala dinner, and on Saturday, a lunch buffet, afternoon panel, dinner and finally cocktail party and ping pong. Sina Corp (SINA) is also hosting a dinner on Saturday evening.
Hedge fund managers attend house parties. Bankers close deals at private events. So while the meeting provides fun for all attendees, there is definitely still seriously business being done.
Warren and Charlie
Warren Buffett and Charlie Munger will typically sit at the front of the auditorium with a box of See's peanut brittle, answering audience questions all day. These questions will be fielded by journalists Becky Quick, Carol Loomis and Andrew Ross Sorkin.
Audience members hold up their notes as they nervously ask things like, "Will you give up your Coca-Cola shares if the destruction of the environment, the monopolization of the right to healthy drinking water and the shameless exploitation of the workers continue?"
The majority of questions, however, are fawning, in-depth inquiries about investment strategies, such as: "You purchased Bank of America preferred stock with a warrant…When you're looking at evaluating the decision to exercise the position—which would increase all of our entire Berkshire Holdings or the value of the Berkshire Holdings—what are you going to consider when you're looking at that?"
The Q&A with Buffett and Munger is the weekend's main attraction. Their sheer physical and mental endurance is always amazing. Buffett, 87, and Munger, 94, sit in front of a 19,000-person crowd for an entire day, save a short lunch break. Buffett is typically the straightforward man, while Munger makes all the jokes. Here are a few of Munger's quips from last year's conference:
MUNGER: I can't bring back the low-hanging fruit, Warren. You're just going to have to keep reaching for the higher branches.
On investing in Apple (AAPL):
MUNGER: I think it's a very good sign that you bought the Apple. It shows either one of two things, either you've gone crazy or you're learning. I prefer the learning explanation.
On compensation consultants:
MUNGER: Well one thing, I think, that I've avoided all my life, is compensation consultants. I hardly can find the words to express my contempt.
BUFFETT: I will say this, if the board hires a compensation consultant after I go, I will come back.
On Buffett's health:
MUNGER: All I can say is that my back hurts when I come to these functions because I want to indicate to my fellow shareholders that they probably got seven more good years to get out of Warren.
We hope the fun at Berkshire Hathaway continues for many more years.
Elizabeth Kopple is a director at Equities.
DISCLOSURE: The views and opinions expressed in this article are those of the authors, and do not represent the views of equities.com. Readers should not consider statements made by the author as formal recommendations and should consult their financial advisor before making any investment decisions. To read our full disclosure, please go to: http://www.equities.com/disclaimer
Companies