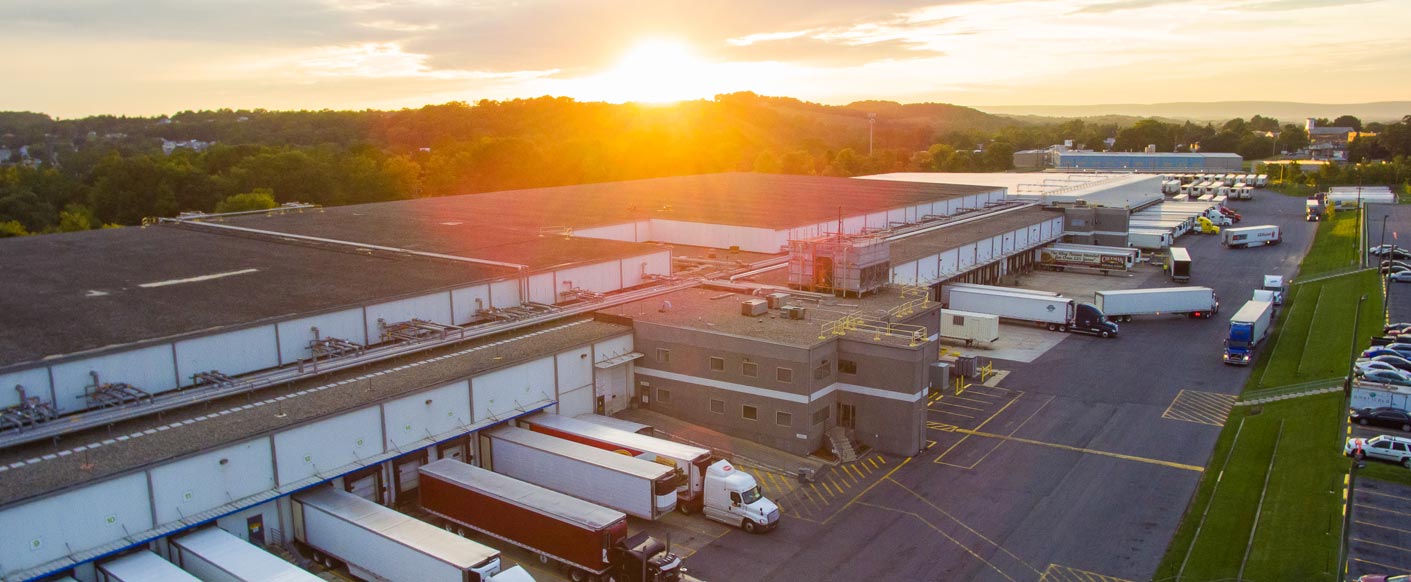 Everyone knows online shopping revolutionized how we buy clothing, electronics, and other merchandise.
Many malls across the country have closed their doors because people simply don't shop at malls like they once did. Instead they buy things online. After a few days, the things show up at their doorstep.
The media nicknamed this phenomenon the "Retail Apocalypse." And it has led to…
The "Rewiring" of American Real Estate
Amazon (AMZN) alone ships 5 billion packages a year. That's more than 13 million packages per day.
To ensure these packages make it to their destination, a whole new network of infrastructure was built out. Industrial warehouses and distribution centers form the heart of this network.
These facilities store, process, and ship the packages you order online.
You might drive by an industrial warehouse on your way to work. They're generally non-descript cement buildings, located off highways. They can stretch over a quarter mile long. And they usually have dozens of trucks docked outside.
Without these centers, online shopping would be impossible. And the stocks of companies that operate them have been great investments. Just look at the returns you could have made…
Terreno Realty (TRNO)—a company that owns a portfolio of warehouses—has surged 187% since the start of 2014.
First Industrial Realty (FR), another warehouse operator, is up 111%. Prologis (PLD) is up 117%. And Duke Realty (DRE) is up 105%. The S&P 500 rose just 67% over the same period.
If You Missed Out on This Run, It's Not Too Late
There's a second real estate transformation happening now… thanks to the boom in online grocery shopping.
In just the last five years, online grocery sales have tripled. By 2023, the market is expected to quadruple again.
It's easy to see why. Visiting the grocery store is a chore. The typical American family spends over a hundred hours a year shopping for groceries. A lot of that time is spent in the car and waiting in the checkout line.
Online shopping eliminates all that. It leaves you with more time to spend with your family, friends, and doing things you like.
This might surprise you, but…
The US Lags Behind Many Countries in Online Grocery Shopping
Last year, groceries accounted for just 1.6% of total US online sales. In China, they accounted for 3.8%. In Japan and South Korea, they accounted for 7.1% and 8.3% of total online sales.
You don't see this often. Normally, the US is a leader in tech trends. In this case, it has some catching up to do.
There's every reason to believe online grocery shopping will catch on soon in the US. The Food Marketing Institute and Nielsen predict 70% of consumers will try buying groceries online within the next four to six years. This should push grocery sales to 3.5% of total online sales by 2023.
Will Grocery Stories Disappear?
We're not necessarily headed for a "Grocery Store Apocalypse." But much like retail did, the industry will evolve.
Grocery stores will shrink because there will be fewer people walking up and down the aisles. They'll store more food and beverage offsite.
As you can imagine, regular warehouses aren't adequate for storing and processing groceries. Unlike most of the things you might buy on Amazon, groceries go bad.
A grocer can't place a frozen chicken or a bunch of broccoli in a box and mail it to you. They have to keep the food fresh.
Cold storage warehouses store frozen and fresh food before it reaches a supermarket. About 96% of frozen food stops by one of these warehouses before reaching the grocery store.
Cold storage warehouses are specialized facilities. They aren't cheap or easy to build. They require extensive piping, large HVAC systems, and a whole lot of refrigeration.
So, it's unlikely Amazon, WalMart, or any other online grocer will build their own. Instead, they'll leave cold storage to the pros.
I Like Americold Realty Trust (COLD)
Americold (COLD) is a leader in cold storage. It owns and operates 156 warehouses and about 928 million cubic feet of temperature-controlled storage.
The company has been around for decades. But it went public back in January 2018… and it's been on a tear since then, as you can see here: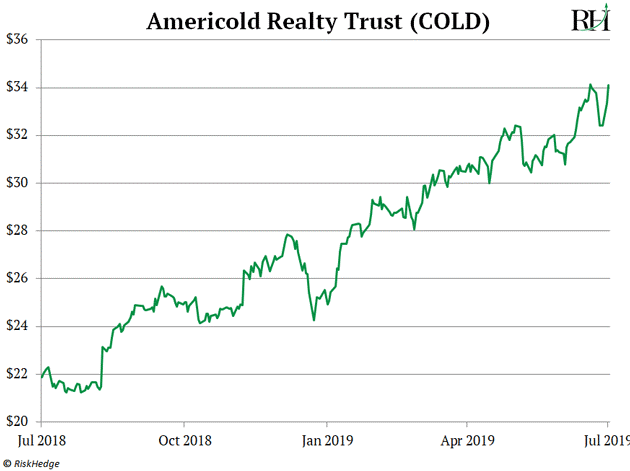 Americold's stock has rocketed 112% since its IPO. I expect it to climb much higher as online groceries catch on.
About 82% of Americold's sales come from the United States. And Americold commands a 23% market share in the US. Lineage Logistics is the only bigger player in the space, and it's private. You can't buy its stock.
Americold serves some of the biggest players in the food and beverage space. I'm talking Walmart, Kroger, Trader Joe's, and Beyond Meat.
Finally, Americold pays a 2.5% dividend. The S&P 500, for perspective, yields 1.9%.
Americold is a unique and safe way to capitalize on the emerging online grocery market. But it also offers plenty of upside. I wouldn't be surprised if its stock doubles over the next two to three years as online groceries take off.
Download our free report The Great Disruptors: 3 Breakthrough Stocks Set to Double Your Money. These stocks will hand you 100% gains as they disrupt whole industries.
Equities Contributor: Justin Spittler
Source: Equities News