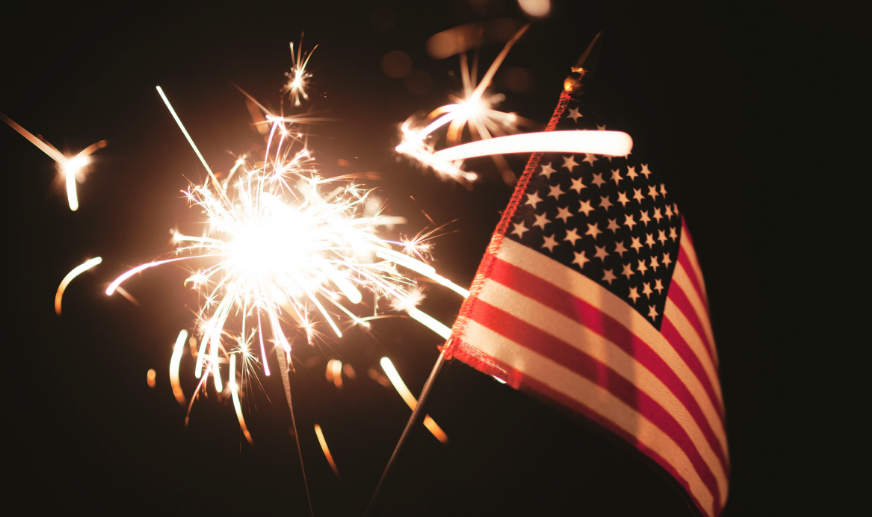 It's odd that we often refer to today's holiday as "Fourth of July" instead of Independence Day. After all, we don't call Halloween "October 31st, and most people probably don't even know off-hand that St. Patrick's Day is March 17th.
Perhaps "Independence" is too many syllables to fit comfortably into the voiceover of a mattress sale commercial, or maybe it's just too lofty a concept to consider when chomping on hot dogs and soaking up early summer sun. Whatever the reason, it's unfortunate, because unlike some widely celebrated holidays of questionable merit (I'm looking at you, Sweetest Day), Independence Day is an important holiday not just for its commemoration of a seminal moment in US history, but for the ideals that it represents. After all, I'd wager that independence, freedom, and liberty represent the best of what it has traditionally meant to be American, and further still, they're traits that have been celebrated by great thinkers, philosophers and leaders throughout history, from every region on the globe.
So, Happy Independence Day! To Americans, and those who support and strive for freedom, wherever and whomever they may be. While we all let our third helping of red, white and blue-dyed potato salad digest, let's take a moment to appreciate some of the best ever quotes on freedom and independence by America's founding fathers, and many others:
"They who can give up essential liberty to obtain a little temporary safety deserve neither liberty nor safety."
― Benjamin Franklin, Memoirs of the life & writings of Benjamin Franklin
"Freedom is not worth having if it does not include the freedom to make mistakes."
― Mahatma Gandhi
"When a man is denied the right to live the life he believes in, he has no choice but to become an outlaw."
― Nelson Mandela
"If you want total security, go to prison. There you're fed, clothed, given medical care and so on. The only thing lacking... is freedom. "
― Dwight D. Eisenhower
"If we don't believe in freedom of expression for people we despise, we don't believe in it at all."

― Noam Chomsky
"Those who deny freedom to others, deserve it not for themselves"

― Abraham Lincoln, Complete Works - Volume XII
"Better to die fighting for freedom then be a prisoner all the days of your life."

― Bob Marley
"I am an American; free born and free bred, where I acknowledge no man as my superior, except for his own worth, or as my inferior, except for his own demerit."

― Theodore Roosevelt
"I tell my students, 'When you get these jobs that you have been so brilliantly trained for, just remember that your real job is that if you are free, you need to free somebody else. If you have some power, then your job is to empower somebody else. This is not just a grab-bag candy game."

― Toni Morrison
"I predict future happiness for Americans, if they can prevent the government from wasting the labors of the people under the pretense of taking care of them."

― Thomas Jefferson
"The really important kind of freedom involves attention, and awareness, and discipline, and effort, and being able truly to care about other people and to sacrifice for them, over and over, in myriad petty little unsexy ways, every day."

― David Foster Wallace, This Is Water: Some Thoughts, Delivered on a Significant Occasion, about Living a Compassionate Life
"Freedom (n.): To ask nothing. To expect nothing. To depend on nothing."

― Ayn Rand, The Fountainhead
"True freedom is impossible without a mind made free by discipline."

― Mortimer J. Adler, How to Read a Book: The Classic Guide to Intelligent Reading"
"He who has overcome his fears will truly be free."

― Aristotle
"Of all tyrannies, a tyranny sincerely exercised for the good of its victims may be the most oppressive. It would be better to live under robber barons than under omnipotent moral busybodies. The robber baron's cruelty may sometimes sleep, his cupidity may at some point be satiated; but those who torment us for our own good will torment us without end for they do so with the approval of their own conscience."

― C.S. Lewis
"There is freedom waiting for you,

On the breezes of the sky,
And you ask "What if I fall?"
Oh but my darling,
What if you fly?"
― Erin Hanson
"Freedom is never more than one generation away from extinction. We didn't pass it to our children in the bloodstream. It must be fought for, protected, and handed on for them to do the same, or one day we will spend our sunset years telling our children and our children's children what it was once like in the United States where men were free."

― Ronald Reagan
"Don't join the book burners. Don't think you're going to conceal faults by concealing evidence that they ever existed. Don't be afraid to go in your library and read every book..."

― Dwight D. Eisenhower
"I'll walk where my own nature would be leading. It vexes me to choose another guide."

― Charlotte Brontë, Jane Eyre
"And the turtles, of course...all the turtles are free, as turtles and, maybe, all creatures should be."
― Dr. Seuss, Yertle the Turtle and Other Stories
"Freedom in capitalist society always remains about the same as it was in ancient Greek republics: Freedom for slave owners."
― Vladimir Ilyich Lenin
"Men fear thought as they fear nothing else on earth -- more than ruin, more even than death. Thought is subversive and revolutionary, destructive and terrible, thought is merciless to privilege, established institutions, and comfortable habits; thought is anarchic and lawless, indifferent to authority, careless of the well-tried wisdom of the ages. Thought looks into the pit of hell and is not afraid ... Thought is great and swift and free, the light of the world, and the chief glory of man."
― Bertrand Russell, Why Men Fight
"Freedom is not something that anybody can be given. Freedom is something people take, and people are as free as they want to be"
― James Baldwin
"I am not free while any woman is unfree, even when her shackles are very different from my own."
― Audre Lorde
"To die hating them, that was freedom."
― George Orwell, 1984
"Is life so dear, or peace so sweet, as to be purchased at the price of chains and slavery? Forbid it, Almighty God! I know not what course others may take; but as for me, give me liberty or give me death!"
― Patrick Henry
"All religions, arts and sciences are branches of the same tree. All these aspirations are directed toward ennobling man's life, lifting it from the sphere of mere physical existence and leading the individual towards freedom."
[Moral Decay (first published 1937)]"
― Albert Einstein, Out of My Later Years: The Scientist, Philosopher, and Man Portrayed Through His Own Words
"I don't have a 'side'—I'm responsible for what I say and nothing else."

― Glenn Greenwald
"Let us not seek to satisfy our thirst for freedom by drinking from the cup of bitterness and hatred."
― Martin Luther King Jr.
"Independence is a complex word in a foreign tongue. To resist occupation, whether you're a nation or merely a woman, you must understand the language of your enemy. Conquest and liberation and democracy and divorce are words that mean squat, basically, when you have hungry children and clothes to get out on the line and it looks like rain."
― Barbara Kingsolver
"The price of freedom is eternal vigilance."
― John Philpot Curran
"I am a lover of truth, a worshiper of freedom, a celebrant at the altar of language and purity and tolerance."
― Stephen Fry
"The advancement and diffusion of knowledge is the only guardian of true liberty."
― James Madison
"Free societies...are societies in motion, and with motion comes tension, dissent, friction. Free people strike sparks, and those sparks are the best evidence of freedom's existence."
― Salman Rushdie
"The most courageous act is still to think for yourself. Aloud."
― Coco Chanel
"My own sex, I hope, will excuse me, if I treat them like rational creatures, instead of flattering their fascinating graces, and viewing them as if they were in a state of perpetual childhood, unable to stand alone."
― Mary Wollstonecraft, A Vindication of the Rights of Woman
"I have not lived as a woman. I have lived as a man. I've just done what I damn well wanted to, and I've made enough money to support myself and ain't afraid of being alone."
― Katharine Hepburn
"People have only as much liberty as they have the intelligence to want and the courage to take."
― Emma Goldman
"If I follow the inclination of my nature, it is this: beggar-woman and single, far rather than queen and married."
― Elizabeth I, Collected Works
"A marriage of two independent and equally irritable intelligences seems to me reckless to the point of insanity."
― Dorothy L. Sayers, Gaudy Night
"A wise parent humors the desire for independent action, so as to become the friend and advisor when his absolute rule shall cease."
― Elizabeth Gaskell, North and South
"Conformity is the jailer of freedom and the enemy of growth."
― John F. Kennedy
"Injustice in the end produces independence."
― Voltaire
"No man is great enough or wise enough for any of us to surrender our destiny to. The only way in which anyone can lead us is to restore to us the belief in our own guidance."
― Henry Miller
"Here's what we're not taught [about the Declaration and Constitution]: Those words at the time they were written were blazingly, electrifyingly subversive. If you understand them truly now, they still are. You are not taught - and it is a disgrace that you aren't - that these men and women were radicals for liberty; that they had a vision of equality that was a slap in the face of what the rest of their world understood to be the unchanging, God-given order of nations; and that they were willing to die to make that desperate vision into a reality for people like us, whom they would never live to see. "
― Naomi Wolf, The End of America: Letter of Warning to a Young Patriot
"For it is in your power to retire into yourself whenever you choose."
― Marcus Aurelius, Meditations
"Being all equal and independent, no one ought to harm another in his life, health, liberty, or possessions."
― John Locke, Second Treatise of Government
A free bird leaps on the back of the wind
and floats downstream till the current ends
and dips his wing in the orange suns rays and dares to claim the sky.
But a bird that stalks down his narrow cage
can seldom see through his bars of rage
his wings are clipped and his feet are tied so he opens his throat to sing.
The caged bird sings with a fearful trill
of things unknown but longed for still
and his tune is heard on the distant hill
for the caged bird sings of freedom.
The free bird thinks of another breeze
and the trade winds soft through the sighing trees
and the fat worms waiting on a dawn-bright lawn and he names the sky his own.
But a caged bird stands on the grave of dreams
his shadow shouts on a nightmare scream
his wings are clipped and his feet are tied so he opens his throat to sing.
The caged bird sings with a fearful trill
of things unknown but longed for still
and his tune is heard on the distant hill
for the caged bird sings of freedom."
― Maya Angelou, The Complete Collected Poems
DISCLOSURE: The views and opinions expressed in this article are those of the authors, and do not represent the views of equities.com. Readers should not consider statements made by the author as formal recommendations and should consult their financial advisor before making any investment decisions. To read our full disclosure, please go to: http://www.equities.com/disclaimer