By Brandon Lacoff and David Nelson CFA
"The American people have been scammed…" says Representative Rashida Tlaib (D-MI). A vocal critic of the President, the Congresswoman has introduced legislation (H.R. 5252) to strike down Trump's Opportunity Zone ("OZ") program established under the 2017 Tax Cuts and Jobs Act.

Confident in his ability to succeed with such programs where others have failed, President Trump made opportunity zones a centerpiece of his State of the Union speech. The President introduced Tony Rankins, an Army veteran who suffers from post-traumatic stress syndrome and drug addiction. Now in recovery and working for a company that invests in opportunity zones, Mr. Rankins is doing carpentry and painting. The President said, "He is now a top tradesman, drug-free, reunited with his family and he is here tonight." Members of Congress stood and gave Tony a standing ovation.
There are over 8,700 opportunity zones throughout the country so it's not surprising one would fall in Representative Tlaib's own back yard. Either unaware or ambivalent, her bill to strike down the program would end a project headed by Detroit based developer The Platform, which is spearheading the effort to make-over a vacant nine-story building. The $16 million project known as Chroma will convert the formerly cold storage building to a modern 14,000-square-foot food hall on the first and second floors with co-working space on the floors above.
Representative Rashida Tlaib (D-MI)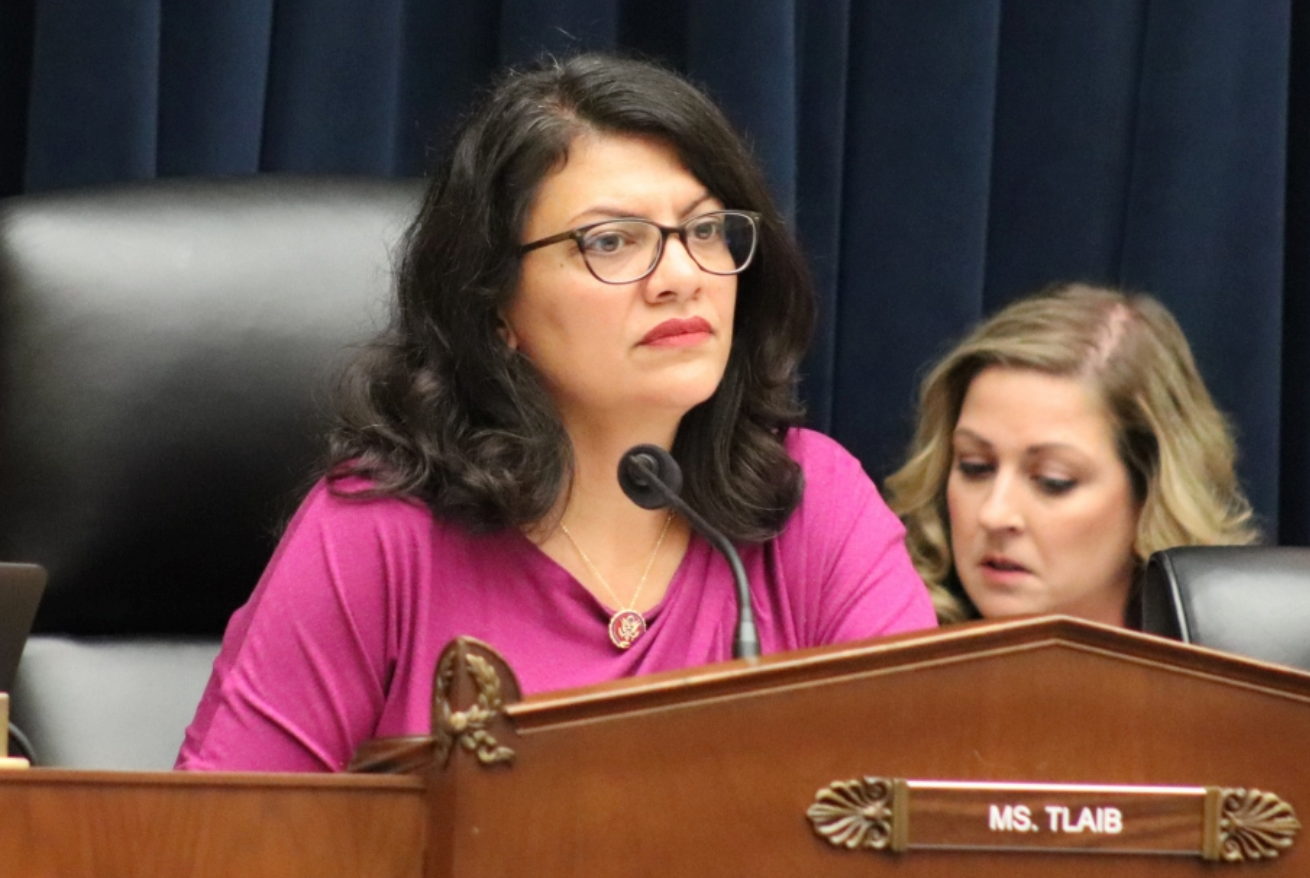 Representative Tlaib has said her district is the third poorest in the country, so this begs the question of why would she want to shut down an OZ project, pushing capital out and denying her constituents access to new facilities, not to mention the tax revenue and jobs that would follow. Average income in Michigan's 13th congressional district is just $35,000 per year. I would think any opportunity to improve that dynamic would be a priority.
To be fair, the program isn't without controversy. The Treasury Department has opened an inquiry into the program and Senator Tim Scott (R-SC) is considering a bill to let state and local governments amend census tracts chosen for opportunity zone tax breaks. Is this a threat to opportunity zones or the growing pains of an innovative program that challenges the status quo?
Before we can answer the question, let's take a step back and examine how and why the program was established as well as who it was meant to help. For decades governments at the federal, state and local levels have been trying to attract investment into economically challenged communities. There are other federal programs like New Market Tax Credits or LIHTC (Low Income Housing Tax Credits), but these often fall short because administration costs are high, with the biggest winners being lawyers and consultants.
Senator Tim Scott (R-SC)
Presented with the challenge, the Economic Innovation Group headed by co-founders Sean Parker and Steve Glickman developed the Opportunity Zone concept to attract capital to communities in need. Mr. Parker was a founder of Napster and later Facebook's first vice president. Mr. Glickman, former economic advisor to President Obama, is now CEO of Develop LLC, a firm that advises others on opportunity zone investing. Championed by Senators Cory Booker (D-NJ) and Tim Scott (R-SC), the proposal made its way into the Tax Cuts and Jobs Act of 2017.
Private capital always flows to projects that can make the best return in after tax dollars. The deferral and reduction of the original capital gain, along with the tax-free appreciation of the opportunity zone investment, was the catalyst needed to funnel investment into these communities. Used correctly, it becomes the happy marriage of capital and need.
If some of the 8,762 census tracts chosen don't meet the criteria, edging out others more deserving, whom do we blame? Ultimately the decision rests with the Governor of each state. Congress empowered governors to choose up to 25% of their state's low-income community census tracts. Additionally, to qualify, the median family income must be less than 80% of the surrounding area. The lone exception is Puerto Rico where the entire island is labeled an opportunity zone.
Opportunity Zone Map
Recent reports that some may have gamed the system pushed Congressional leaders to ask Treasury to investigate. News and media outlets were quick to pick up the controversy. Those in support of the program describe opportunity zones as lifelines to rebuild the community while critics call them tax breaks for the rich. Like most things in life the truth rarely lives on the extremes, and those interested should rely on facts rather than media spin with a political agenda.
Communities like East Chicago are hardly a playground of the rich where a vacant, contaminated industrial site on the north bank of the Grand Calumet River became the site of one of the early OZ projects. The 440-acre property will be turned into a logistics center that can service both Chicago and its international airport. In advance of the project, DuPont de Nemours, Inc. will perform a $26.6 million cleanup of the former DuPont chemical manufacturing plant. Expected to create as many as 3,000 jobs, this project highlights the potential success if this model can be repeated throughout the country.
One of the concerns often mentioned by critics is gentrification or displacement of those living in the target community. While this is a valid concern, economic deterioration and lost jobs are usually the principal cause of people leaving the community. When the jobs go, there's little reason to stay. While opportunity zone development may cause short-term displacement, the long-term benefits of new housing, new business and added jobs help strengthen the economic fabric of the community.
To date, the media has chosen to focus not on projects like those mentioned above, which are clearly providing a benefit to the community, but on any project that on the surface may look like it doesn't fit the legislative goal. Some may question the need for a designated opportunity zone in West Palm Beach, Florida, for example, which includes a super-yacht basin. Remember it's the Governor who chooses 25% of the low-income census tracts in his or her state.
Before attacking the federal program, go directly to the states and ask how the choices were made. An opportunity zone on New York City's west side or the one adjacent Central Park's east side on Fifth Avenue meets all the criteria but may have shut out other communities in the state with a bigger need for capital investment.
New government programs often go through growing pains, and investigation should be welcome. If there's something not in keeping with the spirit of the law, fix it. This may be happening already. Some cities have already lobbied to change or add zones. In response Senator Tim Scott, one of the early sponsors of opportunity zones is considering legislation that would let officials change a small percentage of tracts.
Glickman calls the current investigation par for the course. In a recent interview with Institutional Investor he said, "It's pro forma for agencies to open investigations when they receive requests from Congress." He went on to say, "I don't expect this investigation to lead to much of anything that should concern investors."
Governors had less than four months to research and nominate 25% of the low-income census tracts and address the challenge of performing community triage focusing the investment on communities that had the best chance of attracting and using the capital.
To that end, a group of GOP senators have introduced a new bill to expand reporting requirements in opportunity zones. Senator Scott, the lead sponsor of the bill, said "Reporting requirements will help show communities and investors that the initiative is working, as well as help root out any fraud or abuse." He went on to say, "This is an important piece of the puzzle to help the more than 31 million Americans living in Opportunity Zones experience a brighter future."
*David Nelson is Chief Strategist for Belpointe Asset Management and Brandon Lacoff is the CEO of Belpointe.
_____
Equities Contributor: David Nelson, CFA CMT
Source: Equities News