If your image of the financial world is that of reserved, dispassionate bankers, you must have missed the 4th Annual Global Alternative Funding Forum on Friday. Held at the stylish Century Plaza Hotel in Los Angeles, this year's conference brought together a broad spectrum of world-class FinTech innovators, next generation investors, and established authorities from Wall Street, Main Street, Washington D.C., and Silicon Valley. Any time you get so many thought leaders in the world of investing, tech and entrepreneurship together, you can expect a compelling and spirited discourse, but thanks to the recent approval of the final rules of the JOBS Act by the SEC only a week earlier, enthusiasm was particularly high at this year's forum.
After brief and humorous opening remarks by Master of Ceremonies and Journalist for the Los Angeles Business Journal and correspondent for the BBC and CNN Sandro Monetti, various experts offered their take on why we're at the precipice of a major transformation and democratization of the investing process. Early on, Vice Chairman of NASDAQ and 'Father of the JOBS Act" David Weild lamented the dramatic decline in entrepreneurship in recent years, as well as the near-death of upward mobility that is at the heart of the American Dream. Before the mood became too sober, though, Weild explained how the architects of the JOBS Act hope to change that through their legislation…and the unprecedented opportunity that it provides.
The excitement was perhaps most palpable on the Equity Crowdfunding & Reg A+ Platforms panel, moderated by Kim Kaseolonis, founder of Breakaway Funding and creator of the Community Capital Marketplace. Ms. Kaseolonis presided over a panel that included crowdfunding experts Richard Swart, PhD at UC Berkeley, and a leading crowdfunding and alternative finance researcher, as well as Founder and CEO of KoreConx Oscar A Jofre and , Partner at StartEngine Ronald D. Miller, and Equities.com's own CEO Enzo Villani.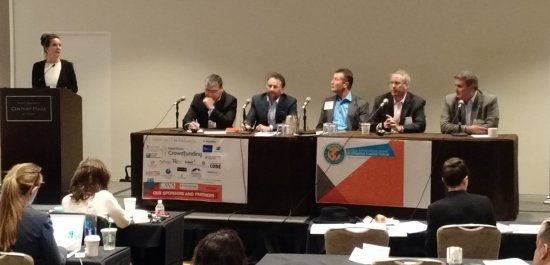 On the Equity Crowdfunding panel, Ron Miller explained what makes the Global Alternative Funding Forum perfect for individuals who are looking to take advantage of the new Title III rules. "The people at this conference are the first people to see an opportunity and do something about it," said Miller. "In this case, the opportunity is created by the JOBS Act and the new rules that will allow for this new way of capital formation for entrepreneurship to take shape. The early adopters who have shown up today will pave the way for many people who come after them looking to raise capital, create great companies, and create tens, or maybe even hundreds of thousands of great jobs for Americans."
A Vital Moment in History for Aspiring Entrepreneurs
Oscar A. Jofre further explained why the recent passing of Title III has made this year's conference so important, and why it should have many entrepreneurs quickening their pace to get a jump on competitors. Said Jofre, "Now that Title III has been released, time is of the essence. Companies have a very short window to get ready – and 'ready' doesn't just mean having your idea – you really have to be prepared. Various crowdfunding platforms are going to be doing their due diligence, so be first in line."
Jofre also had a message directly to entrepreneurs looking to take advantage of the new rules: "Get all of your documentation prepared, use the tools that are going to be made available to you to help you through that process, and enjoy the ride, because you now have access to 230 million investors in the United States. How could you not make the time and effort to do everything you can to stand out above the crowd? Because it's going to get crowded. Richard Schwartz said it best: 'There's 150,000 active crowdfunding investors, so with Title III, that number is only going to grow.'"
Perhaps it was Equities.com CEO Enzo Villani who most succinctly indicated the day's enthusiasm in his closing statements on the Equity Crowdfunding panel, in which he stated that "at the end of the day, this private market opportunity is the hugest opportunity to hit this country in many, many years. The IPO process is broken – the biggest companies can go through that process, but we need to make it easier. At the end of the day, Title III is the first step towards that, so I'm very much in support of it."
Other panels at this year's conference featured experts on topics as varied as P2P lending, Angel Investing, and even alternative currencies and artificial intelligence on one panel that had panelists arguing amongst each other in very entertaining fashion. All told, true to its title, the 4th Annual Global Alternative Funding Forum proved the perfect forum for those looking to learn about the new world of financing that today's cutting-edge technology provides, as well as an opportunity for thought-leaders to share their ideas regarding where finance will be headed in the years ahead.
DISCLOSURE: The views and opinions expressed in this article are those of the authors, and do not represent the views of equities.com. Readers should not consider statements made by the author as formal recommendations and should consult their financial advisor before making any investment decisions. To read our full disclosure, please go to: http://www.equities.com/disclaimer