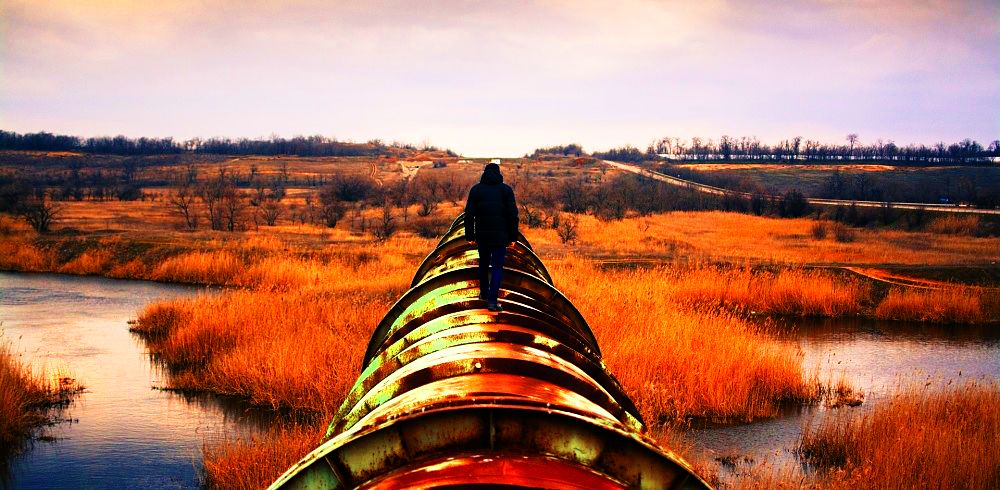 Would you rather see the ocean seabed covered in five inches of sludge killing everything it covered or LNG that will change into a gas outside its container and vaporize into the surroundings? It's funny because both scenarios involve Canadian pipelines.
Canadian Prime Minister Justin Trudeau announced October 2, 2018 the largest energy investment ever made in Canada. He was so thrilled he almost kissed the Premier that had orchestrated the downfall of the Trans Mountain Pipeline. Trudeau made the announcement several times because he liked the sound of it – the largest energy investment ever in Canada.
The deal, of course, is the $40 billion Liquid Natural Gas (LNG) pipeline and refinery in British Columbia put together by five conglomerates over 7 years in the making. The partners are Royal Dutch Shell RDS.A, Mitsubishi Corp. MUFG, Malaysian-owned Petronas, PetroChina Co. PTR and the Korean Gas Corp.
Premier Horgan of British Columbia was quick to point out, to his credit, that the project was a formidable one that included previous governments and many stakeholders.
Now, LNG has its' benefits including the cleanest burning fossil fuel and that it is part of a renewable energy plan when coupled with solar and wind. It will decrease the air pollution in Asia. Beijing will be able to see blue sky again.
It's main claim to fame is that it is a transition fuel for Asia to go from coal to other forms of fuel probably oil. Once coal is removed as the main source of power in Asia the air quality will improve and the public health will improve (mainly in China).
LNG has a very high ignition point, around 1000F, and to ignite it must be in a specific mixture of 5-15% air and gas or it simply falls to the ground and dissipates on the way. It has minimal effect on man and beasts. It's exploration on the surface has little impact on the environment unlike the Alberta Oil Sands (I prefer Tar Sands) that is a gross hole in the ground hundred of miles wide.
This LNG project will greatly benefit British Columbia to the tune of $22 billion over the next 25 years in taxes and such.
B.C. Energy Minister Michelle Mungall says LNG Canada won't derail the provincial government's greenhouse gas reductions while others say this could a greenhouse gas nightmare.
The C.D. Howe Institute released a report in August 2016 that concluded that Canada's LNG exports could reduce carbon emissions in parts of Asia, but would likely increase emissions in the majority of other potential markets.
BC will need to build a pipeline from the LNG field to the producer. This pipeline has been quietly worked on for seven years and has been approved by all sectors of government, the National Energy Board (NEB) and 25 First Nations.
The product is innocuous, is a liquid that turns to a dissipating gas when exposed to air and is shipped to foreign ports in Asia via specially constructed containers aboard specially designed tankers that have not had an accident in 50 years with over four million miles of travel.
Hmmm. That leads me to the other 'pipeline' that you may have heard of in recent news – The Trans Mountain Pipeline (TMP).Now that's another story.
The TMP had been shoved down the throats of British Columbians by Trudeau and Alberta Premier Notley and was defeated in the Supreme Court by First Nations in BC. Trudeau announced today that they would not appeal the federal court's decision but rather would reapply using all of the recommendations suggested by the court that included consultations with all stakeholders.
The case was fought and won by several First Nations in BC who are the true Stewards of our land. They treat the earth with respect. This passion gave them the patience and heart to beat the Federal government that would have made their ancestors proud.
So, it's just another pipeline, right? I'm glad you asked.
The TMP drills in the oil sands for crude bitumen that is described by the National Energy Board of Canada as "a highly viscous heavy mixture of hydrocarbons that in its natural state, is not usually recoverable at a commercial rate through a well because it is too thick to flow."
This bitumen is pumped by pipeline through pristine forests until it reaches the heart of Vancouver, loaded onto ships and sent through a very busy shipping lane to the US. Those two pipelines are like apples and oranges.
If there is an accident on the Westcoast of Vancouver Island, Washington or Oregon it will make the Exxon Valdés look like a minor spill. Bitumen kills everything forever!
Almost 30 years after the Exxon spill, about 20 acres of Prince William Sound shoreline are still contaminated with 21,000 gallons of oil. Surprisingly, the oil is just as toxic as it was right after the spill. Canada has a spill contingency fund built into their plan for the TMP that is nowhere near the $9Bn it cost to partially clean that spill.
On October 3, the B.C. government filed to register as an intervener in the National Energy Board's reconsideration of aspects of the Trans Mountain pipeline expansion. According to the CBC, "B.C. government says it will advocate for meaningful engagement with Indigenous groups and a proper assessment of the effects of increased shipping on marine life, including southern resident killer whales."
To give the TMP its due, Prime Minister Trudeau appointed a new advocate, Frank Iacobucci to try to push the pipeline through. Iacobucci is an 81-year-old former Supreme Court Justice who has vast experience working with indigenous peoples and is expected to garner a sympathetic ear in negotiations.
In an age when alternative energy sources are being demanded by consumers oil producers keep talking in terms of 'enough reserves for 100 years" – but then what?
LNG offers a solution in terms of a slower transition away from oil and coal. When will we embrace a renewable energy policy?
Gary is a Management Consultant and published author specializing in start-ups and disruptive technologies