The European Committee for Treatment and Research in Multiple Sclerosis (ECTRIMS) is world's largest professional organisation dedicated to the understanding and treatment of multiple sclerosis (MS). ECTRIM's 34th annual congress began yesterday in Berlin and continues through tomorrow. Over 1,600 scientists are scheduled to make presentations on the latest clinical and pre-clinical research in MS over the course of the three day conference that attracts 10,000 attendees from 100 countries.
New York-based TG Therapeutics TGTX announced the final results from its Phase 2 trial of ublituximab, the company's novel glycoengineered anti-CD20 monoclonal antibody, in relapsing forms of MS. The data was presented today during an oral session at ECTRIMS by Edward Fox, MD, PhD, Director of the Multiple Sclerosis Clinic of Central Texas and Clinical Associate Professor at the University of Texas Dell Medical School and the principal investigator for the Phase 2 study. The data, highlighted below, showed that ublituximab had a significantly positive effect in treatment of 48 patients with relapsing forms of MS.
An Annualized Relapse Rate (ARR) of 0.07 was observed with 93% of subjects relapse free at Week 48
Median B cell depletion was >99% at the primary analysis point of Week 4, and maintained at Week 24 and Week 48
100% of T1 Gd-enhancing lesions were eliminated at Week 24, with elimination maintained at Week 48
10.6% reduction in T2 lesion volume from baseline to Week 48
17% of patients met the criteria for 24 Week Confirmed Disability Improvement (CDI) at Week 48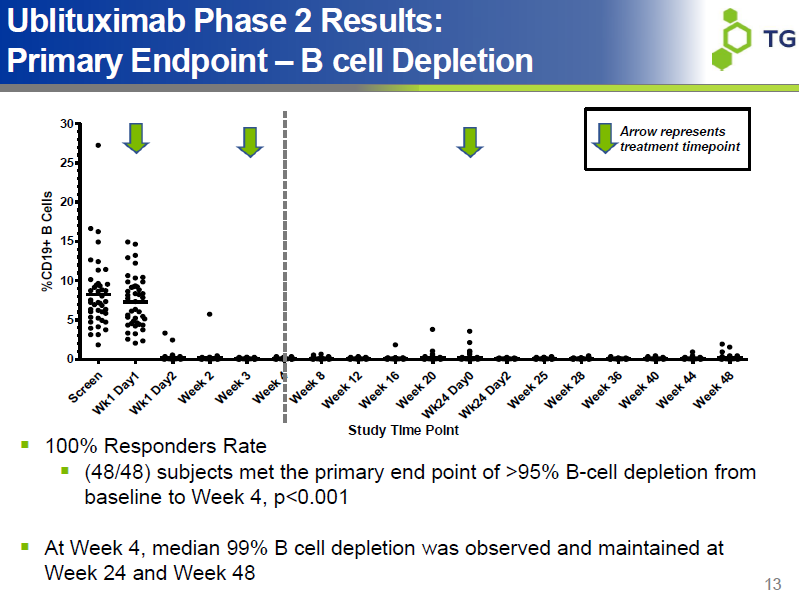 Source: TG Therapeutics
While historical efforts at defeating MS focused on T cells as the key in mediating inflammatory damage to the central nervous system, more recent work points to B cells as playing a comparably important role, as outlined by Klauss Lehmann-Horn, MD,of the Technical University of Munich et al. in a 2013 study. "With greater appreciation of this pathogenic B-cell function in MS, B-cell-directed therapies, and in particular B-cell-depleting monoclonal antibodies targeting the CD20 molecule, have gained enormous interest over recent years."
Genentech, part of Roche RHHBY, received FDA approval last year for ocrelizumab, the first anti-CD20 therapy to be approved for the treatment of MS. Roche's CEO Dr. Severin Schwan called ocrelizumab "the most successful launch in the history of Roche," generating nearly $1 billion of revenue in its first year. We note that Dr. Fox is a world-renowned MS researcher and was a clinical investigator for ocrelizumab, which makes him eminently qualified to speak to TG Therapeutics' candidate.
The final Phase 2 ublituximab data presented today is highly encouraging and further confirms the safety and efficacy seen in Multiple Sclerosis patients treated with ublituximab. It was especially interesting to see that the one hour infusion was well tolerated by patients. The approval of ocrelizumab confirmed anti- CD20's as an important part of the MS treatment paradigm and ublituximab's shorter infusion time and tolerable safety profile offer a real advantage to our patients. We look forward to the results of the ublituximab Phase 3 ULTIMATE program and advancing this important treatment option forward.

-Edward Fox, MD, PhD, Director of the Multiple Sclerosis Clinic of Central Texas and Clinical Associate Professor at the University of Texas Dell Medical School and the principal investigator for the Phase 2 study.
TG Therapeutics' shares lost more than half of their value in the month of September after the company announced that the independent Data Safety Monitoring Board (DSMB) for the Phase 3 trial of ublituximab in combination with umbralisib to treat patients with chronic lymphocytic leukemia advised that the interim analysis of Overall Response Rate could not be conducted as the data were not sufficiently mature to conduct the analysis. TG Therapeutics had been publicly optimistic about moving forward with the combination therapy on an accelerated basis, and investors reacted swiftly. The decline in the stock does seem rather severe, however, given the depth of the pipeline, and today's announcement of progress in MS may give investors reason for optimism.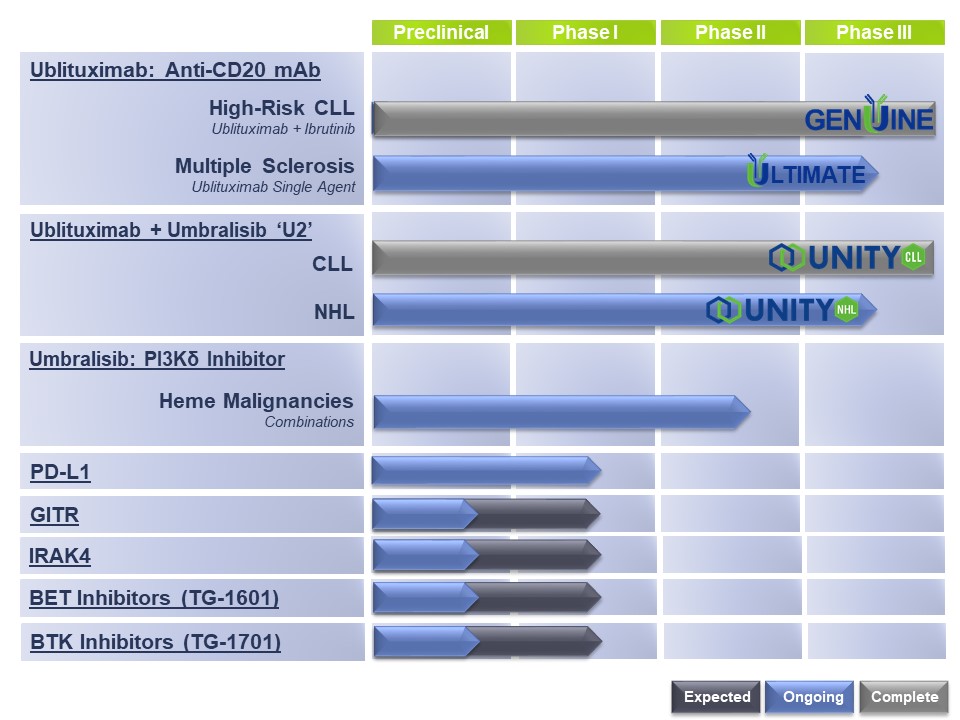 Source: TG Therapeutics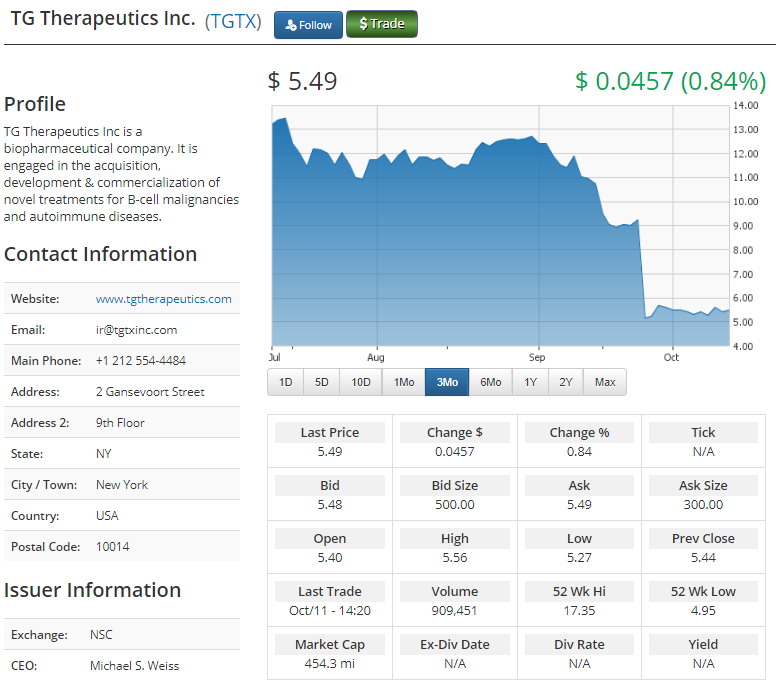 Please email us at [email protected] to see our Case Studies and Testimonials.
Please click here for information on our new trading platform.
Please click here to see our daily newsletter.