According to the American Cancer Society, non-Hodgkin lymphoma (NHL) accounts for about 4% of all cancer incidences in the US. About 74,200 people of all ages will be diagnosed with NHL in 2019, and about 20,000 will die from the disease. While people can develop NHL at any age, more than half of patients are at least 65 years old when first diagnosed. NHL begins when white blood cells called lymphocytes, critical components of the immune system, grow and multiply uncontrollably. The American Cancer Society sees an increase in NHL cases corresponding with the aging of the US population.
Cancerous lymphocytes can travel throughout the body, including to lymph nodes, spleen, bone marrow, thymus, adenoids, tonsils and digestive tract. Nearly 90% NHL cases develop in B-cells, according to Cancer Centers of America, including diffuse large B-cell lymphoma, follicular lymphoma, mantle cell lymphoma and marginal zone lymphoma (MZLs) are a group of slow-growing B-cell NHLs that form in the marginal zone of lymph tissue, accounting for about 8% of all NHL cases. The average age at diagnosis is 60 years, and it occurs slightly more frequently in women than in men. There are three different MZL subtypes: extranodal MZL of the mucosal-associated lymphoid tissue (MALT), nodal marginal zone lymphoma (NMZL) and splenic marginal zone lymphoma (SMZL).
TG Therapeutics TGTX, based in New York City, is developing therapies for patients with B-cell mediated diseases. The comapany announced today that it received Breakthrough Therapy Designation from the FDA for umbralisib in the treatment of of adults with MZL who have received at least one prior regimen of anti-CD20 therapy. (CD20 is a protein found on B-cells that serves as a tumor marker for certain types of lymphomas and leukemias.) The FDA's Breakthrough Therapy process is designed to expedite the development and review of drugs intended to treat a serious condition when preliminary clinical evidence indicates that the drug may demonstrate substantial improvement over available therapy on a clinically significant endpoint.
Umbralisib is an inhibitor of phosphoinositide 3-kinase delta (PI3K delta), an enzyme that is believed to be important in the proliferation and survival of B-cell lymphocytes.
Inhibition of PI3K delta with umbralisib has shown robust activity in numerous pre-clinical models and primary cells from patients with hematologic malignancies, and TG Therapeutics is currently investigating umbralisib in monotherapy and in multiple combination trials with the company's other lead compound, ublituximab, which we
discussed in this space in October 2018. The FDA's Breakthrough Therapy Designation was granted based on interim data from the MZL cohort of the UNITY-NHL trial evaluating umbralisib monotherapy.
The FDA has approved several PI3K inhibitors in the last five years for various lymphomas and leukemias, including Zydelig by Gilead GILD, Aliqopa by Bayer BAYRY and Copiktra by Verastem VSTM. All of these have significant side effects, however, and TG Therapeutics believes that umbralisib has superior safety characteristics in addition to favorable combinability as compared to prior generation PI3K delta inhibitors.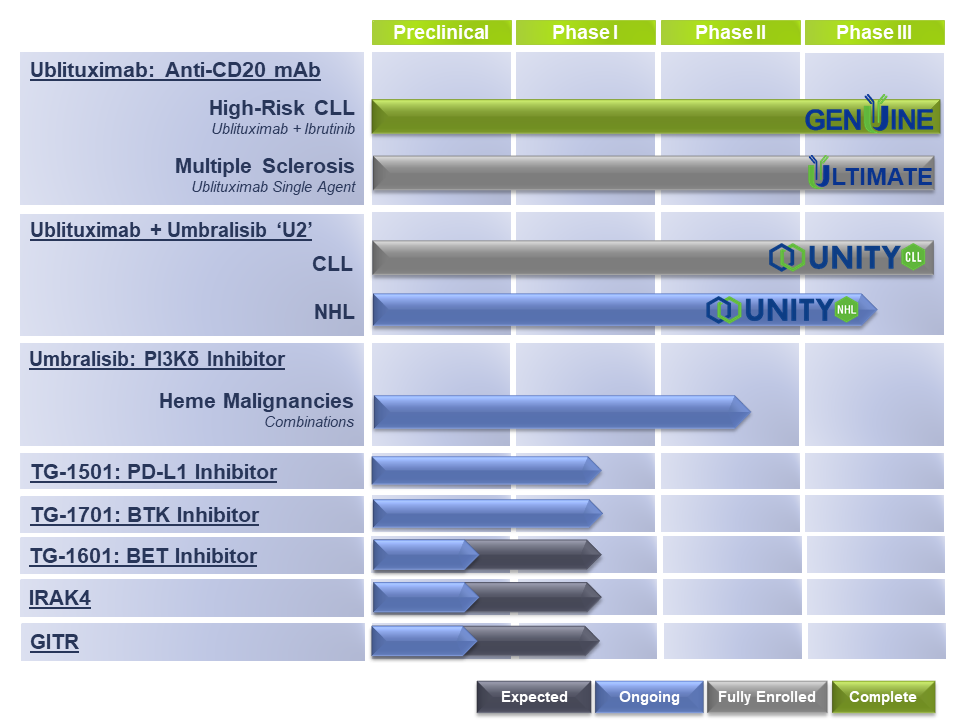 Source: TG Therapeutics
We look forward to working closely with the FDA to bring umbralisib, our novel PI3K-delta inhibitor to patients as quickly as possible. MZL patients who fail initial chemo-immunotherapy are left with limited treatment options. We believe umbralisib can play an important role in fulfilling this unmet medical need. The MZL single agent umbralisib cohort of the UNITY-NHL study is fully enrolled and we look forward to reporting top-line results from this cohort by mid-year and presenting the data at a major medical meeting in 2019.

– Michael S. Weiss, Executive Chairman, President and CEO, TG Therapeutics.
TG Therapeutics stock hasn't recovered from the September 2018 selloff after the company announced that the interim analysis of Overall Response Rate for the Phase 3 trial of ublituximab in combination with umbralisib to treat patients with chronic lymphocytic leukemia could not be conducted yet as the data were not sufficiently mature. Investors, who had been hoping for swifter progress in the combination therapy, took out their frustrations on the stock. At current prices, the company carries a market capitalization of only $362 million, which seems light given the progress that TG Therapeutics has made since the stock was trading north of $17 last spring. We think the stock may be finding its feet at these levels, and investors should keep close watch for the top-line umbralisib data expected mid 2019.
Please email us at [email protected] to see our Case Studies and Testimonials.
Please click here for information on our trading platform.
Please click here to see our daily newsletter.