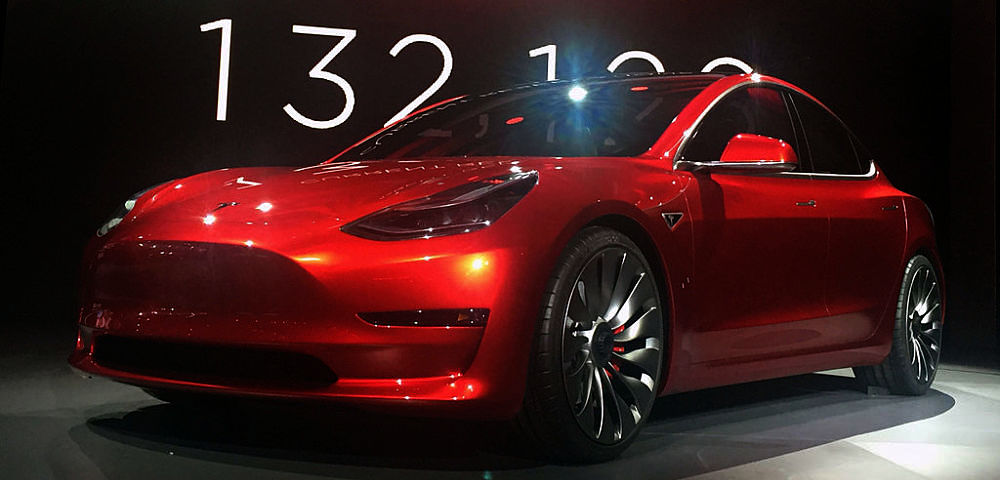 Image via Steve Jurvetson/Wikimedia
Shares of Tesla Inc. (TSLA), the electric vehicle, solar panel and storage manufacturer, rose 3.95% in mid-morning trade on Monday. The company's shares are rallying on reports from an analyst that predicts the company's stock will rise 80% on Model 3 profitability. Reports relating to the company's Model 3 have also helped boost the company's stock going into the week.
Tesla will benefit on eased trade tensions between the United States and China.
Elon Musk, the company's founder and CEO, helped boost shares further with a tweet over the weekend. Musk revealed that there will be a plan to upgrade the Model 3 series with an all-wheel drive, dual motor model that can go 0 to 60 in 3.5 seconds, hit top speeds of 155 mph and offer a 310-mile range.
He also revealed that the vehicle will beat any model in its class, claiming that the model will have a $78,000 price tag with all options except Autopilot. The vehicle's performance is also 15% faster than the BMW M3 and offers better overall handling.
Analysts claim that the Model 3 will be more profitable than investors anticipate. Price targets, according to Berenberg, have been lifted to $500. Capital efficiencies, reduced labor requirements as well as material efficiencies could push the Model 3's profit margin to 25% on the $35,000 roadster.
Tesla's stock has been held back by reports that the Model 3's production will be delayed. Rumors that the company's founder, Musk, would need to raise new capital as a result of the delays have also swirled in recent weeks.
Tesla's Model 3 uses a less-expensive electric motor than the company's Model S, which will help keep material costs lower. The Model 3's production costs will also be $3,000 less per vehicle, with labor content expected to cost $1,000 versus the $4,000+ that the Model S requires. A higher level of automation at the company's plant will help keep labor costs low.
Fears that Tesla will move away from automation in the manufacturing process have been downplayed. Analysts expect that the changes have been over-exaggerated. Tesla is also expected to remain a technology leader in the battery division, as traditional companies have shown little interest in the technology.
Musk also responded to expected reductions in delivery times for the company's Model 3 models. Responding to a tweet, he claims, "With production, 1st you need achieve target rate & then smooth out flow to achieve target cost. Shipping min cost Model 3 right away wd cause Tesla to lose money & die. Need 3 to 6 months after 5k/wk to ship $35k Tesla & live."
Tesla expects to hit the 200,000-vehicles-delivered mark in in the next few months.
Musk claims that the company intends to be profitable in the latter half of the year. He has also claimed that the company does not intend to raise more capital.
Tesla's stock is down over 13% since January 2, primarily on fears that the company will not be able to meet production promises.