Source: Tesla
Tesla's factory in Fremont, California, will not be allowed to operate during the state's three-week lockdown, according to the Sheriff's Office of Alameda County.
"Tesla is not an essential business as defined in the Alameda County Health Order," the county sheriff wrote Tuesday from its verified Twitter account. "Tesla can maintain minimum basic operations per the Alameda County Health Order."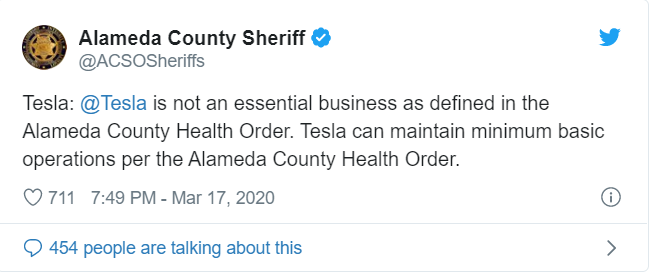 Source: Alameda County Sheriff Official Twitter Account
This news was conflicting with earlier reports that Tesla's assembly line in Fremont would be able to keep running during the "shelter in place" order. The report that the plant would stay open came from Tesla's head of North American human resources who wrote in an email to staff on Tuesday that vehicle manufacturing and energy infrastructure are critical sectors and cited the U.S. Department of Homeland Security.
On Tuesday, sheriff's spokesman Sgt. Ray Kelly said despite the report, Tesla's assembly line was not being allowed to continue working, and that the plant was only being allowed to conduct minimum operations, such as maintaining the value of inventory, ensuring security and processing payroll and employee benefits. Violations or failure to comply is punishable by fine, imprisonment, or both.
The plant is critical to Tesla's production as the site employs more than 10,000 workers and recorded annualized production of about 415,000 electric vehicles at the end of December.
Tesla stock is trading down 9.69% to $388.50 per share at 9:13 am ET in pre-market trading Tuesday.
_____
Source: Equities News