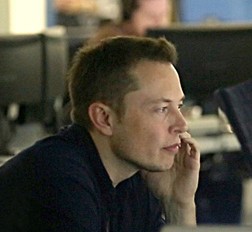 Tesla (TSLA) CEO and former PayPal (EBAY) founder Elon Musk made a Twitter announcement last week saying "Am going to put my money where my mouth is in a major way".
After making the claim in February that the company would be able to pay back the $465 million Energy Department loan it received in half the allotted time, this has been taken as a suggestion that the loan could be paid back even sooner.
---
---
However, there has been other speculation that Tuesday's announcement may have something to do with rooftop solar battery packs, since Musk subsequently made some tweets on this topic as well. It has been additionally suggested that the announcement could pertain to Tesla's new charging stations, or to a potential new stock offering.
Shares for Tesla soared just over 20 percent at one point on Monday, to a high of $46.68, before closing at a gain of 15.94 percent, or $43.93 per share.
On Sunday evening, the electric car maker said that it would be bringing in a slight profit for Q1, with sales of the model S sedan having surpassed 4,750, beating its guidance figure of 4,500. Tesla officially reports Q1 earnings on May 6th.
The Q1 profit will be a milestone for the company, who lost $396.2 million or $3.69 per share in 2012.
DISCLOSURE: The views and opinions expressed in this article are those of the authors, and do not represent the views of equities.com. Readers should not consider statements made by the author as formal recommendations and should consult their financial advisor before making any investment decisions. To read our full disclosure, please go to: http://www.equities.com/disclaimer