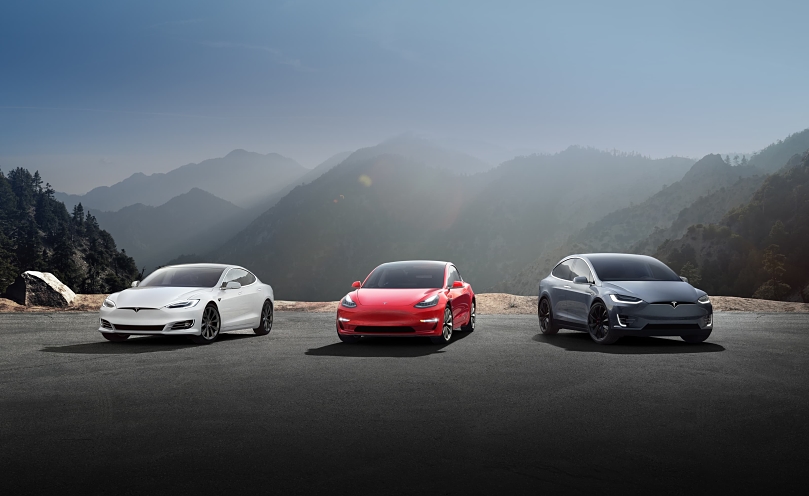 If you're not first… you're last.
You may recognize this quote from fictional racecar driver Ricky Bobby. But it could easily be straight from a business school lecture.
Many professors preach the importance of "being first" in business.
But I have to tell you… it's mostly a lie.
Microsoft introduced the first tablet computer in 2000. Apple didn't unveil the iPad until a decade later.
The iPad has sold 360 million units… while the few "Tablet PCs" Microsoft sold are buried in junkyards.
"Friendster" started the world's first major social network. Facebook didn't come along until years later.
Today, Facebook is the world's 6th largest public company. Friendster shut its doors in 2018.
So much for being first. I could go on and on with examples, but here's the thing…
More often than not, the "first mover's advantage" turns out to be a curse.
The most successful companies… the likes of Amazon, Google, Apple that handed investors big gains… were not first movers.
Again and again, the second… third… and fourth movers are the ones that get rich.
Tesla Is a Cursed First Mover in Electric Cars…
As you probably know, Tesla pioneered electric cars.
In 2008, it released the Tesla Roadster, the world's first highway-legal electric car. But the real breakthrough was the iconic Tesla S, its first all-electric sedan launched in 2012.
For the first time, an electric car was not just a toy… but a real vehicle folks could drive every day.
Tesla S has quickly become the standard of electric cars. Over 500,000 cars were sold.
Since the Tesla S release, Tesla stock shot up 670%…
Like all first movers, Tesla initially enjoyed little competition. Until not long ago, there was no electric car model that could compete with the Tesla S.
But everything has changed.
Car giants have woken up. They started releasing one electric car after another, quickly crowding Tesla out.
Most people don't know this, but Tesla is no longer the leader in electric cars.
As I'll explain, it's becoming an electric car underdog that may soon be just another failed first-mover.
This may surprise you…
Let me show you the most important chart about the electric car industry…
It shows the number of electric cars sold in the US, Japan, China, and the rest of the world in recent years.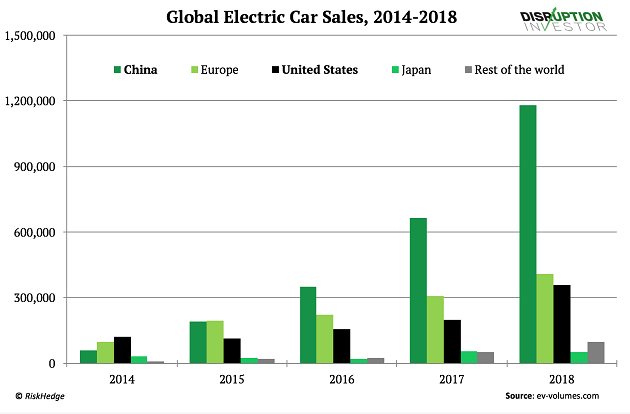 For a long time, America dominated in electric cars, thanks to Tesla.
But in 2016, China's push towards green energy started a massive electric car boom.
Today China makes up more than half of the global electric market.
Last year, 1.1 million electric cars were sold in China, compared to just 358,000 in the US, according to The Conversation.
China's capital city Beijing has more electric car charging stations than the entire US.
Tesla Is a Dog in China
China has been flooded with electric car makers. And Tesla is now battling with swarms of Chinese companies.
There were 486 electric car makers in China as of March this year. (Yes, 486. This is not a typo.)
Every other day, a new electric car company is founded in China, according to South China Morning Post.
Unless you live in China, chances are you've never heard of the world's biggest electric car maker, BYD
In the first half of 2019, BYD sold 145,653 electric cars in China. That's as many as Tesla sold globally during the same period.
No surprise, local car makers capture 93% of the market in China, according to Fast Company. Meanwhile, Tesla has a puny 6% share.
See the big picture?
In the world's largest and most lucrative electric car market, Tesla is a dog. And it's quickly losing whatever is left.
Worse, China will slap a 25% tariff on Teslas later this year as part of the brimming trade war between China and the US.
Tesla Is a Dog in Europe, Too
Europe is the world's second-largest electric car market.
Today, 1.3 million electric cars zip around European roads… compared to 1.1 million in America, according to HybridCars.
But Europe's electric car boom has just started.
With new EU rules for automakers designed to reduce carbon emissions, Europe is making a full-on shift into electric cars.
In some parts of Europe, more than 50% of new cars sold are electric, according to NPR. But with the new rules in effect, electric cars will become a common sight on most European roads.
It's estimated that the number of electric car models available in Europe will shoot up 75% by the end of 2020, according to The Driven.
Let me show you another important chart. (Viewer discretion advised for Tesla investors.) It shows the number of electric car models coming to the European market: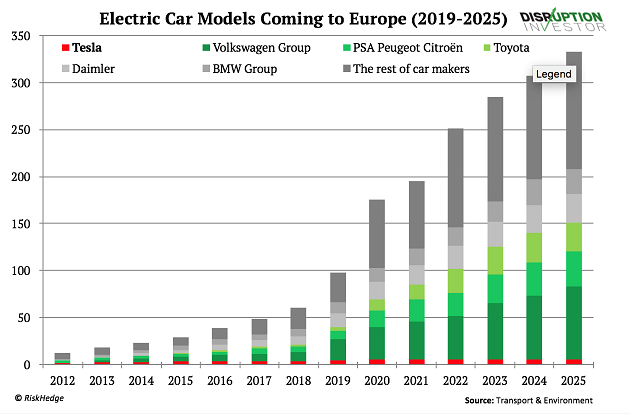 Just like China, Europe will soon be flooded with electric cars.
Today, only 4% of all EV models in Europe are made by Tesla. In the next five years, Tesla's share will shrink to a tiny 1.2%.
Please, Don't Buy the Dip in Tesla
Have you seen Tesla stock lately?
It has been beaten to death in the past year, crashing almost 30% since the end of last year. A couple of my readers asked me if it's a good opportunity to buy it for cheap.
In all fairness, Elon Musk has pulled off what seemed to be impossible not so long ago. Tesla has paved the way for electric cars and will go down in history for that.
I respect his accomplishments… but Tesla is a terrible investment. The stock is fueled by hope, and hope is fading.
Giant car makers are coming for Tesla… and as you've seen, all signs show they have the upper hand.
My recommendation: Stay away from Tesla. There are better, safer, and higher-upside ways to earn money in the stock market.
___
Equities Contributor: Stephen McBride
Source: Equities News