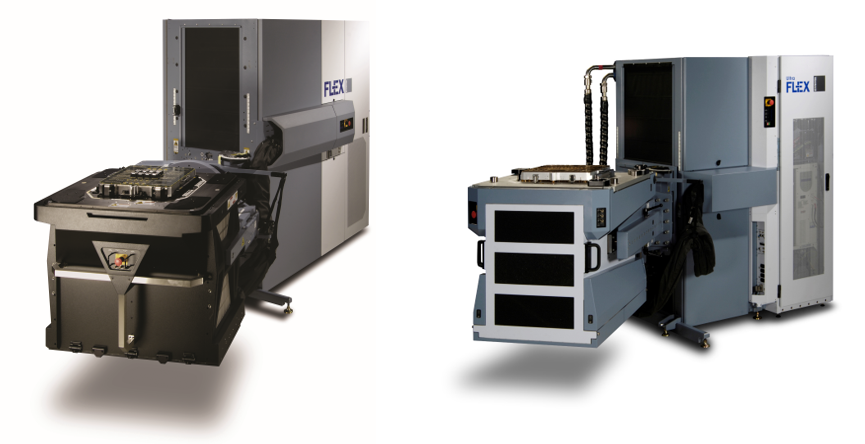 Image: FLEX and UltraFlex test systems, Teradyne
Yesterday, Teradyne, Inc. rallied after releasing its Q4 and full year 2019 earnings. The company's revenue growth was strong, increasing 26% year-over-year, totaling $655 million for Q4 with semiconductor test systems and LitePoint wireless shipments the key driver for the Massachusetts-based company. Teradyne also saw full year sales increase to $2.295 billion compared to $2.101 million in 2018, an increase of 9%.
Semiconductor test systems and 5G are ramping for Teradyne
The rejuvenation of the semiconductor market and the materialization of 5G infrastructure were pronounced throughout the company's accompanying earnings presentation. TER's semiconductor test systems sales were up, especially in the data storage and defense/aerospace sectors.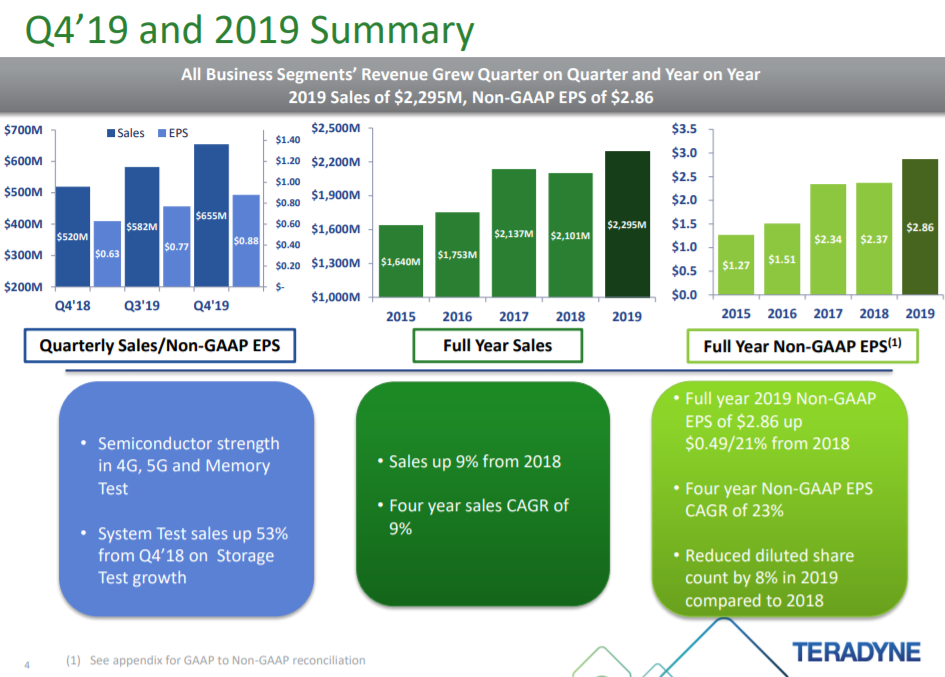 Source: Teradyne Q4 Investor Presentation
Company leadership elaborated in the press release yesterday:
We delivered revenue and profits above plan in the fourth quarter on higher than expected memory and wireless test demand combined with continued 5G infrastructure test demand. For the full year, we increased total company revenue 9% and non-GAAP earnings 21%, our sixth consecutive year of earnings growth.
-CEO and President Mark Jagiela
In total for Q4, Teradyne's segment sales broke down as such:
$439 million for semiconductor test,
$88 million for industrial automation, the company acquired AutoGuide in Q4, an autonomous forklift technology provider,
$83 million for System Test technology, and
$45 million for Wireless test technology.
Guidance for Q1 2020 and Risks
Teradyne's quarterly adjusted earnings amounted to $0.88 per share beating last year's earnings of $0.63 per share. The company expects Q1 adjusted earnings in the range of $0.86 cents to $0.96, on revenue of $670 million to $710 million.
"Our Q1 outlook reflects the impact of customer production ramps from several design wins using these new products along with early test demand for smartphone related silicon and storage test capacity expansions," Mr. Jagiela added. "We expect this revenue profile to continue through the second quarter before tapering in the second half of the year."
The chip equipment manufacturer also declared an 11% increase to quarterly dividends to $0.10 per share. This is another bright spot for TER shareholders who have watched their investment in TER increase by more than 130% over the past year. The stock did bottom in December 2018, but has surged since then on a steady upward slope thanks to positive trade war negotiations and positive semiconductor demand.
Mr. Jagiela leads a strong management team that has returned healthy profit margins and also announced a $1 billion share repurchase program along with their recent earnings release. The company has outperformed the S&P over the past year by a wide margin – 137% compared to the S&P's 25%. While such a spread may not be sustainable for the long term, shareholders have had few reasons to complain over the past year.
_____
Equities Contributor: Stephen L. Kanaval
Source: Equities News