While investors in healthcare stocks have shown a profit this year, the sector faces headwinds on many fronts. Investors are particularly worried about how potential reform driven by Congress could impact the bottom lines of companies in the industry. In addition, many healthcare companies are unhappy about the difference in their earnings when they provide medical services to Medicare versus when they provide the same services to private health insurers.
The chart below shows how the NASDAQ Healthcare sector and the S&P Health Care Services Select Industry Index have fared in relation to the NASDAQ Composite and the S&P 500 in the year-to-date period. As shown, the NASDAQ Healthcare sector has only gained 14.77% in contrast to the 21.94% gain in the NASDAQ Composite. In addition, the S&P 500 Healthcare services sector has only gained 5.91%, underperforming the 18.25% YTD gains in the broad S&P 500.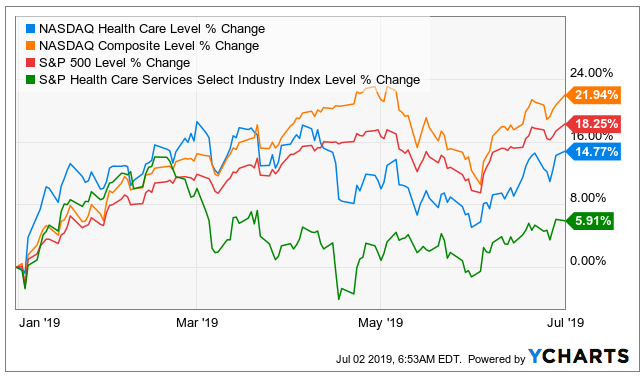 Electronic health records (EHR) solutions might become a bright spot for investors in the healthcare industry going forward as their prominence continues to grow into an integral part of modern healthcare. EHR solutions have proven to be priceless in helping healthcare providers effectively acquire, organize, store and access important patient data such as medical histories, medications, lab results, test results and referrals for more comprehensive care across professional borders. In simple terms, EHR solutions make it easy to facilitate the paperless transmission of a patient's healthcare information between healthcare providers and other stakeholders.
Much of the available healthcare data is held in fragmented silos that don't do an adequate job of protecting patient privacy. Additionally, there is a lack of incentives for patients whose data is being used in research and insurance modelling. This article provides analytical insight into the value of healthcare data and how blockchain technology might be a tool for unlocking more potential value from healthcare data.
How Much is Your Healthcare Data Worth?
In 2016, healthcare providers in the U.S. recorded 450 data breaches from which 27 million EHRs were compromised. In 2017, the U.S Department of Health and Human Services and the media recorded 477 healthcare breaches from which about 5.579 million patient records were compromised. Now, regulators are starting to impose fines on healthcare providers for negligence when their healthcare data isn't secured well. Advocate Health was fined $5.55 million to settle multiple data protection violations for occurrences in which patient's protected health information was compromised.
Mariya Yano, CTO of Metamaven in an opinion piece on Forbes observes that electronic medical records might be worth $1000 a piece to hackers. "You can cancel credit cards and change social security numbers, but your EHR is immutable." The fact that an EHR contains demographic information, healthcare data, financial information, and even information about your relatives makes it a treasure trove to criminals.
Another report from Insurance Journal suggests that healthcare data is becoming more a hot commodity among cybercriminals and that medical data could be worth 10x as much as financial data such as credit cards.
Healthcare Data is Priceless
Last year, Seagate launched the New Data-Readiness Index which suggests that healthcare data will grow at a faster pace than manufacturing, financial services, or media data over the next five years. According to the report, the volume of big data in healthcare will grow by a CAGR of 36% through 2025.
The researchers observe that "providers are taking advantage of greater intelligence being built into diagnostic equipment and patient devices that can collect patient data, upload it to the cloud or a centralized datacenter for analysis or diagnosis, and then receive instructions or recommendations based on the patient's specific needs."
Going forward, investors in the healthcare industry will do well to look beyond stocks providing healthcare services or REITs providing real estate services to healthcare organizations. The bigger value in the healthcare industry will likely be generated by companies operating at the forefront of securing healthcare data.
Blockchain Technology to Unlock More Value From EHRs
MediLOT is among the startups bridging the gap between been Electronic Health Records (EHR) solutions and medical data management using blockchain technology. MediLOT is built on a dual blockchain solution with a unique layered architecture to decentralize the storage of patient data and ensure that patients can access their health records at their convenience, giving patients full control of their records.
MediLOT will also create a market ecosystem around EHR data, providing developers with the opportunity to access large health datasets that can then be used to build complex applications and predictive models using AI.
GEMINI is MediLOT's AI-powered platform where healthcare professionals can access AI-assisted diagnosis based on the EHR data. The AI layer is designed to provide analytics through which developers can build application powered machine learning APIs on MediLOT. MediLOT also allows provenance query through semantics-oriented retrieval without incurring storage redundancy; hence, health care practitioners won't necessarily need to have expertise in data science before they can leverage the AI to build predictive models based on the EHR data.
Equities Contributor: Luis Aureliano
Source: Equities News