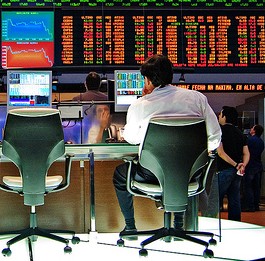 Brooksie's Daily Stock Market blog  -  an edge before the open
Wednesday, August 31, 2011        9:21 am EDT
DJIA:  11,559.95       S&P 500:  1212.92
There is a lot of anticipation built into this market as the Street awaits President Obama's introduction of new programs to stimulate economic growth next week.  That will be followed by a two-day meeting by the Federal Open Market Committee (FOMC) starting on September 20 which is expected to be economy friendly !
The S&P 500 is up 4.7% in three days as institutions continue to nibble away on stocks that are assumed to be cheap, assuming the nation is not headed for a recession.
This morning, the ADP Employment Report for July indicated 91,000 jobs were added to the private sector, 58,000 by small business, 30,000 by medium size business, the remainder by big companies. While the report fell short of the projected 100,000 jobs, the U.S. stock index futures held steady in face of the news.
I have been targeting September/October as a buying juncture, but am a little reluctant to reach for stocks here.
A "turning pattern" to the upside was set with bottoms on August 9 and 19.  While those levels may prove to be the bottom,  I feel more "work" is needed before liftoff.
However, if  the Big money sees a green light (i.e. no recession), we are headed north. Support is DJIA 11,280 (S&P 500: 1182).  Based on the action of the U.S. stock-index futures at 9:00 today, the  major market averages have now broken up through  August 17 resistance (DJIA:11,550, S&P 500: 1208).
This is good technically, but not a green light to bet the ranch. This upmove seems to be a product of a lack of bad news (at this moment) and front running of the President's speech next week, which may include significant high-impact programs.
Infrastructure Spending :
As the recession and bear market were intensifying in the fall of 2009, I speculated that  infrastructure spending would get a high priority for a recovery. I wrote articles for Equities Magazine and compiled information I anticipated would be useful.
I was wrong, infrastructure spending  got a low priority, and today I am sure the administration has its regrets.
Infrastructure may yet get a play, clearly the action in infrastructure companies Monday indicates so. All 37 companies I identified as having exposure were up significantly.
What is attractive about this kind of spending is it stands to employ a lot of people and it can be funded by some government spending, but to a great degree by private investment.
I will provide more on this subject later this week, just in case infrastructure spending is included in Obama's proposals for boosting the economy and hiring.
George Brooks
…………………………………………….........................................................
The writer of Brooksie's Daily Stock Market blog, George Brooks,  is not registered as an investment advisor.  Ideas expressed herein are the opinions of the writer, are for informational purposes, and are not to serve as the sole basis for any investment decision. Readers are expected to assume full responsibility for conducting their own research pursuant to investment decisions in keeping with their tolerance for risk
DISCLOSURE: The views and opinions expressed in this article are those of the authors, and do not represent the views of equities.com. Readers should not consider statements made by the author as formal recommendations and should consult their financial advisor before making any investment decisions. To read our full disclosure, please go to: http://www.equities.com/disclaimer