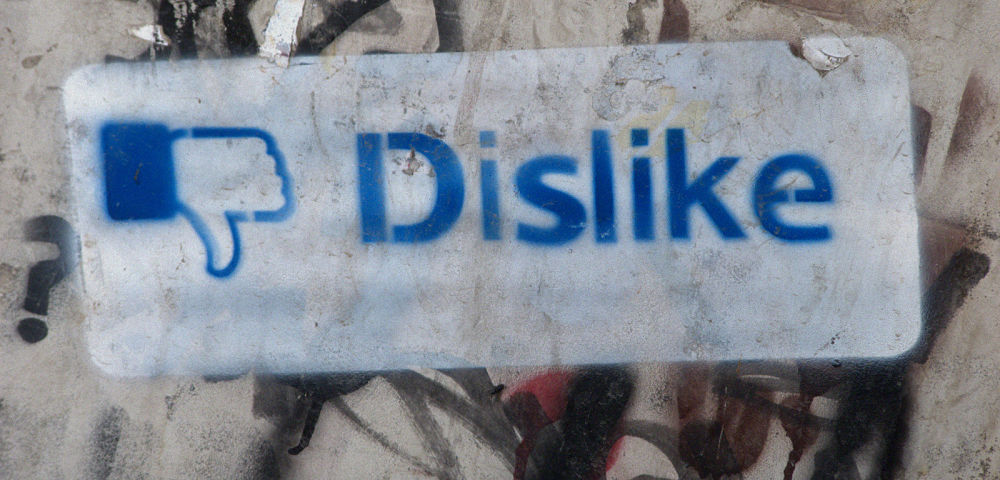 Image via zeevveez/Flickr CC
Facebook FB shares plummeted by 23% in after-hours trading when the company reported its quarterly earnings and held its conference call after the market closed. The company's revenue and active users came in below analyst estimates. The big miss is the catalyst that will start a tech stock Armageddon. It virtually assures that all of the major US stock indices will reach new 2018 lows by year end.
To put the decline in perspective, the $145 billion decline in Facebook's market cap from the market's close is equivalent to the combined total market caps of IBM IBM, McDonald's MCD and Nike NKE. The share prices of the other three FANG stocks including Amazon AMZN, Netflix NFLX and Google GOOGL also declined by 1.3% to 2.1% in after-hours trading. At the close of the markets and before Facebook's infamous conference call and earnings report, its share price had closed at an all-time high. The share prices of all three of the other FANG companies had closed up earlier on the day.
Investors and analysts were completely surprised by Facebook not meeting estimates for its just ended quarter. Facebook also guided its estimates down for its next quarters. Gene Munster, a technology analyst who attended Facebook's conference call and who was interviewed by CNBC stated:
Analysts and investors were to blame and not Facebook for the massive sell-off of Facebook shares after hours. He reminded CNBC's viewers that Facebook had warned of the possible softness during each of its last three quarterly conference calls.
Facebook's revenue growth could slow to 13% to 15% annually within 12 months. He and the CNBC anchor broached on the subject that Facebook at 2.1 billion users may have reached its saturation point.
Facebook's guide down for its projected sales and earnings was unprecedented.
CNBC's audio clip of Mark Zuckerberg extolling the virtues of Instagram in the conference call, which has grown to $8 billion in annual revenue was telling. The tone of Zuckerberg's voice and his emotion about Instagram, a business which represents a fraction of the parent company's total revenue, confirmed to me that he sees the handwriting for Facebook on the wall.
With two of the FANG (Facebook-Amazon-Netflix-Google) stocks, Facebook and Netflix, missing their user growth estimates for the June 30 quarter the bloom is now off the rose for the FANG stocks. The FANG stocks, which have accounted for most of the market's gain over the last year will no longer be the default investment vehicle.
The psychology has changed regardless of how well Amazon's earnings come in. Google beat its quarterly estimates significantly earlier this week. Netflix's share price spiked down after it reported its most recent earnings.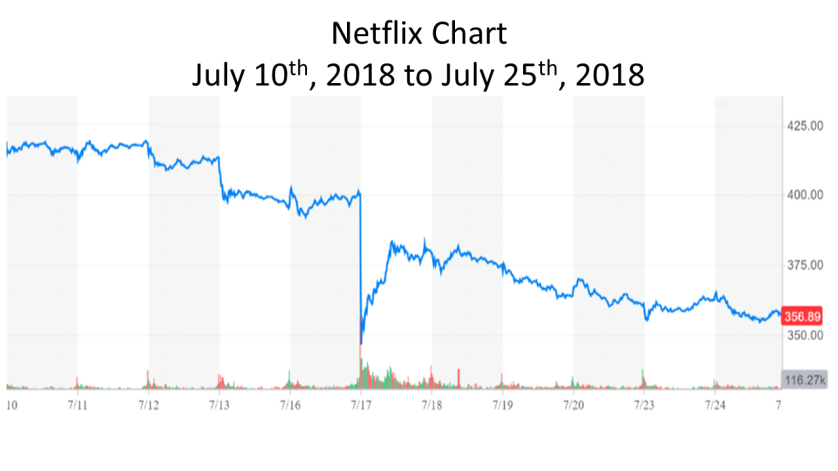 Facebook's share price were steadily making new highs over the past couple of months after its earlier in the year election campaign interference issue, which required that it change its business model spoke volumes. What were investors thinking by bidding shares up before Facebook's new business and revenue model had been proven? Investors then bidding Facebook shares to a new all-time closing high on the eve of the earnings announcement after they had been warned three times that there might be difficulties is INSANE.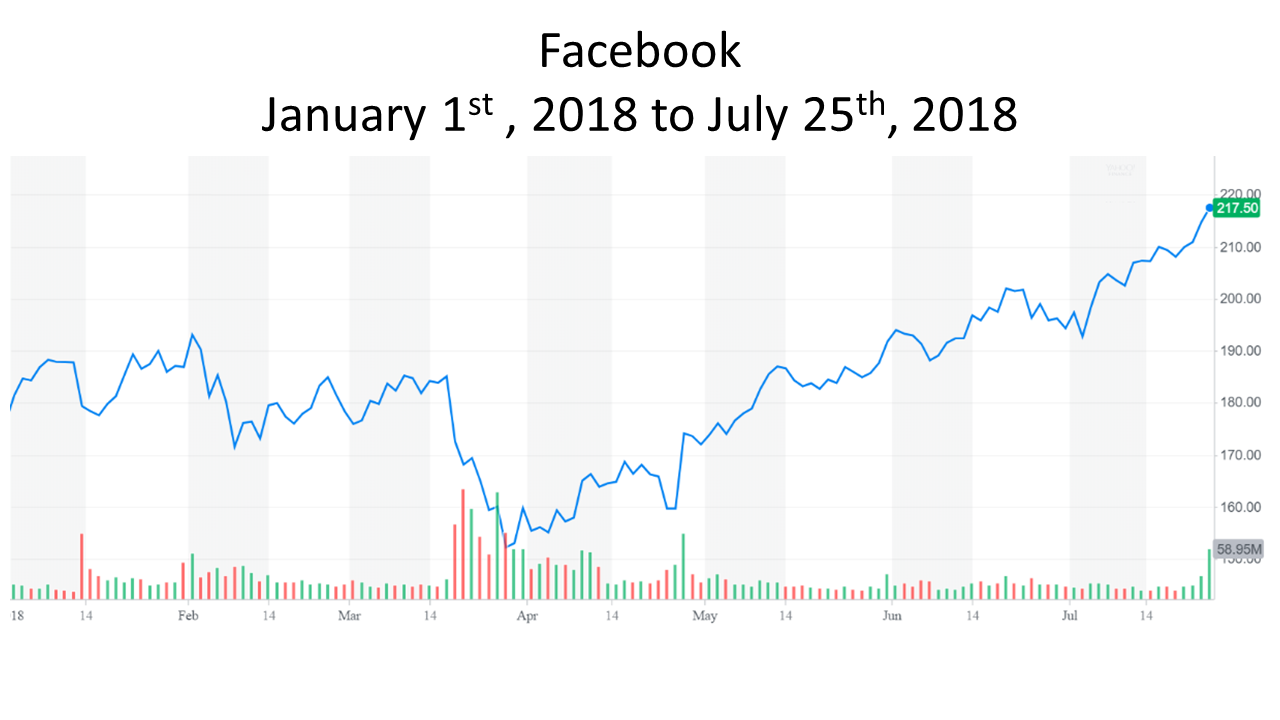 There are 2,848 institutional investors who hold 74% of Facebook's shares. They and the vast majority of the analysts who have "buy" or "strong buy" recommendations on its shares should be admonished.
Based on this fiasco, I am predicting the following for the markets.
FANG has been de-fanged and will no longer be a place for passive institutional investors to hang out.
Facebook shares will not eclipse the all-time high they made today for many years if ever.
The S&P 500 will fail to exceed the new all-time highs that it made earlier this year and for the secular bull market which began in 2009.
The recent all-time high that the NASDAQ made earlier this month will prove to be its all-time high for bull that began in 2009.
The index for the FANG stocks (NYFANG) that was created in September 2017 will become infamous for the craziness that occurred at the top of 2009-2018 Secular Bull market. The period will vie with the roaring 20s.
All US stock indices will reach new lows for 2018 by the end of 2018.
With the volatility due to pick up now that the S&P 500 and Dow 30 indices are close to their all-time highs my February 6, 2018 article "BULL DEAD, BEAR DOB 01/31/18: Expect Stock Market Decline of at Least 50%") about the new bear market being born on January 31, 2018 is highly recommended.
For those investors who do not want to take even minimal risk and yet have the potential for their portfolios to grow I am recommending the deployment of a 90/10 Crash Protection Strategy. For information on the strategy which is the only fail-safe strategy that one can utilize to protect their liquid assets from crashes, recessions and depressions view video below entitled "Profit From the Crash".
Disclaimer. Mr. Markowski's predictions are frequently ahead of the curve. The September 2007 predictions that appeared in his EquitiesMagazine.com column stated that share-price collapses of the five major brokers, including Lehman and Bear Stearns, were imminent. While accurate, they proved to be premature. For this reason he had to advise readers to get out a second time in his January 2008 column entitled "Brokerages and the Sub-Prime Crash". His third and final warning to get out, and stay out, occurred in October of 2008 after Lehman had filed for bankruptcy. In that article "The Carnage for Financials Isn't Over" he reiterated that share prices for Goldman and Morgan Stanley were too high. By the end of November 2008, the share prices of both had fallen by an additional 60% and 70%, respectively — new all-time lows.