I am to wait, though waiting so be hell, Not blame your pleasure be it ill or well.
The couplet of Sonnet 58 by William Shakespeare (or Mary Wroth?) could have originated from corporations waiting on the current administration to take meaningful steps on the path toward tax reform. We've discussed previously in this space that the protracted uncertainty on the magnitude of any future tax reform, and the unwillingness or inability of this administration to articulate its intentions with any level of meaningful detail, could ultimately have negative consequences for investors, particularly at the big cap end of the market where companies would experience the greatest impact from the enactment of tax reform - or lack thereof.
A report by Bloomberg Business Week yesterday showed that global biotechnology M&A activity is on pace for its lowest annual level since 2013. Year-to-date, the total dollar amount of announced acquisitions is only $11.5 billion - only about one-third of what we saw last year.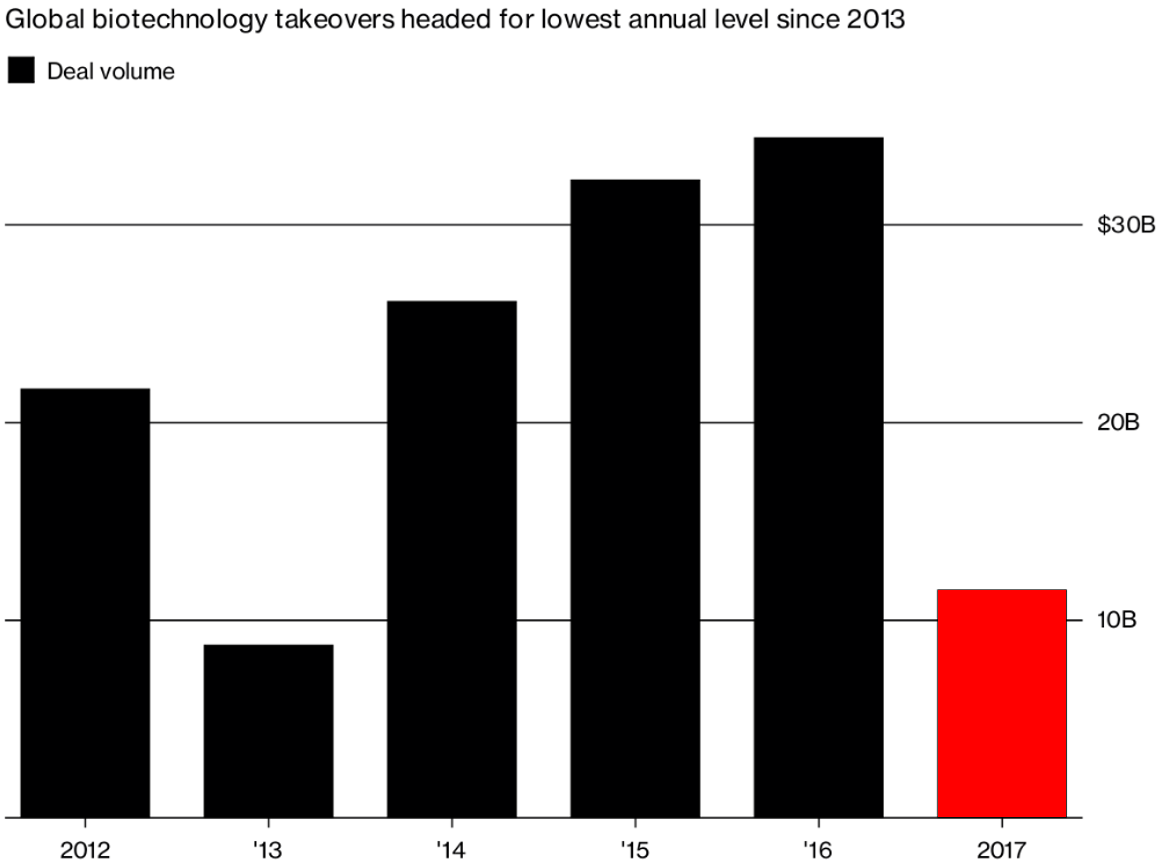 Source: Bloomberg Business Week

---
---
When Pfizer (NYSE: PFE) reported its Q2 results earlier this month, CEO Ian Read said that the company would wait on the outcome of tax reform before making any M&A decisions. As quoted in The Wall Street Journal, Mr. Read said, " 'it would be imprudent not to wait' to see what happens and how it would affect the values of any companies Pfizer would be interested in acquiring." Pfizer has unsuccessfully pursued AstraZeneca (NYSE: AZN) and Allergan (NYSE: AGN) in recent memory.
Morgan Stanley analyst Michael Zezas has been on the record with his belief that we won't see a tax reform package passed until 2018. As quoted by Investor's Business Daily, Mr. Zezas cites "lack of bipartisanship, the restrictions of the budget reconciliation process and disagreements on key tax issues within the Republican party" among the reasons for his prediction of no reform in 2017. As each month disappears into the rear view mirror, we find ourselves agreeing with Mr. Zezas and are increasingly pessimistic about any tax reform happening this year. Expect M&A activity to continue to be sluggish as the biopharmaceutical sector will wait, though waiting so be hell...
Please email us at content@equities.com to see our Case Studies and Testimonials.
Please click here for information on our new trading platform.
Please click here to subscribe to our complimentary newsletter.
DISCLOSURE: The views and opinions expressed in this article are those of the authors, and do not represent the views of equities.com. Readers should not consider statements made by the author as formal recommendations and should consult their financial advisor before making any investment decisions. To read our full disclosure, please go to: http://www.equities.com/disclaimer