Shares in Tauriga Sciences TAUG are up 500% this year, and 100% this week as they prep for a product launch. Earlier this week, TAUG announced they have increased production of the Tauri-Gum™ inventory to support its ongoing commercial launch. In total, the Company has placed orders with its manufacturer for an additional 17,400 blister packs of Tauri-Gum™, on top of the 8,700 units that comprise the initial inventory tranche.
It feels like investors have a solid metric in measuring the blister pack production, in a sector that is starving for revenue metrics and real boots on the ground products. I like that you can test the product, or get feedback about adoption and come up with your own sales numbers, and it seems this has brought out the buyers, below you can see shares traded up from .07 cents topping short term around .19 cents on decent liquidity.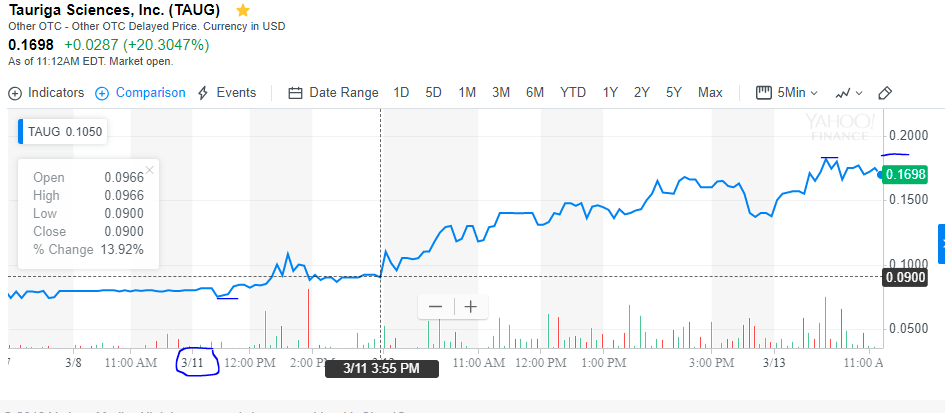 Keep in mind, a 500% move may signal to sell the news and maybe pick a better entry level; save some powder and accumulate these smaller Cannabis stocks. I like the fact that when you buy shares at nine or ten cents, you know exactly how much you can lose.
The sector has shown over the last few years, all the names are volatile and it is best to buy and hold (accumulate) versus trying to market time. If you believe in the sector (and I do) it is best to own as many names and be patient. I have no position here, and I want to caution you about following, or listening to any trading advice, make your own decisions in the microcap space, don't trade tips, and trade long only.
The Company has continued to augment its inventory production, in response to what it believes to be, increasingly strong levels of interest from prospective distributors, retailers, and customers. TAUG is working with great diligence to gain market share for its CBD-Infused gum ("Tauri-Gum™") and is encouraged by the feedback it has received at a number of important recent meetings.
"Studies have shown," reads today's news release, "that a chewing gum product may provide a superior delivery method for distributing its key active ingredients (such as CBD), in comparison to other oral dosage forms, such as: pills, capsules, beverages, and gummies. As an individual chews gum, the CBD is released from the gum quickly and is absorbed by the Oral Mucosa, rather than the Digestive System."

Steve Kanaval $steve-kanaval
Portfolio Manager/Writer/ Market Analyst
You can email comments/ideas to [email protected]
Steve began his career in the Trading Pits in Chicago making markets at the Chicago Mercantile Exchange (NYSE:CME) the Chicago Board of Trade and the CBOE in the early 80's. He ran the Morgan Stanley Derivative Prop Trading for the firm specializing in Index Arbitrage. He continued his career as a Trader/Portfolio Manager for multiple Hedge Funds during the Internet Boom of the 90's managing large portfolios. Steve is known as an expert in MicroCap Technology Stocks and the emerging Digital Currency markets as a Portfolio Manager for his Family Office. Steve has managed portfolio's in volatile asset classes for 3 decades as a commodity trader, hedge fund manager and digital currency trader and miner. Steve is one of the few managers who publishes his views on the asset classes in a public forum and has published articles simplifying these complex and volatile assets for readers. His work is published on multiple sites including Bloomberg, Equities.com, Hacked.com, CCN and CapitalWatch as a paid contributor. His work includes research, journalism and archived video on important market volatility related to stocks, digital currency and other volatile misunderstood asset classes. He offers a humorous, unique insight and the related back stories and drivers for readers interested in volatility and emerging market assets.