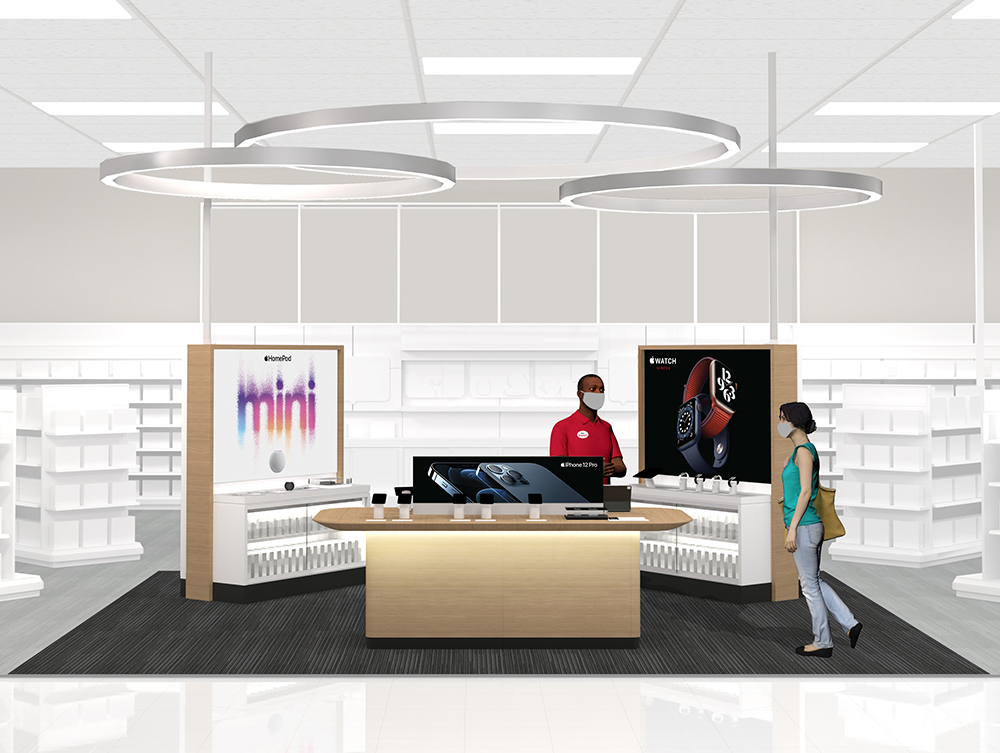 Image: Concept illustration of the new Apple destination currently rolling out in select Target locations. Source: Target
Target Corporation (NYSE: Chart TGT - $165.63 5.36 (3.344%) ) announced Thursday it will open mini Apple Inc (Nasdaq: Chart AAPL - $164.90 2.54 (1.564%) ) shops inside 17 of its stores this month and plans to expand to additional locations by fall.
Apple products are already sold at Target, but the retailer plans to double the tech giant's footprint in these stores by setting aside dedicated space for products, accessories and demonstrations. The "shop-in-shops" will include new lighting fixtures and displays for Apple products and will be staffed by Target tech consultants who will receive specialized training.
In addition to the new physical space, Target is overhauling the experience of shopping for Apple products online.
In a press release Target noted the collaboration builds upon its 15-year relationship with the tech company and seeks to "offer an easier way to shop for Apple products."
"Apple products are popular with Target's guests and this new, dedicated shopping experience offers enhanced services and expanded offerings, building on our strength as a go-to destination for electronics," Target executive vice president and chief growth officer Christina Hennington said. "This new model was created with Target's guests in mind and we'll continue to learn and enhance the experience through future rollouts later this year."
The shop-in-shops will not have the trademark Apple Genius Bar, where customers can get technical support, but Hennington told CNBC that Target has not ruled out adding that in the future.
Apple said it looks forward to "continuing to work with Target on exciting new ways to serve customers in-store and online."
Thursday's announcement is the latest shop-in-shop partnership for the Minnesota-based big box retailer and part of a larger effort to help bring shoppers to its stores.
In November 2020, Target partnered with Ulta Beauty (Nasdaq: Chart ULTA - $545.67 9.30 (1.734%) ) and said the specialty cosmetics chain would open 1,000-square-foot installations at over 100 locations during the second half of 2021.
The company has also opened other shop-in-shops with The Walt Disney Company (NYSE: Chart DIS - $100.13 2.03 (2.069%) ) and Levi Strauss & Co (NYSE: Chart LEVI - $18.23 0.24 (1.334%) ).
Apple, meanwhile, has had a partnership with Best Buy Co (NYSE: Chart BBY - $78.27 2.95 (3.917%) ) since 2019 that enables customers to get their Apple products repaired at any of the nearly 1,000 stores across the country.
_____
Source: Equities News