Taranis Resources Delivers First Gold from Thor Project
Edward Kim Follow |

Taranis Resources (TSX Venture: TRO; OTCQB: TNREF) announced this week that it has delivered the first gold from its wholly-owned Thor mineral deposit located in the Revelstoke mining district near Trout Lake, British Columbia. The gold was recovered after test-smelting the first batches of concentrate from the company's gold pilot mill and delivered to a refinery in Richmond for upgrading.

The company has owned Thor since 2006. It is a major mineral resource covering about 3,314 hectares containing silver, gold, lead, zinc and copper. Taranis has successfully transitioned Thor from being an exploration project into a limited mining operation -- a milestone that few projects ever reach. Thor has been compared favorably with other well known, high-grade silver deposits that are relatively small in size, such as Dolly Varden in British Columbia and Keno Hill in the Yukon Territory. In contrast with those two mature properties, however, the Thor deposit is near the property surface and is the only one that has been accessible to low cost, open pit mining methods.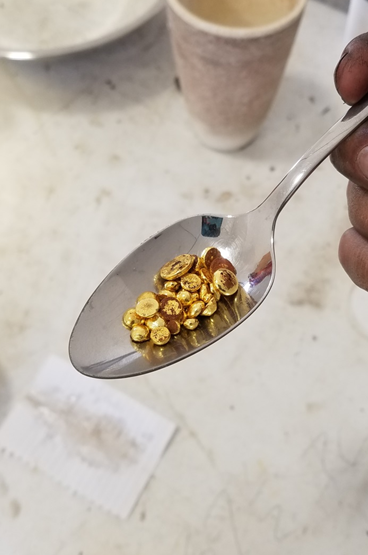 Potential for sizable gold deposit
Further distinguishing the Thor resource is its composition; Thor is a true polymetallic deposit that is dominated by precious metals. While silver is the primary commodity of interest, Taranis has determined that Thor holds more gold than was previously thought and anticipates that gold will increasingly become a larger contributor to the global resource base. The company has filed a Notice of Deemed Authorization to undertake an induced polarization / resistivity survey to trace the full extent of the gold deposit zone and identify high-priority drill targets.

Gold occurs within highly resistive rocks including pyroclastic (formed from volcanic eruption) rocks of the type found on the Thor resource. Geological mapping indicates this area of the property has significant quartz-veining associated with a large fold structure, and potentially hosts a sizable gold deposit.

Taranis has processed 600 metric tons of gold-bearing ore from the SIF region (named after the Norse goddess) of its Thor property. Metallurgical tests have shown this zone to be distinct from the main polymetallic deposit, with no silver, lead, zinc or copper associated with the gold mineralization, and uniformly disseminated throughout the zone.
Source: Taranis Resources

The first delivery of gold to a refinery marks a milestone in our exploration and mining plans at Thor, and the first time gold has been produced at Thor... The gold pilot plant continues to yield valuable insight into the metallurgy and nature of the Thor Ag-Au-Pb-Zn-Cu deposit.
- John Gardiner, President and CEO, Taranis Resources.

Cupellation furnace. Source: Taranis Resources.

This latest development comes on the heels of an already productive 2018 for Taranis. The company has received final test results from Met-Solve Laboratories to determine the applicability of Dense Media Separation (DMS) in processing ore at Thor. The tests showed conclusively that DMS is ideally suited for processing the sulphide-type ore at Thor, which confers two distinct benefits to Taranis:
The pre-concentrated ore can be transported economically over much greater distances to a smelter or mill where further upgrading can occur.
The sulphide-rich ore, which typically has Acid Rock Drainage (ARD) characteristics, can be separated onsite from waste rock that is non-ARD producing. This should simplify the permitting process for the Thor deposit.
In March 2018, Taranis completed an initial consultation with Canada's Ministry of Mines and Petroleum Resources about the permitting of its planned 10,000 metric ton bulk ore sample from Thor. The Joint Environmental Management Act and Mines Act Permit Application is an extremely comprehensive, data-intensive review that requires years of collection of baseline information describing environmental, health and safety, mine discharge, ore source and other characteristics. The general summary of planned permitting activities has been posted on the Taranis website, and data collected since 2006 is being summarized to complete the Joint EMA/MA Permit application.
National Instrument 43-101 Resource Estimate

In 2013, Roscoe Postle Associates, a global mining consultancy, completed an initial NI 43-101 compliant resource estimate on Thor, arriving at the following estimates for potential composition:
Silver --- 6.9 million ounces
Gold --- 35,000 ounces
Lead --- 57 million pounds
Zinc --- 79.4 million pounds
Copper --- 3.3 million pounds
This equates to a 14 million ounce silver equivalent (AgEq) deposit for comparison purposes.
Outlook
The installation of DMS concentration facilities on site at Thor and the metallurgical and environmental testing of the 10,000 metric ton bulk sample constitute "Phase II" mining operations, which are planned to be completed this year. Taranis believes that it will seamlessly transition into "Phase III" -- full-scale mining of the high-grade in-situ deposit in 2019. By tapping ore stockpiles for Phase II, Taranis will be removing existing surface contamination while building a scientific basis that will optimize Phase III production.
Taranis has sufficient capital to fund Phase II mining operations through this year, but will require additional financing as it continues to advance the project toward Phase III. The company continues to explore a variety of financing options, but we believe the current equity market valuation of under C$7 million places Taranis at the desirable end of the risk-reward spectrum, even when factoring in the future capital needs. We're encouraged by the company's first delivery of gold from Thor, and we'll be keeping close watch on its permitting progress with the Ministry.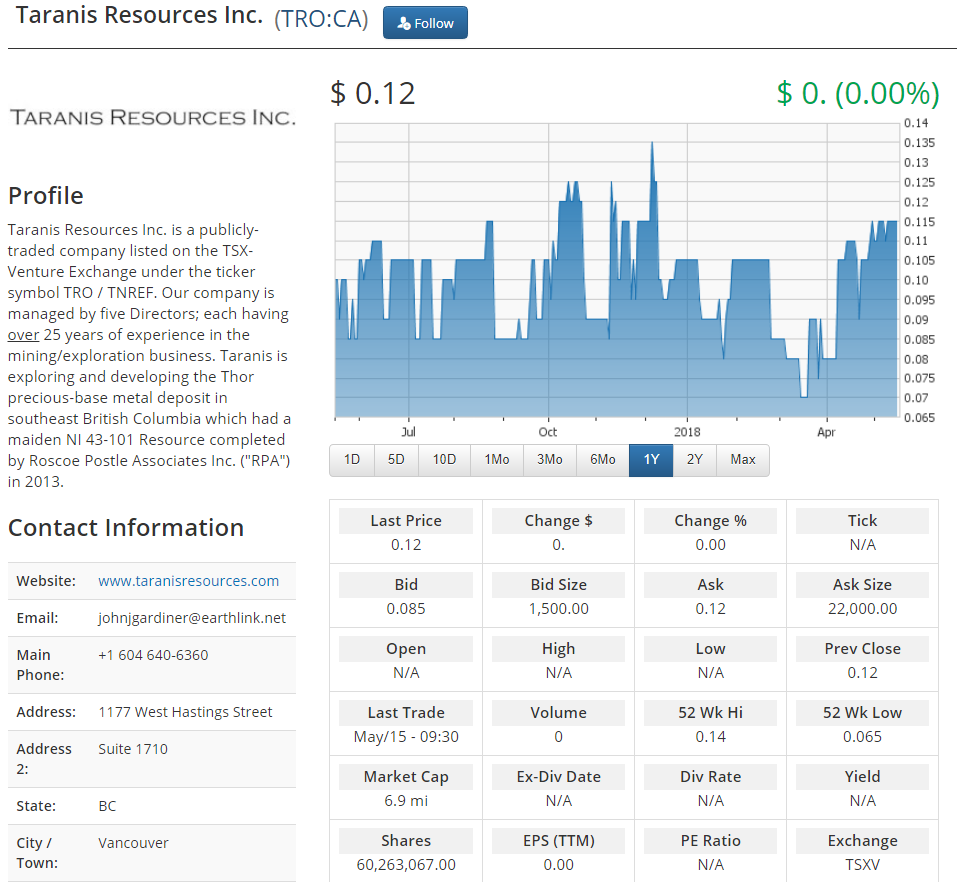 Please email us at content@equities.com to see our Case Studies and Testimonials.

Please click here for information on our new trading platform.
Please click here to see our weekly newsletter.
DISCLOSURE: The views and opinions expressed in this article are those of the authors, and do not represent the views of equities.com. Readers should not consider statements made by the author as formal recommendations and should consult their financial advisor before making any investment decisions. To read our full disclosure, please go to: http://www.equities.com/disclaimer