~ $50 million upfront + up to $1.7 billion in milestone payments ~
Synthetic lethality occurs when the interaction of certain combinations of defective genes—that have no harmful impact when only one of the genes is defective—causes irreparable damage to a cell or the entire organism. The effect was first observed in fruit flies nearly a hundred years ago, according to a 2011 study published in FEBS Letters by Sebastian Nijman, PhD, Principal Investigator at the Research Center for Molecular Medicine of the Austrian Academy of Sciences. The application of synthetic lethality to attacking cancer is one of the most promising areas of drug discovery to emerge in recent years, as specific pairs of genes are targeted in which one has a cancer gene defect while its symbiotic partner is a non-defective gene. Drugs are being designed in this way to kill only those cells that have the mutated cancer gene with minimal impact to surrounding healthy cells. The category of drugs known as PARP inhibitors is the best example of this approach and has been validated by three approvals from the FDA in the past four years.
Cambridge, Massachusetts, based Tango Therapeutics is developing novel cancer therapies using CRISPR screening to discover synthetic lethal gene pairs. The company has made rapid progress since its launch just 19 months ago with a $55 million Series A investment by Third Rock Ventures. Today, Tango announced a multi-year strategic collaboration with Gilead Sciences GILD to discover, develop and commercialize a pipeline of immuno-oncology therapeutics. Tango will receive $50 million upfront from Gilead and will be eligible to receive up to $1.7 billion in pre-clinical fees and development, regulatory and commercial milestone payments, and up to low double-digit tiered sales royalties.
Tango is focused on three core areas of target discovery and validation:
Tumor suppressor loss – Cells that lose the protective genes that normally suppress tumor growth are vulnerable to targeted synthetic lethal therapy
Immune evasion – Cancer cells have genetic changes that enable them to evade the immune system and thrive
Unmarked oncogenes – Targeting oncogenes that are not marked by genetic changes but that fuel specific cancer subtypes
Under the terms of the collaboration, Tango will perform target discovery and validation, while Gilead will have options to worldwide rights on up to five targets emerging from Tango's platform. The press release notes that the deal "does not include Tango's lead programs, for which Tango will retain all rights." Based on the state of Tango's pipeline as disclosed on its website, we believe that this deal with Gilead will focus on Tango's immune evasion programs.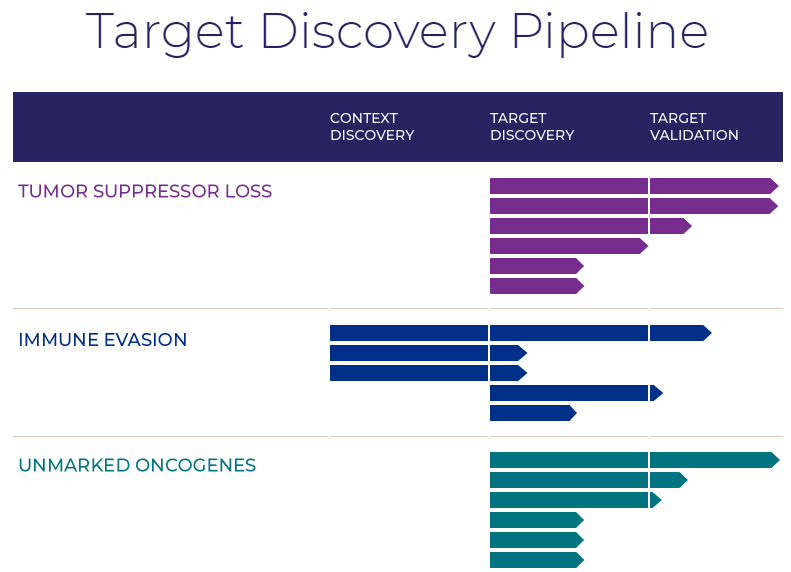 Source: Tango Therapeutics
Tango has built a unique discovery platform that we hope will help create the next generation of cancer therapies. Our collaboration will combine Tango's innovative discovery technology alongside Gilead's drug discovery and development capabilities to build a pipeline of novel immuno-oncology therapies.

– John McHutchison, AO, MD, Chief Scientific Officer and Head of R&D., Gilead Sciences.
Tango Therapeutics broadcast to the market in December 2017 that it would be seeking these kinds of partnerships when it hired Shakti Narayan, PhD, JD, as its Chief Business Officer. Dr. Narayan was previously VP, Head of Transactions at Johnson & Johnson Innovation, where he helped build J&J's Innovation Centers model, led oncology business development efforts and led a team of deal-makers who drove transactions for multiple J&J JNJ businesses. His experience in developing external partnerships was highlighted by Tango's CEO:
Shakti's track record in establishing strong partnerships to advance promising early discoveries will support an important pillar of our strategy as we develop the broad potential of our platform through both our own internal efforts, and through activities we undertake with partners.

– Barbara Weber, MD, President and CEO, Tango Therapeutics.
We have already seen the science of synthetic lethality proven in oncology with AstraZeneca's AZN Lynparza (olaparib), Clovis Oncology's CLVS Rubraca (rucaparib) and Tesaro's TSRO Zejula (niraparib) PARP inhibitors that have been approved by the FDA in ovarian cancer. We look forward to seeing what Tango Therapeutics can do to usher in the next generation of cancer therapies.
Gilead is the ideal partner to help us bring potentially transformative treatments to patients with cancer. This partnership has significant strategic value for us. With Gilead as our partner, we can maximize the applications of our platform in immuno-oncology, while continuing to independently advance our lead programs into the clinic and beyond.

– Barbara Weber, MD, President and CEO, Tango Therapeutics.
Please email us at [email protected] to see our Case Studies and Testimonials.
Please click here for information on our new trading platform.
Please click here to receive our free daily newsletter.