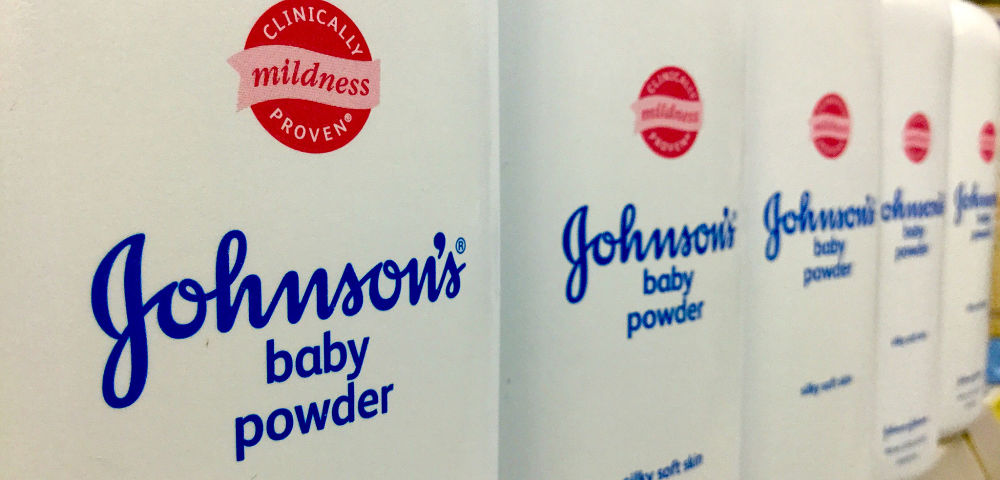 Image via Mike Mozart/Flickr CC
A company that supplies talc to Johnson and Johnson (JNJ) is taking no chances on another major jury verdict and has decided to settle its portion of a California woman's lawsuit. The case, which has been unfolding in a courthouse in Pasadena, was ready to be sent to jury deliberations when the company made the move to settle.
The terms of the settlement have not been disclosed.
Talc supplier Imerys SA (NK:EPA) said it was "committed to the quality and safety of its products" and referred to test results that did not show their products contained asbestos.
In this case, the plaintiff claimed J&J's baby powder caused her mesothelioma, a cancer that is linked to asbestos exposure. The plaintiff, Ms. Weirick, said she used J&J's baby powder and its former Shower-to-Shower product for more than 40 years. Weirick was diagnosed with mesothelioma in 2017, and claims her only exposure to asbestos came from the company's talc products. The plaintiff's lawyers said they tested the baby powder from in her home and found 11 asbestos fibers, which they say is enough to have caused her cancer.
In July, J&J was ordered to pay $4.69 billion in damages to 22 women who claimed their baby powder products caused their ovarian cancer. The plaintiffs alleged that the powder products contained asbestos. It was the sixth-largest product defect verdict in U.S. history.
In that trial, Imerys had also reached a confidential settlement a few days before the trial, which reportedly included at least $5 million in payments.
Imerys did not comment on why it settled this most recent case before jury deliberations. J&J's legal counsel has asked Judge Margaret Oldendorf to grant a mistrial after learning that Imerys had settled. Oldendorf denied the request, and the jury will be permitted to deliberate on the matter.
J&J is still facing more than 10,000 other lawsuits over its baby powder products. The company denies that any of its products have ever contained asbestos and says it's difficult to pinpoint the exact causes of cancer.
News of the settlement has sent Imerys' stock lower on Wednesday. The company's stock has also been hurt by failed negotiations between Imerys and its employees. The company failed to agree on a new contract with locked-out union employees of Imerys' Three Forks talc-milling plant after a day and a half of negotiations.
The lockout has been going on for nearly six weeks and comes after several months of previous negotiations.
The latest talk came up short, but the two parties plan to attempt another deal by the end of the week. Union officials say that if they cannot come to an agreement, workers will continue to picket outside of the plant and apply pressure to the company to offer a contract everyone can agree to.
The union has also filed charges against Imerys with the National Labor Relations Board (NLRB) which include conducting unlawful surveillance of the picketing workers. If violations are found, NLRB may force Imerys to come to a resolution.