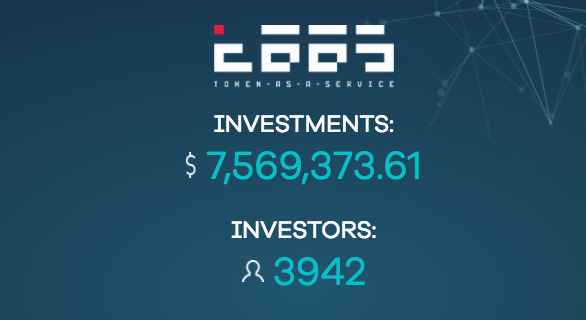 The cryptocurrency market is hot as the rhetoric between Donald Trump and Kim Jong-un. One of the newest funds out there is Token-as-a-Service (TaaS). This is the first-ever tokenized closed-end fund dedicated to blockchain assets.
A few days ago, TAAS announced a payout distribution to over 4,300 token holders. After TaaS has started its trading and contribution activities on April 27th, 2017, the Fund concluded its first quarter with earnings of 4,623,111.61 USD(T). According to TaaS token model, token owners receive 50% of the quarterly earnings.
First TaaS token owners' payouts amount to 0.28USD(T) per 1 TAAS. Payouts were distribute yesterday, on August 7, 2017, in the form of ETH. Previously the Fund announced fixed exchange rate of 199.055 USD(T)/ETH for payouts distribution.
TaaS token sale event concluded on April 27th, 2017 and attracted 3,942 participants who contributed $7,569,371.61,valued in USD(T) on April 27th. As a result of the sale 8,146,000.78 tokens were distributed, while the rest of the initially created 101 million tokens were burnt. The price of the tokens (including bonuses) during the sale ranged from 0.8 to 1.0 USD(T)/TAAS.
---
---
As of August 8th, 2017, the token price exceeded 2.60 USD(T)/TAAS, providing on average a 150% ROI to the Token Sale participants from just over three months ago. The total circulating supply of TAAS tokens gives it today a market capitalization of a little over USD(T) 20 million. The tokens are currently trading on the following exchanges: Liqui, Livecoin, HitBTC, CoinExchange and COSS.io.
Since May of 2017, TaaS participated in eleven TGEs with the total amount contributed equivalent to 3 million USD(T): Mysterium Network (500 ETH), Bancor Network (352 BTC), Sphre Air (70 BTC), TenX (1001 ETH), dao.casino (500 ETH), Digital Developers Fund (300 ETH), SALT (215 BTC), Coindash (500 ETH), InvestFeed (500 ETH), SingularityNet (2225 ETH) and Stox (500 ETH). Each selected project underwent the Fund's internal evaluation procedures, including rigorous due diligence on the financial, technical and legal situation of each project.
I would keep my eyes on this fund and their team. Its pretty interesting to watch and the ROI is pretty tremendous.
DISCLOSURE: The views and opinions expressed in this article are those of the authors, and do not represent the views of equities.com. Readers should not consider statements made by the author as formal recommendations and should consult their financial advisor before making any investment decisions. To read our full disclosure, please go to: http://www.equities.com/disclaimer