~ Candidate shows statistically significant dose-dependent effects on biomarkers, supporting further development ~
We discussed the significance of the human microbiome recently in this space when highlighting the progress of privately held Kaleido Biosciences. The trillions of microorganisms that co-inhabit the human body outnumber human cells by a factor of 10, performing vital functions to health maintenance. As Jane E. Brody wrote in The New York Times last year in "Unlocking the Secrets of the Microbiome," the "bacteria, viruses and fungi that inhabit virtually every body part, including those tissues once thought to be sterile… represent what is perhaps the most promising yet challenging task of modern medicine: Determining the normal microscopic inhabitants of every organ and knowing how to restore the proper balance of organisms when it is disrupted."
Among the publicly traded companies making clinical headway in microbiome biology is Synlogic SYBX, based in Cambridge, Massachusetts, home to the Massachusetts Institute of Technology, where the company founders are professors in biological engineering. Synlogic announced positive interim Phase 1/2a data on its lead product candidate, SYNB1618, showing safety, tolerability and proof-of-mechanism in healthy volunteers for the management of phenylketonuria (PKU), a rare genetic disorder that causes a buildup of phenylalanine in the body. The data demonstrate statistically significant dose-dependent effects on activity-associated biomarkers, supporting further development of SYNB1618.
Phenylketonuria (PKU)
People with PKU must follow a strict diet throughout their lives that limits phenylalanine intake—an extremely difficult lifetime burden given that phenylalanine is an amino acid found in common protein-rich foods including beef, chicken, fish, beans, nuts and dairy. Newborns in the US and in many other countries are screened for PKU. Though babies initially don't show any symptoms, according to the Mayo Clinic, health problems can occur if PKU isn't detected and managed early. Among the severe issues that can develop are:
Neurological problems that may include seizures
Microcephaly
Intellectual disability
Delayed development
Behavioral, emotional and social problems
Psychiatric disorders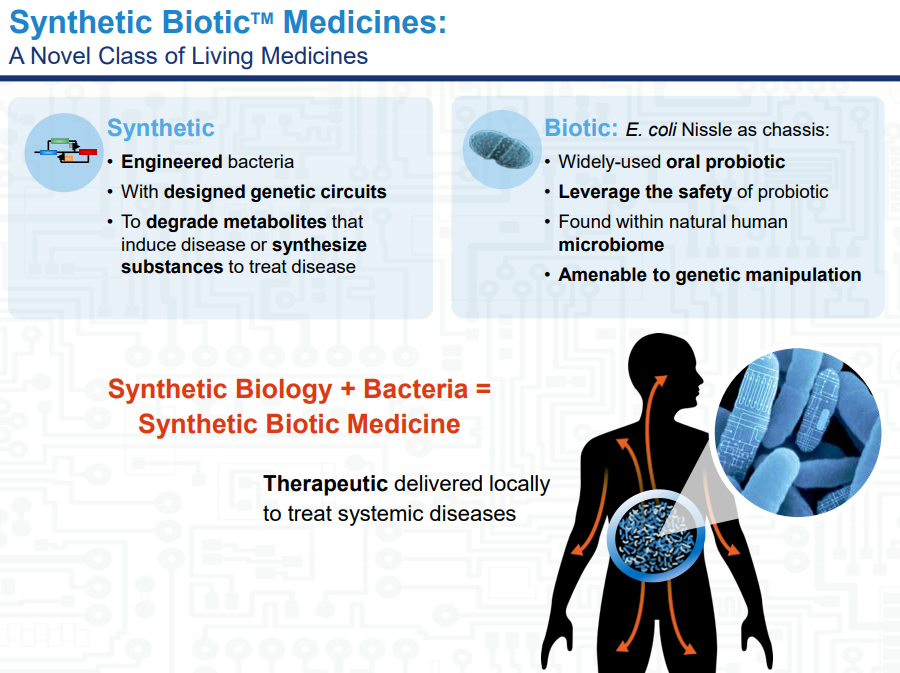 Source: Synlogic corporate presentation, August 2018
Synthetic Biotic Medicines
Synlogic has developed its Synthetic Biotic platform, whereby bacteria are engineered to carry specialized assemblies of DNA, called genetic circuits, to the target site. These circuits enable the engineered compounds to sense a patient's internal environment and respond by switching on or off a particular metabolic pathway. When turned on, the Synthetic Biotic medicine completes all of the necessary, programmed steps in order to achieve therapeutic effect.
Carl Zimmer has an excellent discussion in The New York Times today about Synlogic and its science, "Scientists Are Retooling Bacteria to Cure Disease," that was well coordinated with the release of the positive data. Mr. Zimmer writes of Synlogic's engineered compound:
One of the new genes encodes a pump that the bacteria use to suck up phenylalanine around them. A second gene encodes an enzyme that breaks down the phenylalanine into fragments. The bacteria then release the fragments, which get washed out in urine. The Synlogic team wanted the microbes to break down phenylalanine only in the right place and at the right time in the human body. So they engineered the bacteria to keep their phenylalanine genes shut down if they sensed high levels of oxygen around them. Only when they arrived in a place with little oxygen—the gut—did they turn on their engineered genes.
Interim data
SYNB1618 metabolizes phenylalanine into harmless compounds including trans-cinnamic acid (TCA) in blood plasma, which is further metabolized in the liver and excreted as hippurate (HA) in urine. TCA and HA, therefore, represent specific biomarkers of SYNB1618 activity. The interim data showed that a "statistically significant dose-dependent increase [vs placebo] in both plasma TCA and urinary HA was observed in SYNB1618 treated subjects."
The significant dose-dependent production of SYNB1618-specific biomarkers in healthy volunteers is an exciting first step towards delivering a potential therapy for patients with PKU. We have identified a dose for the next phase of our ongoing trial in patients with PKU and we look forward to expanding on these interim results when we report top-line data from the patient treatment arm of this trial in mid-2019. Importantly, the data also demonstrate the potential for our Synthetic Biotic platform to address conditions in which an engineered living medicine can be designed to perform a specific metabolic function within the gastrointestinal tract.
– Dr. Aoife Brennan, interim president, CEO and chief medical officer, Synlogic.
Pipeline
Synlogic is focused on treating rare, genetic metabolic diseases through its Synthetic Biotic platform. The company is also targeting collaboration partners, with whom to create innovative Synthetic Biotic medicines for the treatment of major diseases in areas including inflammation, metabolism, oncology and the central nervous system. Synlogic has been collaborating with AbbVie ABBV since 2016 in inflammatory bowel disease.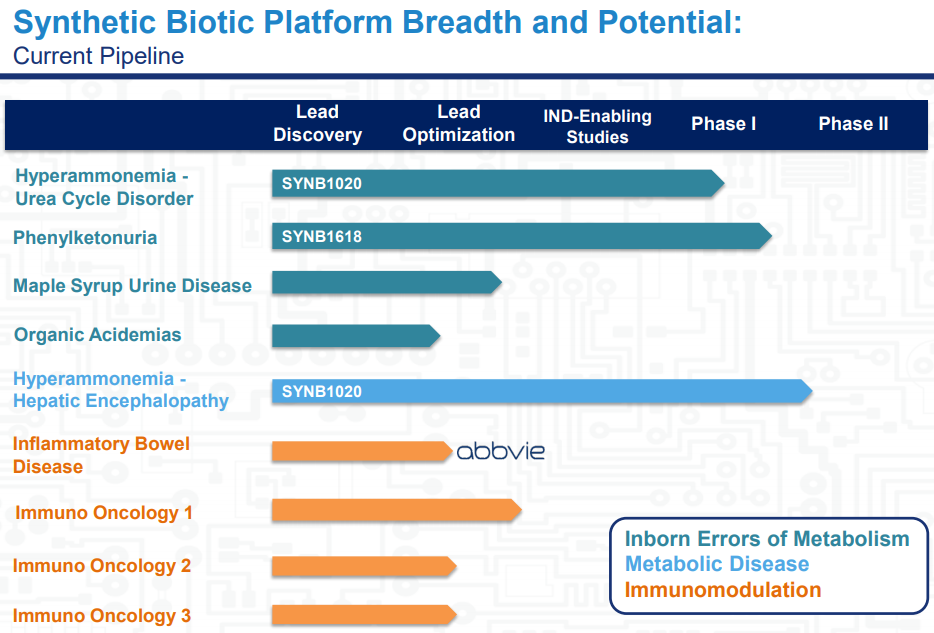 Source: Synlogic corporate presentation, August 2018

Synlogic as a public company
Synlogic became public through a reverse merger effective August 28, 2017, into former high-flyer Mirna Therapeutics. Please note, therefore, when evaluating the progress of the stock, that you may wish to restrict your analysis to the time since the merged entity was effective. At most, you may want to go back as far as May 16, 2017, when the deal was announced. The trials and tribulations of Mirna's stock, whose previous history is fully captured under the SYBX ticker by all of the financial information sites, won't be helpful as you examine Synlogic's performance.
Interim CEO Dr. Aiofe Brennan has been in the chair since May 2018, after serving as chief medical officer since September 2016. Dr. Brennan previously spent six years at Biogen, most recently served as head of the Rare Disease Innovation Unit, which included programs ranging from pre-clinical to commercial. She has also led programs across multiple therapeutic areas including the late phase development of nusinersen for spinal muscular atrophy and Alprolix and Eloctate for hemophilia.
Synlogic held a conference call this morning to discuss the interim data. A replay is available on the company's investor relations website. Additionally, the company will be presenting at HC Wainwright's 20th Annual Global Investment Conference tomorrow, Sept. 5, at 8:45am ET. The presentation will also be available via webcast on the company's site.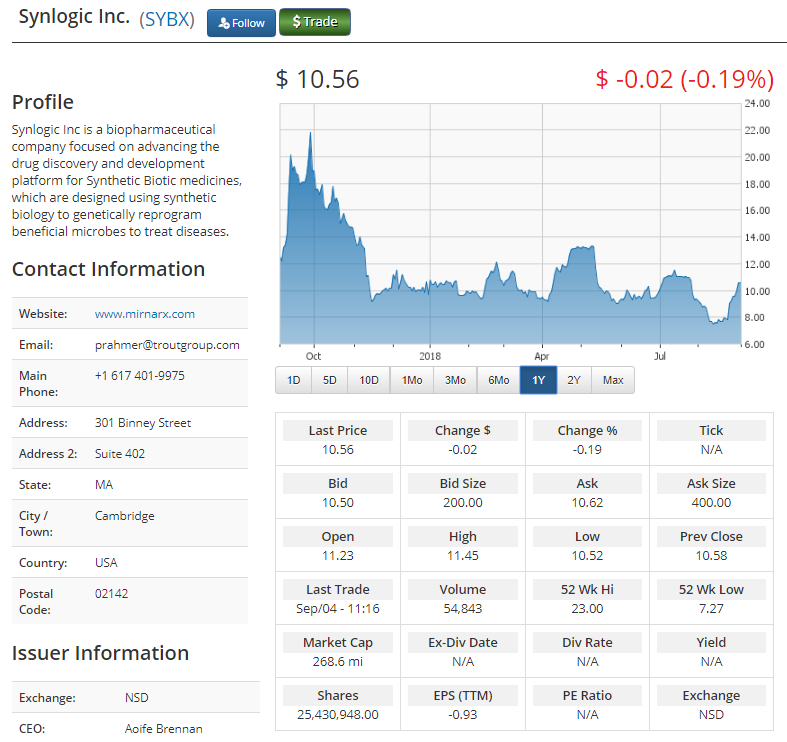 Please email us at [email protected] to see our Case Studies and Testimonials.
Please click here for information on our new trading platform.
Please click here to see our daily newsletter.