Traditional drug discovery involves a resource and labor-intensive protein synthesis process that relies on cell-based design, production and manufacturing technologies. Specific DNA strands are incubated inside cells originating from bacteria, yeast, insects, plants or mammals to enable characterization of a new protein over several months. This is then followed by development of stable cell lines over several months to a year to enable larger scale clinical and eventual commercial production. This process, by its nature, is iterative for every minor variant of the protein, which may or may not yield the desired therapeutic properties, and the pace of drug discovery is therefore limited by the number of cell lines that can be practically managed in parallel.
South San Francisco-based Sutro Biopharma has developed a novel approach to protein synthesis that doesn't rely on cell-based design. The company's proprietary XpressCF platform involves separating the cellular components required to produce proteins from the process of protein generation itself. The extracted cellular components include all the necessary biochemical components for protein production, transcription and translation. A specific DNA sequence is added to the extract, which results in the coding and expression of the desired protein in less than 24 hours.
Using this process, hundreds or thousands of DNA sequences can be expressed simultaneously within the same cell-free extract system to form hundreds or thousands of unique proteins. Sutro's platform is designed to make protein synthesis be a predictable and reproducible biochemical reaction, independent of the constraints of a cell. The company states that its XpressCF platform is the first and only current Good Manufacturing Practices (cGMP) compliant scalable cell-free protein synthesis technology that has resulted in products in clinical development.

Sutro Biopharma filed its Form S-1 yesterday for a $75 million initial public offering via Cowen and Piper Jaffray. Merck Sharp & Dohme, a subsidiary of Merck MRK, holder of approximately 12.5% of Sutro's common stock, is purchasing an additional $10 million in common in a concurrent private placement. Sutro has had collaboration agreements with Merck since July 2018, EMD Sorono since 2014 and Celgene CELG since 2012, which have brought Sutro about $330.0 million in payments, including $43.7 million in common stock investments.
In July 2018, Sutro closed on $85.4 million in Series E financing led by Samsara BioCapital and Surveyor Capital, and supported by existing investors Alta Partners, Amgen Ventures, Celgene, Lilly Ventures, Skyline Ventures and SV Health Investors, and new investors Eventide, Nexthera Capital, Vida Ventures, Tekla Capital Management and Merck. Sutro's previous Series D round raised $26 million in 2013.
The company is focused on designing therapeutics for cancer and autoimmune diseases using its "cell-free" biochemical approach to produce cytokine-based therapeutics, antibody-drug conjugates and bispecific antibodies that are directed primarily against clinically validated targets where the current standard of care may be suboptimal. Sutro is currently enrolling patients for a Phase 1 trial on its lead candidate, STRO-001, for multiple myeloma and non-Hodgkin lymphoma. Initial safety data is expected in mid 2019.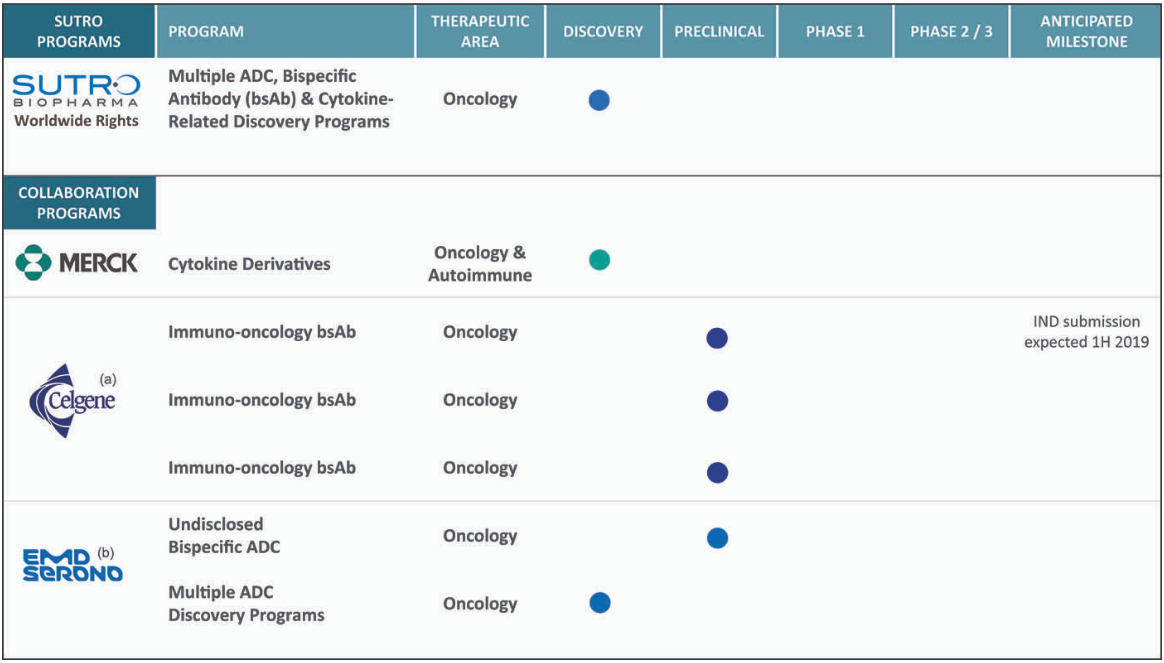 Source: Sutro Biopharma
Please email us at [email protected] to see our Case Studies and Testimonials.
Please click here for information on our new trading platform.
Please click here to see our daily newsletter.