Sutro Biopharma Achieves Another Milestone in Celgene Partnership
Edward Kim Follow |

We first discussed Sutro Biopharma STRO in this space in late August 2018, as the company was preparing for its initial public offering. The company was successful in raising $85 million in gross proceeds in the deal that priced on September 27, 2018, along with $10 million from Merck MRK in a concurrent private placement. Merck has been a collaborator with and investor in Sutro since July 2018.

Sutro announced today further progress in a separate partnership with Celgene CELG, by which Sutro earned a $10 million milestone payment triggered by the successful development of a dry powder formulation of XtractCF, a proprietary cell-free extract used to produce novel protein therapeutics. Sutro's spray drying technology is used to produce dry powders from liquids, and the company intends to use this technology to support its industrial-scale manufacturing of XtractCF. According to the company, "dried XtractCF is a significant advancement, facilitating the commercial-scale manufacturing of protein therapeutics, using Sutro's proprietary cell-free XpressCF technology for its fully owned and partnered programs."

Subscribe to get our Daily Fix delivered to your inbox 5 days a week
We highly value the collaborative nature of our partnership with Celgene and continue to deliver on important milestones. This advancement is yet another validation of our expertise in the field and adds to our successes in developing novel antibody-drug conjugates for the treatment of cancer patients.

- Bill Newell, CEO, Sutro Biopharma.

XpressCF is Sutro's proprietary cell-free protein synthesis and site-specific conjugation platform, which has led to the discovery of its lead antibody-drug conjugates (ADCs). The company is in Phase 1 studies with STRO-001, a potentially first-in-class ADC that targets CD74, a protein highly expressed in B-cell malignancies such as multiple myeloma and non-Hodgkin's lymphoma. Sutro's second compound, STRO-002, is an ADC targeting folate receptor alpha, which is a protein expressed in 80% of ovarian and endometrial cancers.
The success and promise of this platform has resulted in collaborations with Merck and Celgene, as mentioned, and with EMD Serono (as Merck KGaA of Germany is known in the US and Canada). To date, these partnerships have resulted in about $350 million in payments to Sutro, including about $54 million in equity investments.
Pipeline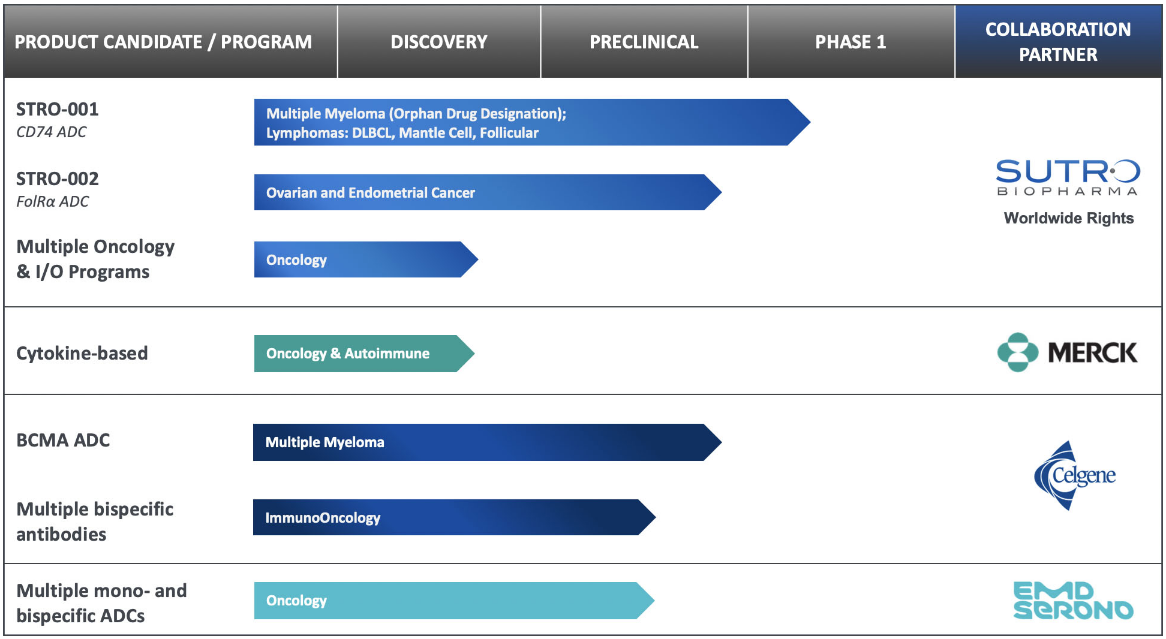 Source: Sutro Biopharma

Progress since IPO

Sutro has made measurable progress in its short time as a public company.
Investment issues to consider

Sutro sold 5,667,000 shares at $15 in its IPO, which, including the $10 million from Merck, gave the company a post-money market capitalization of $342 million. The stock has drifted lower in relatively light volume (excluding its first day, which saw 2.7 million shares traded, the stock has averaged less than 60,000 shares traded per day) in the ensuing three months, however, trading below $10 mid-afternoon today.
The eradication of one-third of Sutro's market value seems overdone, even amid the overall biotechnology sector's consolidation in Q4 this year. As measured by the iShares Nasdaq Biotechnology ETF IBB, the sector is down 19% during the time Sutro has been public. We think the stock presents an attractive risk-reward proposition at current levels, given the company's tangible progress, the support of its partners and the potential addressable markets for its cancer therapeutics.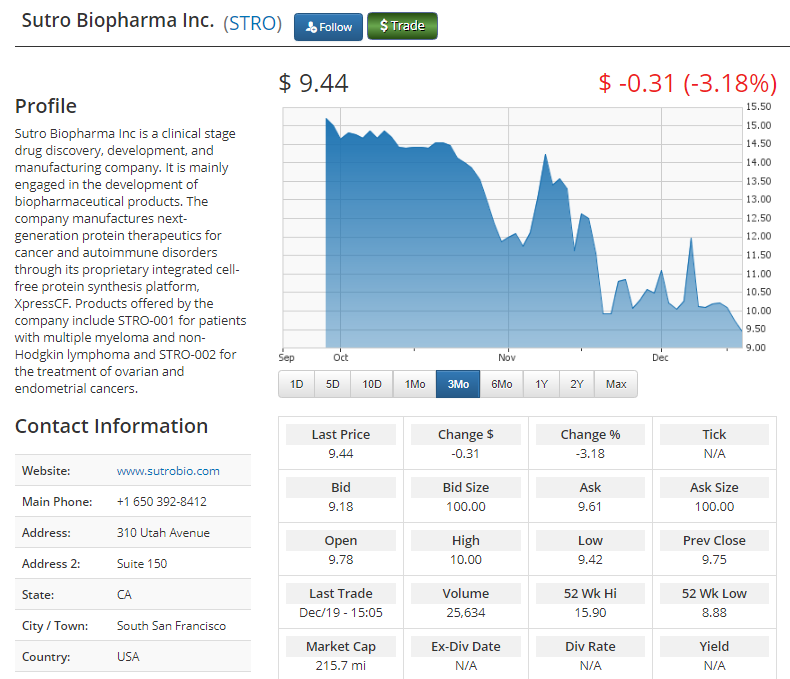 Please email us at content@equities.com to see our Case Studies and Testimonials.
Please click here for information on our equity trading platform.
Please click here to receive our free daily newsletter.
DISCLOSURE: The author has no positions or any beneficial interest in, and has received no compensation from, the companies mentioned in this article.

---
The views and opinions expressed in this article are those of the authors, and do not necessarily represent the views of equities.com. Readers should not consider statements made by the author as formal recommendations and should consult their financial advisor before making any investment decisions. To read our full disclosure, please go to: http://www.equities.com/disclaimer.
Trending Articles
Market Movers
Sponsored Financial Content