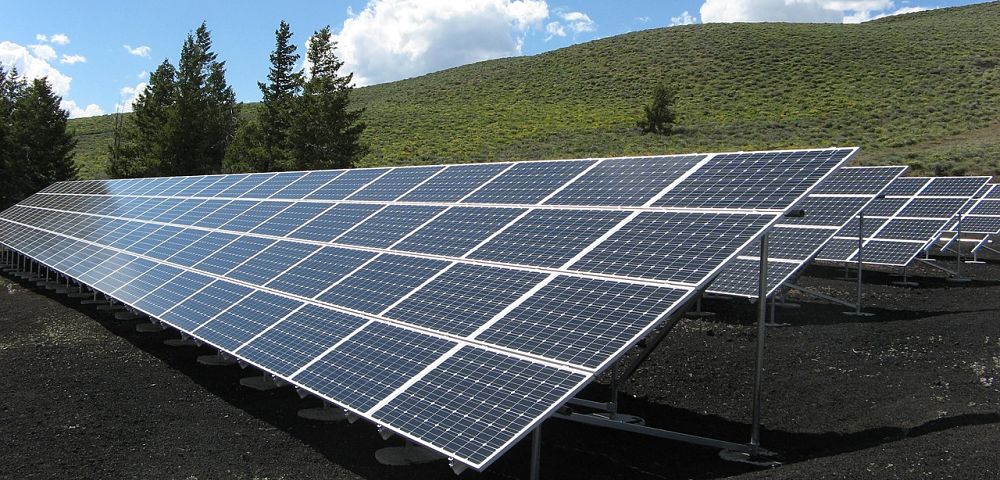 SunPower Corporation SPWR has been one of the leading U.S. solar companies since it was founded in 1985.
The company makes the most efficient mass-produced solar cells in the world, the X-Series, with almost 23% efficiency.
But despite having a top quality product, the company has had trouble making money in the difficult solar industry for a variety of reasons. It's currently undergoing a major restructuring which if successful, could result in a large increase in the value of the business over time.
Premium Quality Panels
A lot of solar companies make generic panels.
SunPower, on the other hand, produces the highest-efficiency solar panels on the market, with among the best reliability and warranty, for a premium price. And their methods are protected by hundreds of patents without major reliance on any specific patent.
Their superior efficiency has to do with the way the electrical contacts collect electricity from the cells compared to normal panels. A side effect is that the panels also look better- they have a uniform black sleek appearance– which is relevant for the residential market.
Basically, they're like the iPhones of solar panels. In fact, when Apple builds solar systems for its compounds, it generally uses SunPower. And when Toyota built its new North American headquarters, it used SunPower panels.

Over the course of a 25 year installation, SunPower's X-Series panels produce up to 60% more energy than generic panels.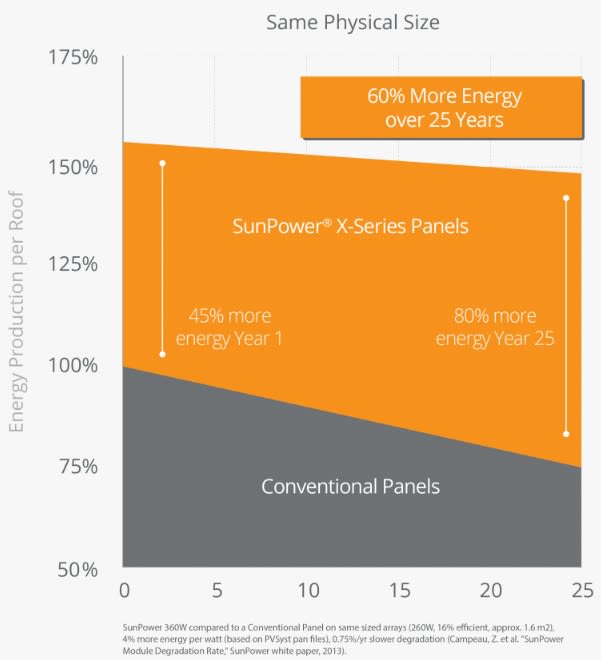 Graphic Source: X-Series
This makes the X-Series great for residential and commercial installations, where space is limited. It's worth paying up the extra money for the better product. And this has indeed translated well into sales- SunPower has the leading market share in residential/commercial solar.
If you're building a solar power plant with tons of space, then power per square meter is generally not what you're optimizing for. Instead, when space isn't a concern and the scale is large, you're looking for the absolute lowest cost per watt. That's not SunPower's best market.
But if you have a house with a roof, or a large building with a roof and parking lot, and you want to have as much solar energy from that limited space as possible, then SunPower's products are the best option.
The high cost of a small-scale or medium-scale solar system is mostly due to the labor-intensive installation and supporting structure, not the panels themselves, since they don't harness the economies of scale associated with massive installations. If you're paying all that money to get a residential or commercial solar system installed, then paying extra for the panels themselves to produce much more energy with less maintenance makes financial sense.
For example, in addition to showing the continually-decreasing costs of solar, this chart shows how panel costs (in yellow) are a much smaller portion of overall residential/commercial solar system costs in recent years compared to utility-scale solar installations: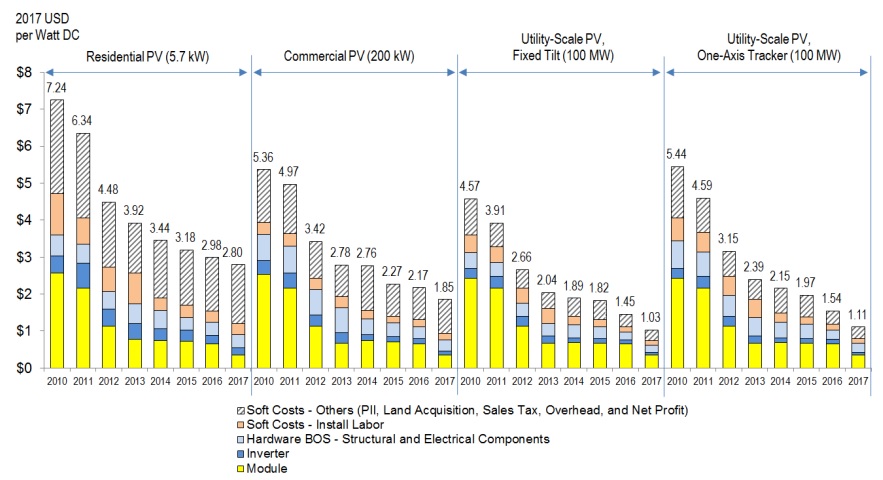 Chart Source: National Renewable Energy Laboratory
The Company and Stock: Kind of a Mess
While their product is industry-leading, the company and their stock have left a lot to be desired.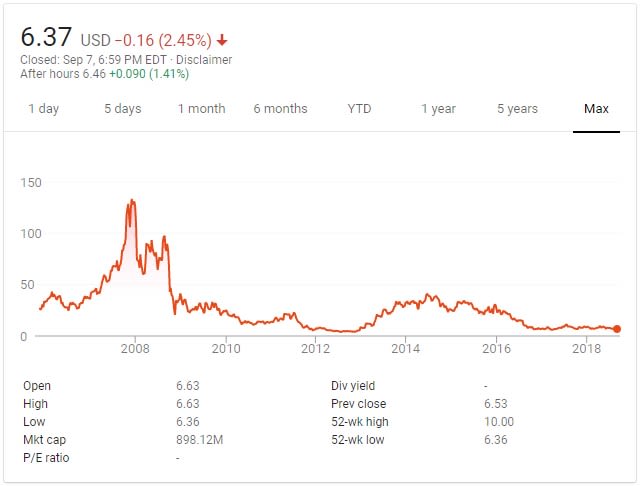 Source: Google Finance
As this chart shows, investing in stocks is never easy business. Some companies get hyped to ridiculous valuations, only to go on to underperform for a decade or more.
As recently as 2012, the share price was nearly as low as $4, but in 2014, it was almost tenfold-higher at $40. Currently they are back in the $6-$7 range.
Although they make roughly $2 billion in annual revenue, the company hasn't made profits. In most years, they report a net loss. This is partially because although their residential business has 20% gross margins currently, their utility business has basically zero gross margins. They lose money for utility panels.
With a fairly high debt load, the company only has about $35 million in shareholder equity. Factoring out intangible assets leaves that at nearly zero.
So the book value isn't worth much and the company doesn't make money.
Restructuring and Hope Going Forward
SunPower Corporation is currently going through a corporate transformation.
The company has sold or is in the processing of selling all of its non-core assets to pay down debt and streamline the business.
This includes the recently completed sale of their portion of 8Point3 Energy, which is a yieldco that was jointly-owned with First Solar (FSLR). It also includes the announced sale of their microinverter business to Enphase (ENPH) for $25 million in cash and 7.5 million shares of Enphase stock. Lastly, SunPower is expecting to sell their 400MW lease portfolio by the end of 2018.
In addition, in April 2018 they announced an acquisition of SolarWorld Americas to increase their solar panel manufacturing capability. Currently SunPower makes most of their panels in emerging markets, but this acquisition will increase their U.S. manufacturing volumes.
Then, by the first quarter of 2019, SunPower will restructure their remaining business into Upstream and Downstream business units: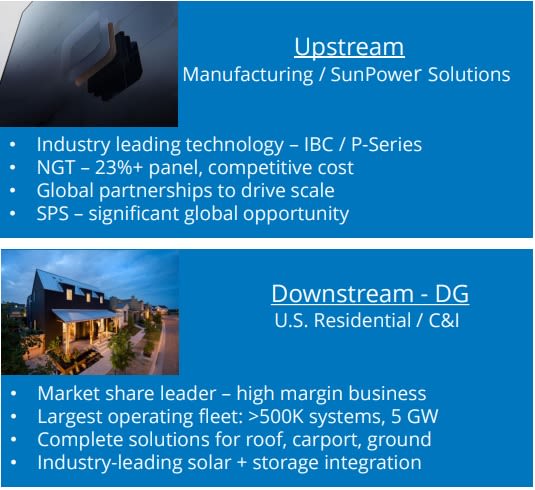 Source: SunPower 2018Q2 Supplemental Deck
They also announced during their 2018Q2 earnings call that they plan to reduce exposure to utility-scale solar and double-down on residential and commercial solar. This is smart because it's where they have a strong competitive advantage and the best margins.
By selling all of their yieldco and lease assets, increasing solar cell production, reducing their utility-scale focus, emphasizing their residential-scale and commercial-scale focus, and paying down debt, SunPower is greatly streamlining the company and aligning it with where future profitability is likely to come from. It also makes the balance sheet a lot simpler and more transparent.
Lastly, SunPower's profitability has been damaged by a long-term polysilicon contract for years. Back when polysilicon prices were higher, SunPower entered into a massive take-or-pay agreement to buy large amounts of polysilicon at a certain price. But then the supply of polysilicon improved, and prices are a fraction of what they used to be. In 2008 it was $475/kg and today it is under $15/kg.
As a result, SunPower is currently paying above-market rates for polysilicon, and in amounts larger than it needs. The company ends up re-selling a portion of this polysilicon at market prices for a loss to try to recoup at least some of the waste.
Luckily by 2021 their polysilicon contract ends:

Source: SunPower 2018Q2 10-Q
Unfortunately, SunPower has a few more years of paying hundreds of millions of dollars for overpriced silicon, but after that, they will be able to buy it at much lower prices and in the quantity that they need. This will boost the company's profit margins.
In addition, California will require homes built in 2020 or later to have solar panels. This is SunPower's most profitable segment, and this mandate is forecast to add considerable new solar demand for the state: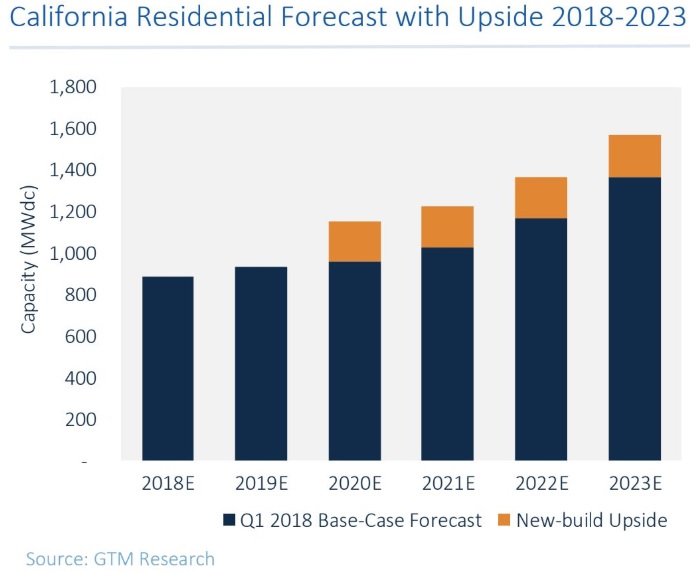 Final Thoughts
It's clear that over the long-term, renewable energy will play a larger and larger role in global energy production.
Except for a few forms of energy like geothermal energy or tidal energy, most forms of energy on our planet come indirectly from the sun. Biomass is basically an organic solar energy collector. Oil is ancient highly-concentrated biomass. Wind energy is caused by uneven heating of our planet's surface by the sun. Hydroelectricity exists due to the sun evaporating water and with the help of gravity creating rivers.
Solar panels are the most direct way to capture energy directly from the sun. But solar has historically been a business with low profit margins and plenty of bankruptcies. If you invest in the space, it's important that your company has strong differentiation- something utterly superior about their product. For SunPower, they produce the most efficient solar panels for residential and commercial installations.
SunPower is currently trading at about 0.5x annual sales. This low valuation is warranted because industry profit margins are low.
However, a lot of SunPower's historic problems are in the process of being eliminated. By selling off non-core assets, focusing on residential and commercial markets, and eventually reducing their polysilicon costs, SunPower should survive and prosper over the long-run as solar demand continues to grow across the globe.
There is substantial risk for the next few years, however, and SunPower is best kept to a small portion of an overall portfolio.