Summit Therapeutics (Nasdaq: SMMT, AIM: SUMM) announced positive 24-week interim data this morning from the open-label Phase 2 proof of concept clinical trial of ezutromid in patients with Duchenne muscular dystrophy (DMD). Ezutromid is a utrophin protein modulator that Summit has been developing to protect healthy muscle function in all DMD patients.
The interim data showed that treatment with ezutromid resulted in a statistically significant and meaningful reduction in muscle damage as measured by a 23% decrease in mean developmental myosin, a biomarker of muscle damage that is found in repairing fibers, in muscle biopsies at 24 weeks compared to baseline. 14 of 22 patients showed a decrease in developmental myosin, with five of those showing a greater than 40% reduction. Further, the data showed an increase in mean utrophin protein intensity levels of 7% in biopsies at 24 weeks compared to baseline.
DMD is caused by different mutations in the dystrophin gene that result in DMD patients being unable to produce dystrophin, a protein essential for maintaining healthy muscle function. The absence of dystrophin results over time in the deterioration of muscles and leads to the loss of ambulation, loss of respiratory and cardiac function and ultimately death, typically by the time DMD patients reach their late twenties. Utrophin, functionally and structurally similar to dystrophin, is produced during the early stages of muscle fiber development but is switched off in maturing muscle fibers, at which point dystrophin is produced to perform the same functional role. The combination of reduced muscle fiber damage and increased levels of utrophin provides the first evidence of ezutromid target engagement and proof of mechanism.
Summit is focused on advancing new therapies for the treatment of rare diseases and infectious diseases. Beyond DMD, the company is developing a therapy for Clostridium difficile infection, or CDI.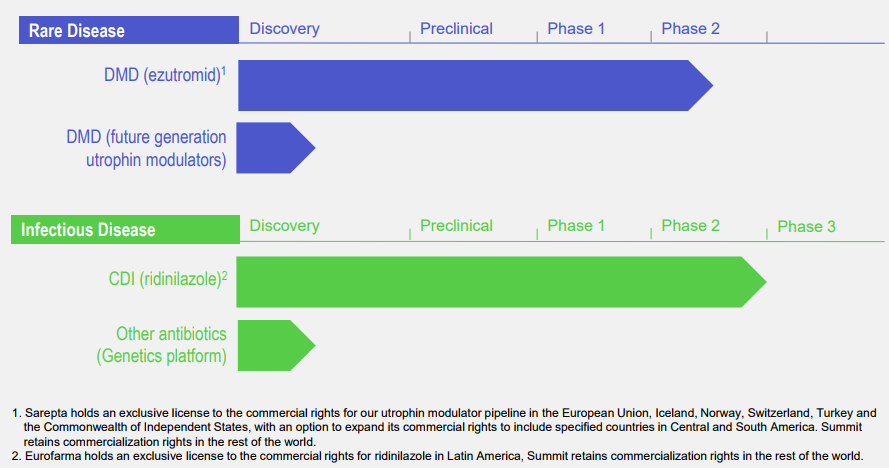 Source: Summit Therapeutics
The significant reduction in muscle damage coupled with the increase in utrophin expression seen in… trial patients at 24 weeks is very encouraging as it suggests ezutromid may slow the relentless cycle of muscle fiber degeneration and regeneration that is a hallmark of DMD. These favorable interim results are certainly a step forward in the development of utrophin modulation as a treatment approach for this fatal disease in all patients with DMD.
– Professor Francesco Muntoni, Director of the Dubowitz Neuromuscular Centre, at the UCL Institute of Child Health and Great Ormond Street Hospital for Children and principal investigator in the Phase 2 trial
The benefits of continual production of utrophin protein to protect against the progression of DMD have been well established in preclinical studies. These data provide the first evidence of utrophin modulation working in patients. If further findings build on this evidence they could establish ezutromid as a universal, disease-modifying treatment and bring hope to all patients and families living with DMD.
– Professor Dame Kay E. Davies, FRS, Dr Lee's Professor of Anatomy of the University of Oxford and Co-Founder of Summit Therapeutics
The Phase 2 trial of ezutromid is ongoing, with top-line results expected to be reported in the third quarter of 2018. After 48 weeks of treatment, all patients have the option of enrolling into an extension phase, which is gathering long-term MRS, functional and safety data on ezutromid; to date 18 of 19 eligible patients have enrolled into the extension phase.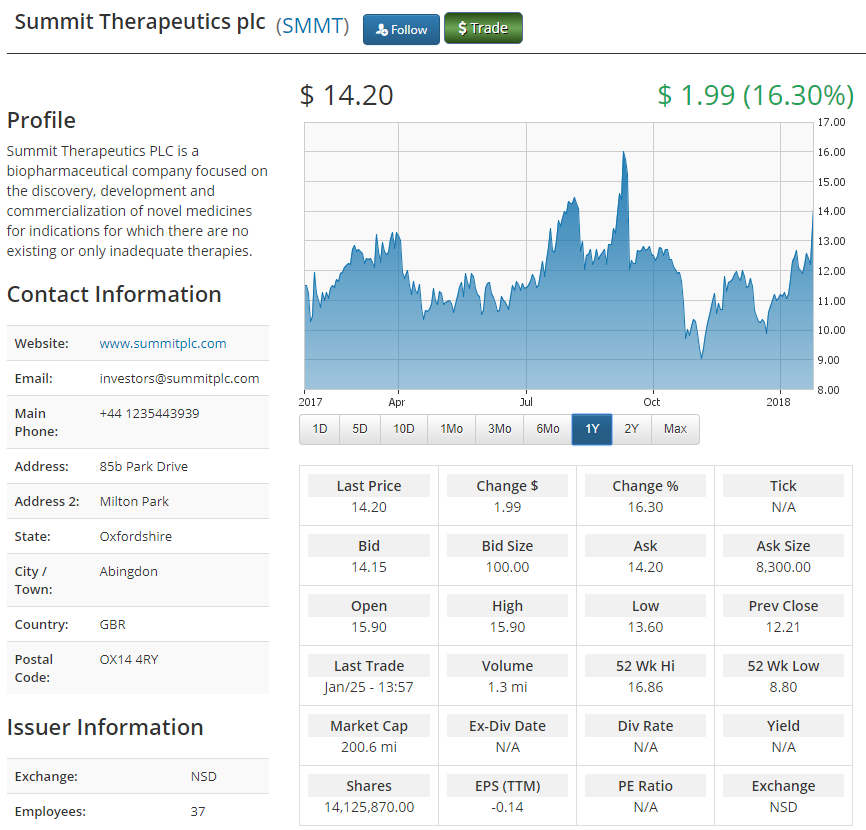 Please email us at [email protected] to see our Case Studies and Testimonials.
Please click here for information on our new trading platform.
Please click here to subscribe to our complimentary newsletter.