Morrie Tobin got busted by the SEC for hiding his ownership in Environmental Packaging Tech Holdngs Inc EPTI, quarterbacking a pump-and-dump stock promotion scheme that eventually took down 50 people who were bribing and paying off shills to get their kids into exclusive colleges. Tobin ratted out the Women's Soccer Coach Rudy Meredith at his alma mater, Yale University, as part of a plea deal which started the sleazy avalanche that remains in the media cycle taking down celebrities and their kids.
In June 2017, Tobin, through his network of offshore accounts, issued a press release that triggered the scam, driving shares higher in EPTI. Tobin netted millions of dollars by selling hundreds of thousands of shares without registering them or disclosing his affiliation with the company, boosting volume from a sleepy 23,000 per day to millions of shares. Once the SEC MicroCap Task Force was flagged, they started looking into Tobin, and had him dead to rights. Click here to read the SEC filing on Tobin. Below is a chart of those days in June and July, 2017.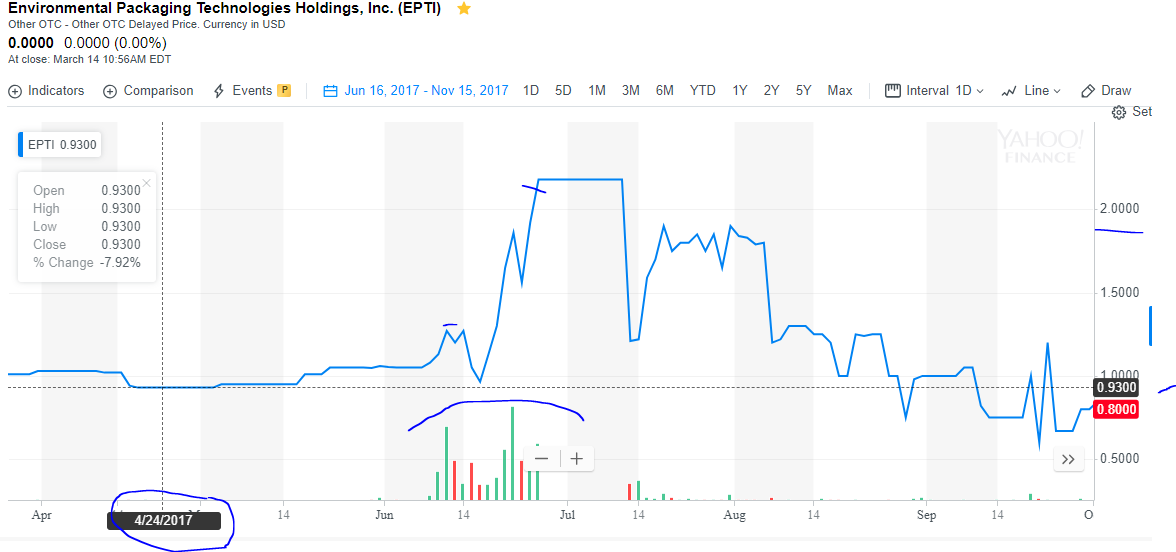 Source: Yahoo Finance
It took nearly two years for the scandal to filter back through to actresses Lori Loughlin, Felicity Huffman and others charged in an alleged college admissions cheating scam early Tuesday. Federal court records unsealed in Boston name 50 people who have been indicted as part of the alleged nationwide scheme involving elite college and universities including Yale, Georgetown, the University of Southern California and Stanford, according to a release from the U.S. Attorney's Office in Massachusetts.
Dozens of individuals involved in a nationwide conspiracy that facilitated cheating on college entrance exams and the admission of students to elite universities as purported athletic recruits were arrested by federal agents in multiple states and charged in documents unsealed on March 12, 2019, in federal court in Boston.
Athletic coaches from Yale, Stanford, USC, Wake Forest and Georgetown, were also implicated.
Huffman, 56, allegedly gave $15,000 to admissions consultant William Singer and his nonprofit organization, Key Worldwide Foundation "to participate in the college entrance exam cheating scheme on behalf of her oldest daughter," the indictment states. Loughlin and her husband, designer Mossimo Giannulli, allegedly paid $500,000 in bribes to Singer and to USC's senior women's associate athletic director to help their daughters get in.
Tobin threw anyone under the bus he could after the SEC started squeezing him, and the scandal was uncovered. It is good to see these stock promoters shut down and exposed and the SEC MicroCap division cleaning up our industry. Often, it takes media cycle news to refocus on bad companies and bad actors, when there are far too many good companies working hard to get traction and leverage their shares correctly.