The global food and beverage industry is witnessing a remarkable rise in demand for high-potency sweeteners and sugar substitutes such as stevia, largely due to growing health consciousness and increasing rates of diabetes and obesity.
In the past, stevia was sold in powder form with a bitter aftertaste which limited its acceptability as a sugar substitute. However, manufacturers today have discovered ways to retain its sweetness and health benefits without the bitter taste, leading to a steady rise in demand for across developed regions.
Top Trends in Stevia Market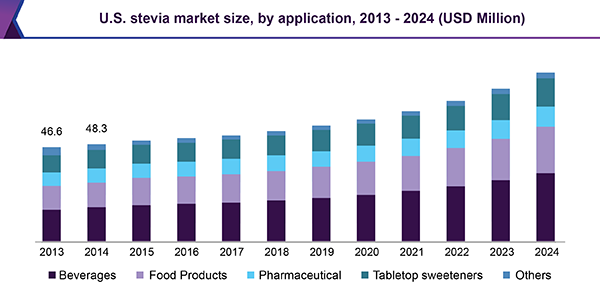 Image Source: Grand View Research
Gathered from stevia leaves, the extract is almost 200 times sweeter than other forms of sugar such as glucose, maltose, fructose, lactose and sucrose. Stevia is a potential alternative for aspartame, saccharin and asulfam, among other artificial sweeteners, meeting market demand for healthy options which enable consumers to reduce sugar intake in their daily lives.
Natural ingredients like the plant-based, zero-calorie stevia are therefore experiencing encouraging commercial success, catalyzing innovation across the global stevia market.
Here are some of the top trends observed in today's stevia production industry:
Novel Products
More consumers are reaching for low-calorie and natural ingredients while shopping for groceries, driving demand for great-tasting foods and beverages which help consumers to control their daily sugar intake. Hence, manufacturers are focused on research and development to produce innovative products with healthy ingredients, using stevia's high sweetness to improve taste.
Products containing rebaudioside D (Reb D) and rebaudioside M (Reb M) are particularly popular, thanks to the ingredients' capacity to reduce adverse taste issues associated with stevia leaf extract.
Clean Beverages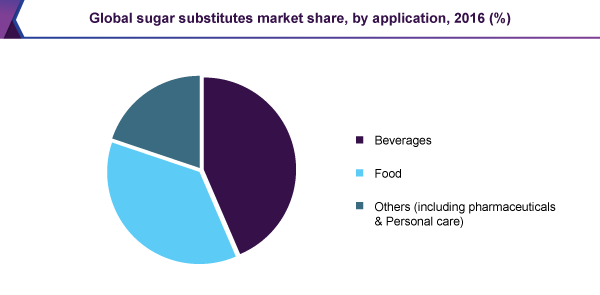 Image Source: Grand View Research
The beverage segment is anticipated to emerge as the growth-defining factor for the stevia market in the near future. Increasing production of carbonated drinks containing stevia rather than sugar will bode well for this growth.
Likewise, strong consumer interest in clean label goods is expected to drive innovation across the industry in the years to come, with companies like Coca-Cola Co., PepsiCo, Inc., Unilever plc, Kraft Heinz Co., Danone, Wave and Nestle S.A. launching products with stevia as the sweetening agent. Beverages, dairy, carbonated soft drinks, juices, energy drinks, sports drinks, and snacks are the top categories witnessing increased stevia adoption.
Market Scenario
According to Grand View Research, Inc., the global stevia market is poised to reach around USD 557.7 million by the end of 2024. Steady rise in demand from major end-use segments is considered the primary driver for this expansion, with consumer awareness and demand for healthy, low-calorie snacks securing the food sector as a major market segment.
High demand from bakery and confectionery manufacturers is anticipated to further propel the expansion of this market in the years to come.
Here are some of the highpoints of the global market:
Asia Pacific: the largest market segment, with around 35.3% market share in terms of volume in 2015.
Top Players: PureCircle Ltd, GLG Life Tech Corp., Cargill Inc, Evolva Holding S.A., and Tate & Lyle Plc.
Beverages: the largest application segment, with nearly 34.8% volume share in 2015 and the fastest growth at around 5.8% CAGR through to 2024.
What the Future Holds for Stevia Manufacturers?
As stevia's popularity keeps growing, manufacturers are increasing budgets for research, development and innovation to improve their product portfolios.
Rising levels of diabetes and obesity are expected to continue boosting the consumer interest in sugar substitutes and low-calorie products, prompting government bodies, healthcare professionals and regulatory authorities to limit the sugar content of foods and beverages.
Business opportunities in the stevia market are also poised to grow thanks to the ingredient's sustainability. According to researchers, stevia entails a significantly lower environmental impact than sugar production, while its greater return on investment potential, as compared to coffee and tea harvesting, can also encourage farmers to venture into stevia farming.
Increasing promotional efforts to encourage adoption of the product are also expected to create business opportunities in the years to come, with top players interested in strategic partnerships with farmers and mergers and acquisitions (M&A).
Emerging economies like India, Malaysia, Indonesia and Thailand are anticipated to present the stevia market with attractive business opportunities, owing to rapid growth of their food and beverage sectors. According to research, demand for innovative products and the high prevalence of diabetes and obesity in these regions can further boost growth opportunities in the near future.