Steve Case says venture capital is missing out on a 'great arbitrage'
Matt Bird Follow |

Entrepreneur-turned-venture capitalist Steve Case sees a shift in startup funding money that's moving from hotspots like California to the middle of the country.

At the Greenwich Economic Forum earlier this month, the founder of Internet pioneer AOL told attendees that California — particular Silicon Valley — will remain the preeminent ecosystem. However, he argued there's a "great arbitrage" happening in the middle of the country, and venture capitalists are missing out on it.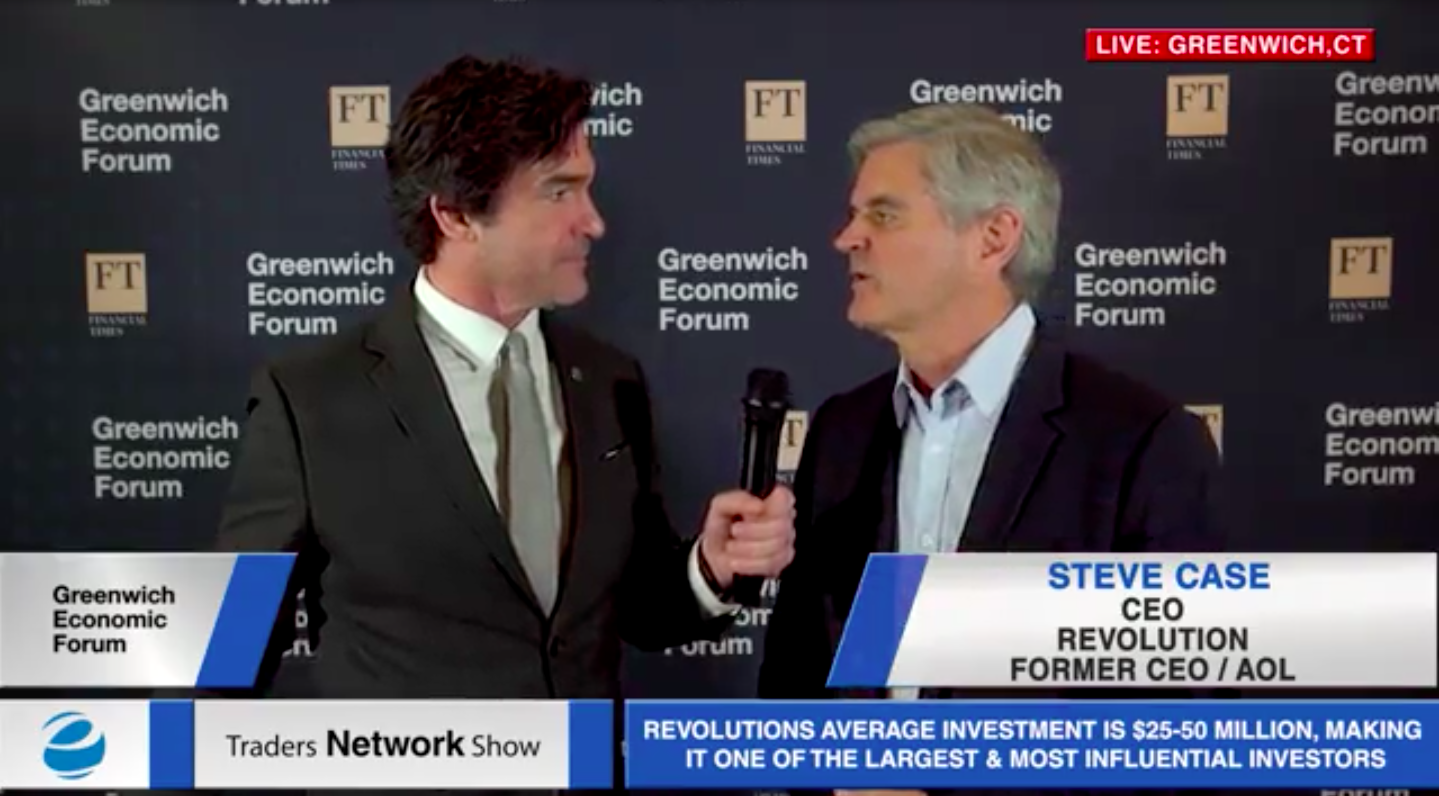 Matt Bird & Steve Case at the 2019 Greenwich Economic Forum
"It's crazy that essentially we're putting all our eggs in that basket and we're not diversifying more," Case said.
"And, we're missing out, as investors, on what's a great arbitrage because the valuations in other places around the country, because of the classic Econ 101 supply and demand, are lower," he added.
Case pointed out that venture capital overwhelmingly flows to a small group of coastal states. According to the National Venture Capital Association (NVCA), 75% of startup cash in 2018 went to California, New York, and Massachusetts. More than 50% went to California alone, the data show.
'Broader political implications'
Case started his D.C.-based venture capital firm, Revolution, back in 2005. In 2017, the firm launched its Rise of the Rest seed fund to identify promising startup ecosystems, and invest in companies in the middle of the country.
To date, Rise of The Rest has invested in more than 100 companies across more than 30 states. Case added that one of the "untold" stories is that they also see multi-billion-dollar exits in places outside of the coasts — a trend he expects to continue.
"More entrepreneurs will get backed in more parts of the country. More big companies will build. More jobs will be created. That will have some broader political implications, as well," he told forum attendees.
"To me, it feels a little like the Internet 35 years ago when nobody, other than a few...believed in the idea of the internet. And people, when I was talking about it, were skeptical," Case added.
"Over time, I think you'll see venture capital shift. The coastal investors will need to have regional investment strategies," Case said.
Venture capital pioneer Alan Patricof, who backed Case's AOL, added that one of the challenges in investing in these parts of the country is attracting the technical talent to help companies scale.
However, Case said it's really about getting people to move back to those cities and slow the "brain drain" by creating opportunities locally to keep people and get the "boomerang of people returning."
The Rise of the Rest fund garnered big backers, including John Doerr, Jim Breyer, Henry Kravis, David Rubenstein, Eric Schmidt, Tory Burch, Ray Dalio, and Howard Schultz, to name a few.
And just last month, Case announced a second Rise of the Rest that's also attracted big bakers like Sara Blakely, Jeff Bezos, Kevin Plank, and many others.
Contributor (s): Matt Bird - Republished by Equities News in-house editorial desk

Source (s): Julia La Roche, Yahoo Finance
"Matt Bird" is the Network President of Equities News (Equities.com), Executive Producer and co-host of the Traders Network Show. 2019 Matt Bird was appointed to the advisory board and committee of Humanity 2.0, a Vatican City based non-profit focused on solving human impediments. Matt Bird also serves as chairman (Co-Founder) of Communication Marketing agency 1-800-PublicRelations (1800PR). In 2015 Matt Bird was ranked 3rd "Top 10 Most Influential Communications and Media Executives for Impact by the United Nation and PVBLIC - and was the acting director of communications for the U.N. SDG Media Zone. Matt Bird has lead ESG, social impact, sustainability and Public-Private Partnership initiatives for the United Nations, UN SDGs, UNCTAD, EU Parliament, NGOs and the U.S. Department of Commerce (International Trade Administration- trade.gov). Prior, Matt Bird was CEO of MUNCmedia, a (PaaS) news content distribution platform and network spanning 1400 publishers, reaching more than 110 million retail and institutional investors worldwide. In 2009 NASDAQ acquired the platform for integration into NASDAQ Financial Services group. The core technology and IP powers news targeting algorithms and content monitoring systems used by nearly all stock exchanges and newswires services today. On Sept, 21 2009 Matt Bird rang the NASDAQ Closing Bell in honor of his partnership the NASDAQ OMX and Globe Newswire for accomplishment to further the FinTech and financial communications industry. Matt Bird has severed as EVP and director rolls at BBDO, MarketWatch (formally ScreamingMedia), IGM. Mr. Bird current sits on numerous NGO, Public-Private partnership and reneging growth organization boards focus on economic development for social change.
DISCLOSURE: The views and opinions expressed in this article are those of the authors, and do not represent the views of equities.com. Readers should not consider statements made by the author as formal recommendations and should consult their financial advisor before making any investment decisions. To read our full disclosure, please go to: http://www.equities.com/disclaimer.