~ Elzonris (tagraxofusp) is the first approved treatment for blastic plasmacytoid dendritic dell neoplasm (BPDCN) and first CD123-targeted therapy ~
Blastic plasmacytoid dendritic cell neoplasm (BPDCN) is a highly aggressive, rare form of blood cancer that is often improperly diagnosed or underdiagnosed because of similarities and overlap with other types of cancer. It is a disease of the bone marrow and blood that can affect multiple organs, including the lymph nodes and the skin, that often presents with features similar to acute myeloid leukemia, non-Hodgkin's lymphoma, acute lymphocytic leukemia, myelodysplastic syndromes and chronic myelomonocytic leukemia, as well as other malignancies with skin manifestations. BPDCN constitutes less than 1% of all hematologic malignancies, according to the Leukemia and Lymphoma Society, with an estimated 1,000 to 1,400 cases in the US and Europe combined each year. Patients can develop BPDCN at any age, but the median age at diagnosis is in the mid-60s, with about 75% of cases affecting men. Prior to last Friday, there have been no approved therapies for BPDCN.
New York City based Stemline Therapeutics STML is developing treatments for difficult-to-treat cancers. The company announced last Friday just before the close that it received approval for Elzonris (tagraxofusp), its first approved drug and the first FDA-approved therapy for BPDCN. Elzonris is also the first FDA-approved therapy that targets CD123, an antigen that has been shown to be highly expressed in leukemic stem cells and that is an emerging target for many cancer researchers. The FDA granted approval of Elzonris for the treatment of BPDCN in adult and pediatric patients two years and older, in both treatment-naive and previously-treated populations.
Prior to today's approval, there had been no FDA approved therapies for BPDCN. The standard of care has been intensive chemotherapy followed by bone marrow transplantation. Many patients with BPDCN are unable to tolerate this intensive therapy, so there is an urgent need for alternative treatment options.

– Richard Pazdur, MD, Director, FDA's Oncology Center of Excellence and acting director of the Office of Hematology and Oncology Products in the FDA's Center for Drug Evaluation and Research.
Source: Stemline Therapeutics
The efficacy of Elzonris was studied in two cohorts of patients. In the first cohort of 13 enrolled patients with untreated BPDCN, seven patients (54%) achieved complete remission (CR) or CR with a skin abnormality not indicative of active disease (CRc). In the second cohort of 15 patients with relapsed or refractory BPDCN, one patient achieved CR, and one patient achieved CRc.
Today's approval of tagraxofusp is a major step forward for people with BPDCN, their families and the medical community. CD123 is expressed in BPDCN and a number of other hematologic malignancies. The approval of tagraxofusp, a CD123-targeted therapy, represents a new standard of care for patients with BPDCN.

– Naveen Pemmaraju, MD, Associate Professor, The University of Texas MD Anderson Cancer Center, and a principal investigator on the clinical trial.
Although the number of patients in the trial was relatively small, Stemline's trial was largest prospective trial ever conducted in this disease, with 47 total patients at seven US sites.
Tagraxofusp represents an unprecedented leap forward in the treatment of BPDCN, an aggressive malignancy with no approved therapeutic options until now. I have witnessed firsthand the significant responses a number of my patients experienced with tagraxofusp and a proportion of responders were able to receive a stem-cell transplant following remission.

– Andrew Lane, MD, PhD, Assistant Professor, Harvard Medical School and Dana-Farber Cancer Institute, and a principal investigator on the clinical trial.
Elzonris had been granted Breakthrough Therapy Designation and Orphan Drug Designation by the FDA, and the drug application was evaluated under Priority Review. Notably, the FDA acted two months ahead of the PDUFA target date of Feb. 21, 2019. In November 2018, the European Medicines Agency (EMA) granted accelerated assessment to the upcoming Elzonris Marketing Authorization Application (MAA) submission, which is expected in Q1 of 2019.
Investment issues to consider
The labeling for Elzonris contains a Boxed Warning to alert health care professionals and patients about the increased risk of capillary leak syndrome (CLS) which may be life-threatening or fatal to patients in treatment. CLS occurs when fluid and proteins leak out of capillaries into surrounding tissues. The overall incidence of CLS in Stemline's clinical trials was 55% in patients receiving Elzonris, including 46% in Grades 1 or 2, 6% in Grade 3, 1% in Grade 4 and 2 fatal events. Common signs and symptoms associated with CLS that were reported during treatment with Elzonris include hypoalbuminemia, edema, weight gain and low blood pressure.
The approval of Elzonris in BPDCN patients bodes well for the balance of Stemline's pipeline. The company is evaluating Elzonris in additional indications including chronic myelomonocytic leukemia, myelofibrosis and other related cancers. Stemline is also evaluating two other compounds: SL-801 in Phase 1 trial of patients with advanced solid tumors and SL-701 in patients with second-line glioblastoma.
Stemline has been public since January 2013, when it raised $38 million in gross proceeds at $10 per share. The stock was in high demand that first year, trading north of $47 that fall, but has not seen those levels since then. The company has raised an additional $217 million in gross proceeds through four offerings since the IPO and had $78 million in cash and short term investments as of September 30, 2018. We note that, while its IPO was executed through Aegis Capital, Stemline has since attracted the likes of JP Morgan and Cowen, who led the most recent financing in January 2018.
STML closed today at $8.29 in abbreviated Christmas Eve trading, giving it a market capitalization of about $264 million. Though the stock has traded actively since the late Friday announcement of the approval, long interest appears to be somewhat muted, perhaps by the rarity of the disease market that Elzonris addresses or by the boxed warning for CLS. We think the current valuation represents an attractive risk-reward proposition given that the company now has FDA validation for the scientific approach and there is potential to treat many other cancers which represent much more lucrative addressable markets.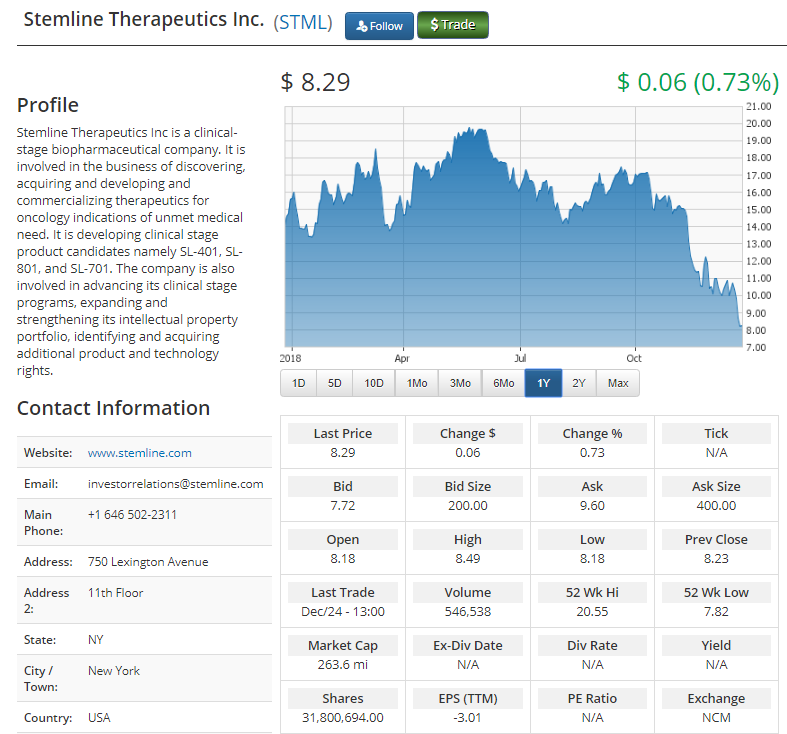 Please email us at [email protected] to see our Case Studies and Testimonials.
Please click here for information on our equity trading platform.
Please click here to receive our free daily newsletter.