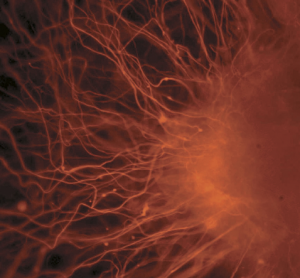 Stem Cells, Inc. (STEM) shares soared as high as  29 percent to $2.13 near on Tuesday, after the company outlined its tentatively successful results from a phase I/II clinical trial of an experimental treatment for serious spinal cord injuries.
The test is the company's first of its proprietary treatment for chronic spinal cord injury on real patients using purified human neural stem cells.  The study's subjects were three patients suffering from complete thoracic spinal cord injuries, meaning that none of them had any neural functioning below the chest-level.  All three received transplants, within nine months of their injuries, of 20 million stem cells at the injury site, and there were measurable results: for starters, the transplants were well-tolerated by all three, and more significantly two patients recovered some sensory function, with one of them having their status upgraded from "complete" injury to "incomplete".
At the 15th annual BIO CEO & Investor Conference, the company's CEO and President Martin McGlynn advised caution "when interpreting data from a small, uncontrolled trial", but followed that with "to our knowledge, this is the first time a patient with a complete spinal cord injury has been converted to a patient with an incomplete injury following transplantation of neural stem cells."  The results after the 12-month period of the trial were in keeping with those from after the 6-month period, and should be providing the company's doctors, investors, and patients with all sorts of reasons for optimism.
StemCells is small company with a market cap of $61.78 million, which is normal for an outfit that develops and experiments with medical treatments for serious injuries that have, until now, remained beyond the reach of therapy.  These results, especially if reproducible in a controlled environment, could make this a company to watch.
DISCLOSURE: The views and opinions expressed in this article are those of the authors, and do not represent the views of equities.com. Readers should not consider statements made by the author as formal recommendations and should consult their financial advisor before making any investment decisions. To read our full disclosure, please go to: http://www.equities.com/disclaimer