Stealth BioTherapeutics Raises $78 Million in IPO for Mitochondrial Diseases
Edward Kim Follow |

The first time that many of us heard the word "mitochondria" would have been in elementary school, reading Madeleine L'Engle's A Wind in the Door, the superior (yes it is, fight me) sequel to A Wrinkle in Time. While Ms. L'Engle didn't quite get the science right—I remember being disappointed at the lack of farandolae in our textbooks—the notion of our bodies being dependent on microscopic organelles to function was a revelation for this fourth grader.

In the decades since Ms. L'Engle introduced us to the Wallace family, scientists have made dramatic advances in gaining knowledge of the inner workings of a cell. We now know that mitochondria are found in nearly every cell in the body and are our primary source of energy production and, therefore, critical for normal organ function.

Stealth BioTherapeutics MITO priced its initial public offering last night, raising $78 million in gross proceeds through Jefferies, Evercore and BMO. The company sold 6.5 million shares at $12 per share, which was the low end of the $12 to $14 filing range. The deal values the company at $396 million post-money. Stealth BioTherapeutics is developing therapies for diseases involving mitochondrial dysfunction. The company's lead candidate, elamipretide, is a peptide compound that has been shown to readily penetrate cell membranes, targeting the inner mitochondrial membrane where it binds to cardiolipin. Cardiolipin is an essential phospholipid that is abundant in the inner mitochondrial membrane and is required for normal respiratory chain enzyme activity. Reduced and damaged cardiolipin has been observed in many diseases.

Elamipretide has been shown to increase mitochondrial respiration, improve the electron transport chain function and ATP (adenosine triphosphate) production and reduce formation of pathogenic ROS (reactive oxygen species) levels. The association of elamipretide with cardiolipin has been shown to normalize the structure of the inner mitochondrial membrane, thereby improving mitochondrial function.

Stealth BioTherapeutics is investigating elamipretide in four disease indications: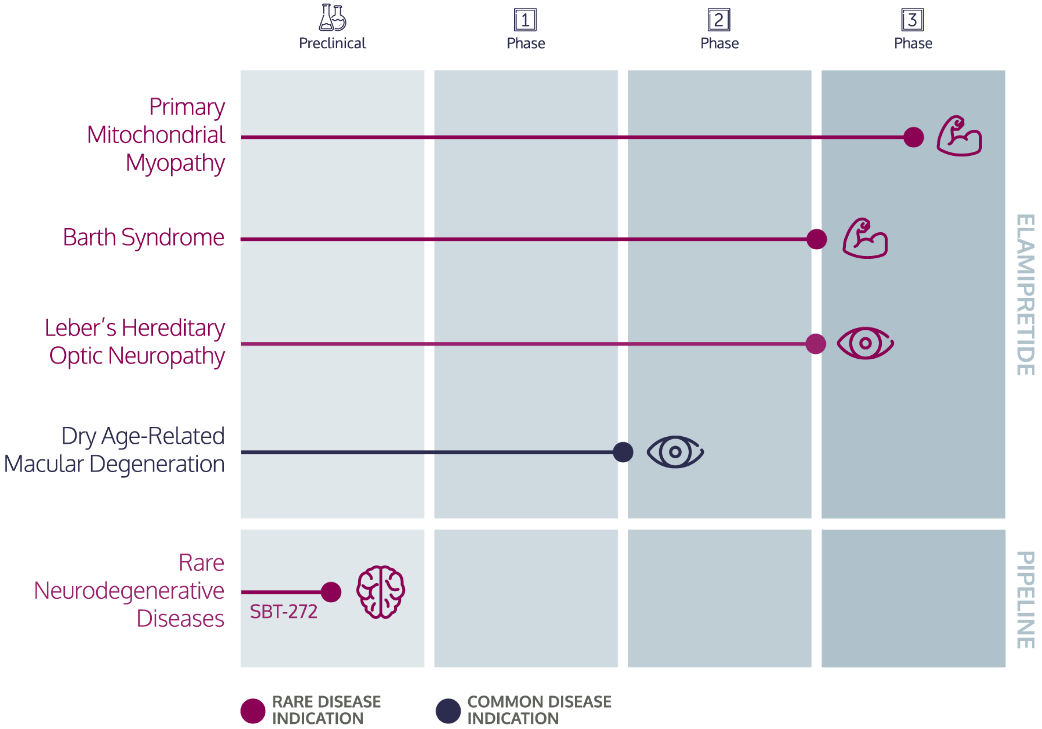 Source: Stealth BioTherapeutics
Investment issues to consider
The company is registered in Grand Cayman with three wholly-owned subsidiaries in the US, Hong Kong and China. The US operation, headquarterd in Newton, Massachusetts, employs all of the company's people. The Cayman Islands registry makes the company a foreign issuer under US securities law and explains the ADR offering. It was not apparent from the IPO prospectus what, if any operational functions currently exist under the HK or China subsidaries, but the company does intend to submit a clinical trial application to the NMPA for the inclusion of Chinese clinical sites in subsequent clinical trials.
China has recently moved to expedite regulatory pathways for rare diseases, including mitochondrial related diseases, and Stealth BioTherapeutics believes that inclusion of Chinese sites may help expedite enrollment of clinical trials in rare diseases, as well as progress potential commercial collaboration opportunities. For primary mitochondrial myopathy, Stealth BioTherapeutics may apply to the National Medical Products Administration (NMPA, China's equivalent to the US FDA) for clinical trial waivers and expedited approval if and when the company receives FDA approval for these indications. For LHON, the company plans to submit a clinical trial application to the NMPA for the inclusion of Chinese clinical sites in subsequent clinical trials, which may be used to support FDA approval.
The IPO comes at a critical time for the company, as it only had cash and equivalents of $10.9 million as of Dec. 31, 2018. Investors should be aware that the company has racked up an accumulated deficit of $399.7 million through Sept. 30, 2018, and the company will definitely require additional capital beyond what it raised this week.

After an active morning, the stock settled into its first day, trading in a narrow range in the afternoon between $12.00 and $12.10 before closing at $11.90 on volume of about 1.1 million shares. Morningside Venture remains the majority shareholder post-IPO with 65.1% of common shares outstanding.

Please email us at content@equities.com to see our Case Studies and Testimonials.
Please click here for information on our equity trading platform.
Employment: CVS Health To Hire 25,000 in Virtual Career Event Friday September 24
Please click here to receive our free daily newsletter.
DISCLOSURE: The author has no positions or any beneficial interest in, and has received no compensation from, the companies mentioned in this article.

---
The views and opinions expressed in this article are those of the authors, and do not necessarily represent the views of equities.com. Readers should not consider statements made by the author as formal recommendations and should consult their financial advisor before making any investment decisions. To read our full disclosure, please go to: http://www.equities.com/disclaimer.
Market Movers
Sponsored Financial Content