Micro-cap ($LDMICRO -.3%) and small-cap ($RUT -.5%) gave up the least ground last week, with the Dow sinking 1.4%.
Since this is a Monday, and most are either working, pretending to work, or busy with something, let me give everyone the important news first.
Joe and the team at SEG will be the marquee sponsor of all four of our events this year.
They have been our largest supporters through good times and bad. It is an honor to have them as our friends and allies in the industry.
We opened up registration for the Invitational less than a month ago, and nearly 150 companies have already confirmed their attendance.
If you are waiting on the sidelines or chilling at the rest stop, it may be a prudent time to start locking your time slots in.
For our investors who were at the Main Event back in December, from both near and far,…just know that this event is personal, and all of you will have a great time as intended.
Time stopped back in December. It will resume again on June 4th.
You will get three months of work done if you spend three days at the event. You may also gain weight, but it's actually muscle generated from the consumption of steel cut oatmeal (that will be absent at breakfast).
Alarming Trend
Many tend to forget that internally, we are decent at picking up on patterns. When I spoke publicly about the decline of micro-cap equities years ago, an overwhelming majority of people in the industry thought that it was poppycock, just like the start of the Met's season this year.
Companies were privatizing faster in this space than any other, and it was for a multitude of reasons that have been discussed at length.
Well, early last year we also noticed another trend developing with conferences in the small and micro cap space. The lack of variety and new names.
It appears that events are hosting the same companies with far more frequency than in the past. I love the fact that these companies realize the value of presenting their stories, but micro-cap is made up of thousands of names, and more of the universe needs to be discovered.
In June, you will see names present that have never presented at a conference before, or have not done so in a long time. Just like in weight training, you need variation all the time for growth and strength.
Just know that we are working on the "diversification" side of things right now.
Another alarming trend is that attendance at baseball games are down big.
Going, Going Gone
Four names to report this week.
Aveda Transportation and Energy Services (AVE.V) agreed to merge with Daseke (DSKE) for a 78% premium last week.
SPX (SPXC) announced today that it is buying ELXSI Corporation (ELXS) for $51 per share in cash. The stock is up roughly 35% today.
CenterPoint Energy (CNP) and Vectren Corporation (VVC) today announced they have entered into a definitive merger agreement to form a leading energy company servicing more than 7 million customers across the United States. $72 per share in cash.
Finally, some local news. RBB Bancorp (RBB) and First American International Corp. (FAIT) today announced the signing of a definitive agreement in a cash and stock transaction valued at $116.8 million, or $52.32 per share. The stock is the #1 gainer in the micro world thus far today.
Sunday Conversation
This coming week, I shall be writing about two of my mentors. One is a writer from the Bay, and the other is an executive at a company. They could not be more different in their backgrounds, mannerisms, political beliefs, and their respected upbringings. Yet, they are both wonderful human beings that have taught me so much about the world we live in, being "true to thy self," and whacking the s— out of the ball when it comes at you.
I'm excited to finally talk about something that is not financially related.
CL
Weekly Indicators for April 16 – April 20, 2018
Biggest Movers In The Past Week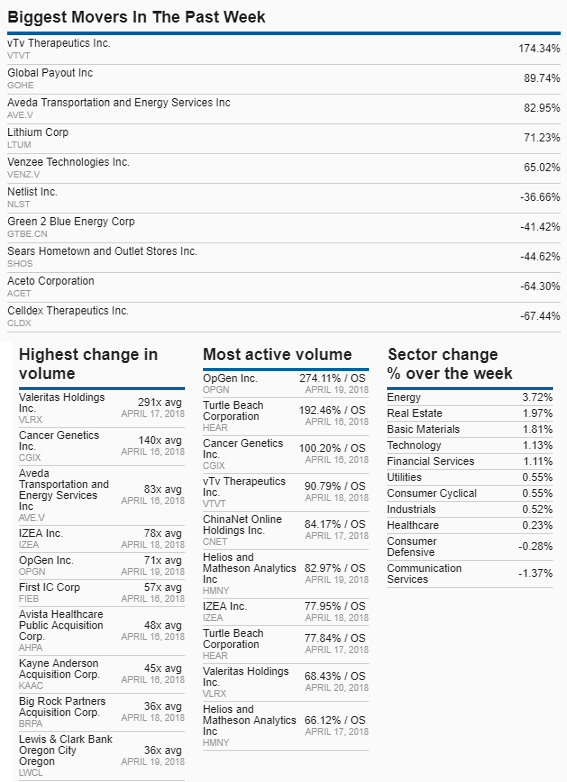 LD Micro may be compensated by the companies profiled in this newsletter, on its website and the Profile Reports. The purpose of these profiles is to provide awareness of these companies to investors in the micro, small-cap and growth equity community and should not in any way come across as a recommendation to buy, sell or hold these securities. LD Micro is not a registered broker, broker dealer, investment advisor, analyst, investment banker or underwriter. All profiles are based on information that is available to the public. The information contained herein should not be considered to be all-inclusive and is not guaranteed by LD Micro to be free from misstatement or errors. Readers are reminded to do their own due diligence when researching any companies mentioned on this website.
Investing in emerging growth securities is highly speculative and carries an extremely high degree of risk. It is possible that an investor's investment may be lost or impaired due to the speculative nature of the companies profiled. We encourage our readers to invest carefully and read the investor information available at the websites of the Securities and Exchange Commission ("SEC") at www.sec.gov and/or the Financial Industry Regulatory Authority ("FINRA") www.finra.org/investors.