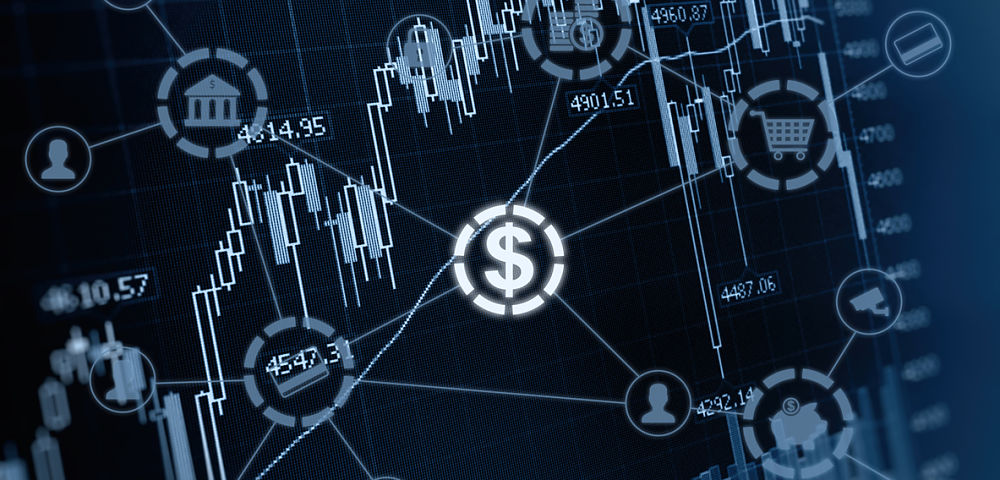 The word "Fintech" stands for Financial Technology and refers to the technology that is used to make payment processes more reliable and efficient, or the technology that is used to drive the delivery of financial products and services to the consumer in a more efficient manner.
Fintech is the industry that brings technological innovations to the field of finance. Companies that provide fintech solutions can be considered as disrupters of the conventional ways of banking and finance.
The Fintech industry would, therefore, include the use of technology in the following areas:

Mobile payments
Loans, which could be bank-driven or peer-to-peer (P2P) lending.
Remittances and money transfers
Asset management
Financial market trading
Consumer banking
Insurance
Healthcare
Crowdfunding and many other things.
The advent of hand-held devices such as Smartphones and tablet devices has caused the financial technology industry to explode in recent years, with the ability to create all sorts of applications to drive the delivery of financial products, services, and processes with fast turnaround times. Fintech is responsible for some of the ways people interact with companies and financial institutions that we generally take for granted. For instance, it is now easier to pay for goods and services, at a reduced cost. Financial inclusion has also increased, with people being able to use P2P lending platforms to access financial services and credit.
Presently, the fintech industry is now considered a global multi-billion dollar industry, with the space being dominated by companies that offer financial products, payment services, uncollateralized credit and financial software for banking and the capital markets. The number of companies providing fintech products and services has expanded over the years, with more investments pouring into this space. So the question is: why are so many startups flocking into fintech? Is there going to be a point at which the industry will become saturated?

Why There Are Many Startups in Fintech
We need to understand that the fintech industry is extremely broad, and the user base does not fit into a single category. Therefore, the applications of financial technology will find relevance in many spheres. This is one of the factors that have accounted for a massive growth in the number of fintech startups across the world. It is estimated that the number of startups in the fintech space has increased 8-fold; from an estimated 1000 companies in 2005 to more than 8000 companies in 2016.
1] Tapping Into Underserved Markets

For a long time, most of the innovation that was seen in the fintech industry was centre around solutions provided for clientele located in advanced societies. But the trend is beginning to change. Hitherto untapped emerging markets such as those in Africa and Latin America are now attracting a lot of attention from venture capitalists and angel investors. This has boosted the number of fintech startups in these areas. According to the Disrupt Africa startup funding report for 2017, African fintech startups took up a third of all venture capital funding in 2017. According to this report, the popular fintech startup destinations were found in Nigeria, South Africa, and Kenya, with Egypt and Ghana following closely behind. The report also stated that the continent witnessed an increase in the number of startups over the 2016 figures by 156.
The findings of this report show clearly that one of the reasons that accounts for the increase in fintech startups is the need to break into untapped and underserved markets.

2] Need-Based Innovation

A close look at the innovative solutions in the advanced societies and the developing ones will show a marked difference in the needs of each market. Western societies have traditionally had more advanced banking services, with earlier adoption of cashless payment systems and better access to credit. Therefore, the investments in fintech were mostly for innovations to disrupt the banking and payments arena. In contrast, the gaps in the market in developing countries still centre on financial inclusion, easier access to credit, increasing the banked and taxable populations and insurance coverage. Therefore, we are seeing a lot of startups emerging in these areas to create innovation in these spaces. For instance, P2P lending platforms which have been around in countries like China and the UK for several years are only just making an entrance into countries like Nigeria and Ghana. Some of these emerging societies have large populations, which guarantee that there will be a market for fintech products in these economies when such products hit the market.
3] Lots of Investment Money Available

There is a popular saying which goes thus: "if the grass is lush green, the sheep will abide". To use this expression to explain the influx of startups into fintech, it simply means that where there is a lot of investment capital and lots of money to be made, there will be a natural drift of startups to wards that space. Investment into fintech has burgeoned in the last few years. The following image taken from Fintech Global clearly shows that global fintech investments alone in 2018 have beaten investment levels of previous years hands down on a year-on-year basis.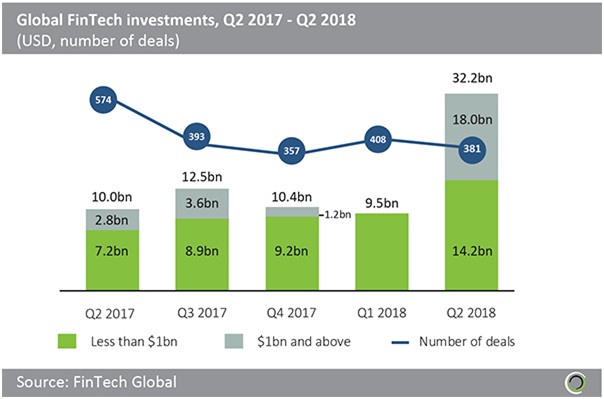 According to Fintech Global, capital investment in fintech for Q2 2018 alone was about $32billion, representing a 3.2 fold increase in capital investment over Q2 2017. It is therefore not surprising that with such amounts of money available to bring a startup's fintech idea to life, we are seeing a massive influx of startup companies into the fintech space.
4] The Fintech Market is A Global Market

Money is used all over the world, even in the most basic or most remote of societies. The problems faced by people in making money, managing finance and performing transactions are felt in one way or another all over the world, in various degrees. The Fintech market is, therefore, a global market, which means that a company that is able to hit the ground running in this space has virtually unlimited opportunity to ramp up their earnings by selling to a global market. For instance, P2P lending platform Branch operates in three countries. PayPal operates in more than 200 countries and territories, making it one of the most globalized fintech companies. The ability to sell a fintech product or service to various countries means that a fintech startup could potentially scale up its operations rapidly and see vast improvements in its revenue base.
Conclusion

The fintech industry is still in a growth phase and therefore there is every possibility that we will continue to see an increase in the number of startups jumping into the fintech space. However, the emerging markets will see more of the increase in the number of startups due to the underserved nature of these markets.
The Fintech Global report shows that even though the value of investments in fintech is rising, the number of deals is actually reducing. This means that venture capitalists are getting more stringent in their filtering processes, and will only put money in startups that offer real value. We will also see a shift in the direction of fintech; from that of confrontation with the conventional banking sector to that of collaboration. The advent of artificial intelligence into fintech as well as the use of the blockchain look set to be the game changers in this industry.