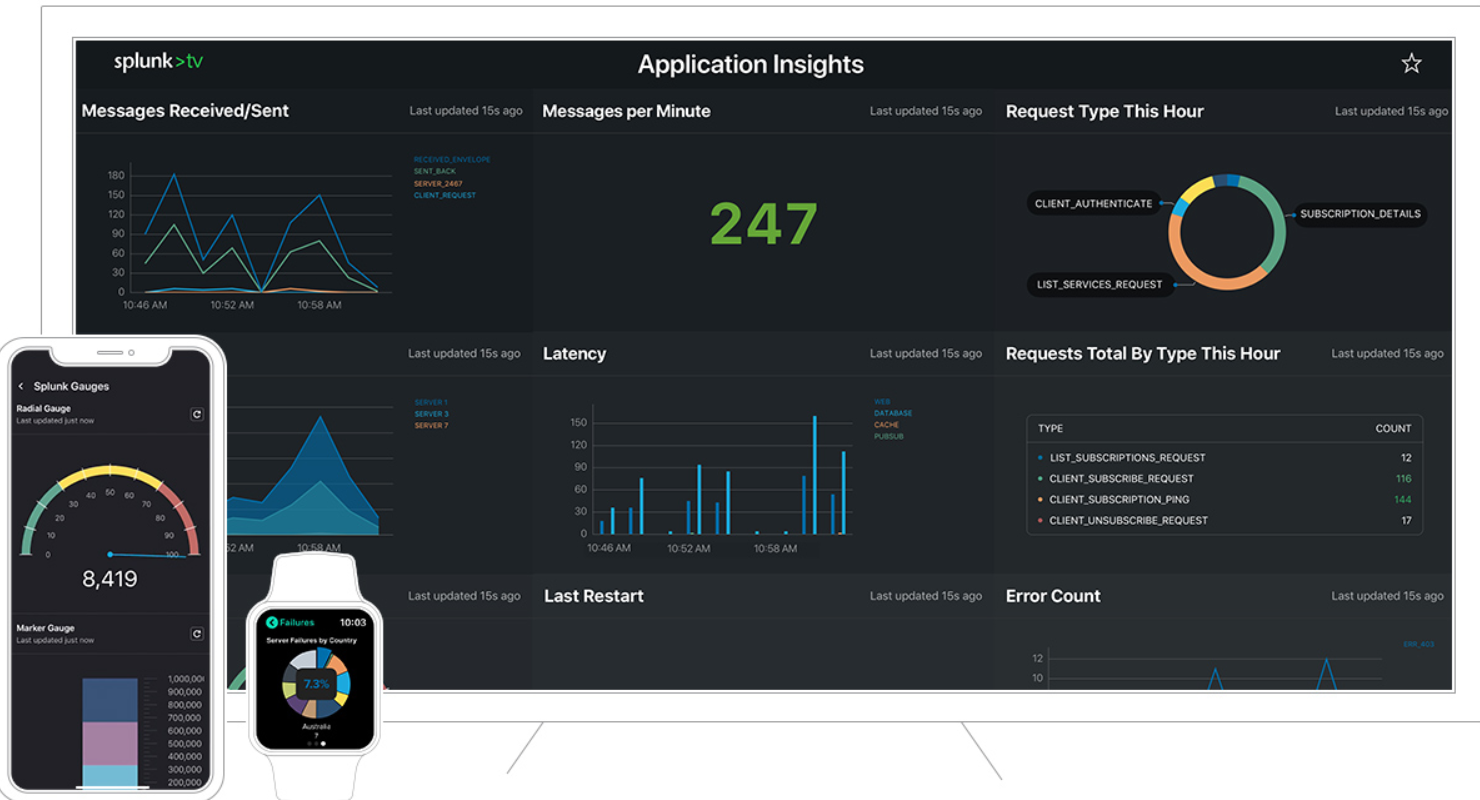 Image source: Splunk
Machine learning, the process of teaching a computer system how to make accurate predictions through large amounts of data, pervades our day-to-day lives more than we realize.
The abundance of machine learning
Netflix sends us viewing recommendations based on machine learning algorithms. YouTube removes and classifies objectionable content by deploying third-party machine learning. Amazon feeds purchasing data to machine learning algorithms to tailor product recommendations and advertising promotions. PayPal identifies fraudulent activity by using machine learning to analyze each transaction against purchase patterns.
Machine learning's adoption across industries demonstrates its ability to solve complex problems smoothly. For this reason, Zion Market Research projects the global machine learning market to reach $20.83 billion by 2024, growing at a CAGR of 44.06%. Market Research Future was even more bullish, estimating the global market to be worth $30.6 billion in 2024.
Funding for artificial intelligence applications is spiking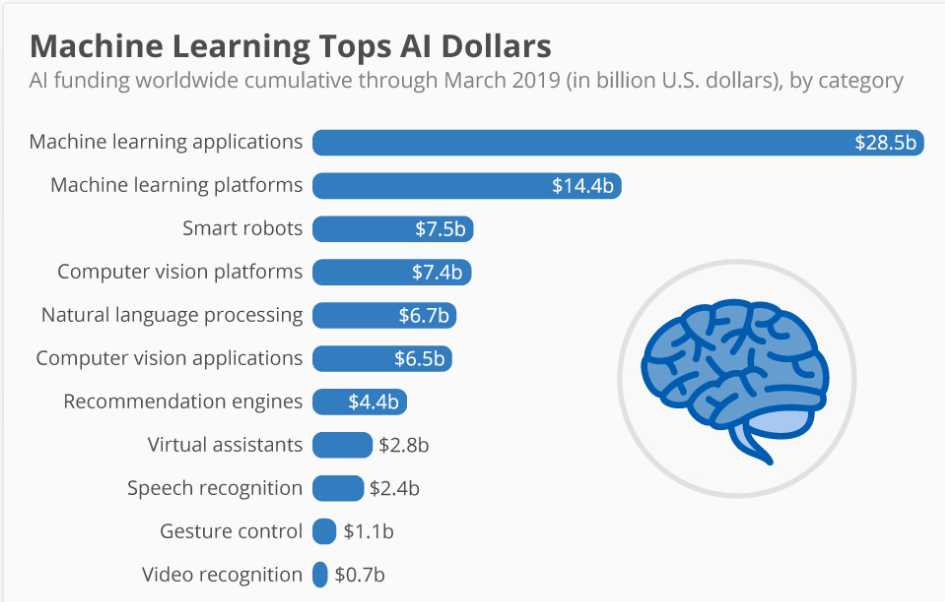 Source: Statista
Worldwide funding for machine learning applications and platforms exceeded $42 billion in 2019, beating smart robots and virtual assistant technology by a large margin, according to Statista. Machine learning attracts investment because of the promise of reducing company costs, generating actionable insight and improving the customer experience.
Splunk and data as an asset
Another interested party in machine learning is the federal government. In fiscal 2018, the last year in which complete contracting data was available, federal agencies spent a combined $728 million on AI-related contracts, an almost 70% increase above the $429 million that agencies spent in fiscal 2017, according to Stanford University's 2019 AI Index Report. Since fiscal 2000, the Pentagon has accounted for the largest share of AI spending of any federal agency ($1.85 billion), followed by NASA ($1.05 billion), and the department of the Treasury ($267 million) and Health and Human Services ($245 million).
Splunk Inc. is a well-known company in this space for its corporate-friendly machine learning-powered platforms like Splunk Enterprise and Splunk Cloud. On October 22, 2019, the former received moderate impact level FedRAMP authorization, a program by which the US government determines whether cloud products and services are secure enough to be used by federal agencies.
CEO and President Douglas Merritt described the certification as "a strategic acknowledgment of the importance of our technology and a critical step in positioning us to serve our public sector customers as we power digital transformation across the U.S. government…We can now offer a single solution capable of solving IT, security and the mission challenges for agencies where data-driven decisive actions."
Splunk Cloud, an alternative to the company's on-premise software, delivers actionable insights and operational intelligence through one centralized platform. The company has successful use cases for Splunk Cloud across multiple sectors, including cybersecurity and IoT.
Coming off a strong fiscal Q3
This certification is relatively new and made a moderate impact on its fiscal Q3 2020 earnings report. The change that likely made the most considerable difference was Splunk modifying its pricing.
In September 2019, Splunk introduced new pricing programs to simplify pricing for customers and make billing more predictable. The changes did not wholly remove data-limited pricing, but added additional pricing options focusing on customer outcomes.
Once an afterthought, data is now a critical strategic asset. For example, Gartner estimates that by the end of this year, 50% of leading organizations will have a Chief Data Officer. There is an increasing appetite to optimize with data. Splunk's decision to introduce unlimited data pricing options offers customers the opportunity to perform valuable analysis without being sensitive about the cost. This new approach is designed to bring more customer data into the Splunk ecosystem and ease competitive pressure.
What I've seen universally is a high enthusiasm and almost a sigh of relief from customers as we talked about price, both the broadband for a data volume-based approach or an infrastructure component for people who just want to get away from data volumes altogether.
-Douglas Merritt, CEO, Splunk
The impact of these changes helped to improve Splunk's fiscal Q3 2020 software revenues, with license and cloud products up 40% year-over-year in aggregate. Splunk's cloud revenue increased by 79% to $80 million, while total revenue rose 30% to $623.3 million, coming in above the consensus estimate of $604.1 million.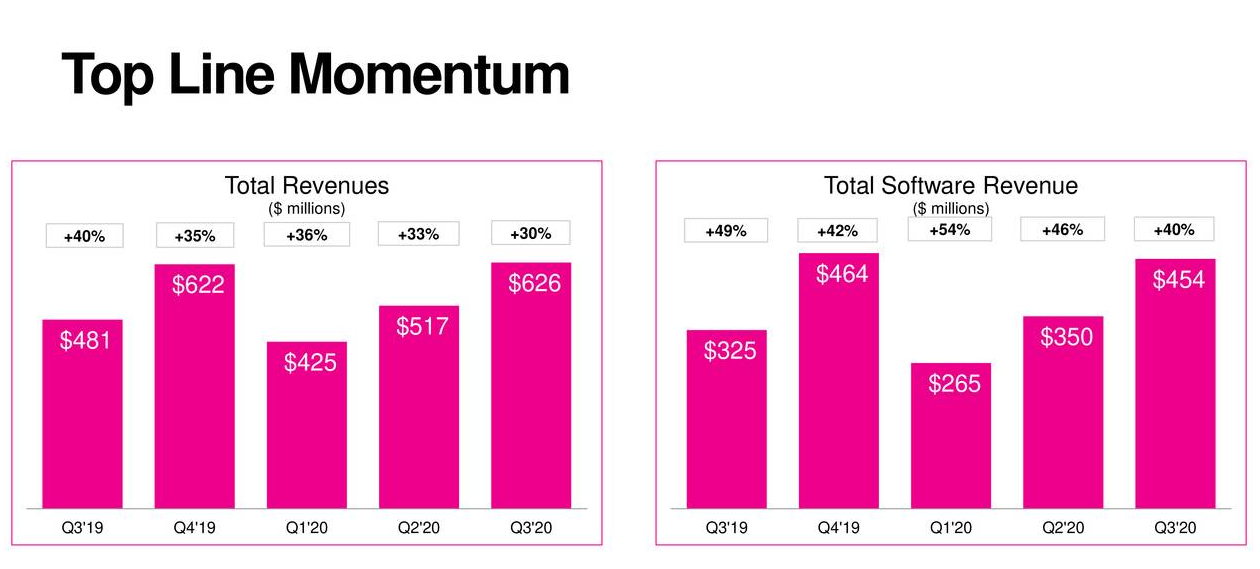 Image source: Splunk Investor Presentation and KPIs, Fiscal Q3 2020
In the same fiscal quarter, Splunk closed 134 orders greater than $1 million in total contract value, up 21% from 111 last year. The public sector vertical was a standout in the quarter, as the company recorded "several eight-figure orders" with US government agencies. Additionally, these contracts are longer in duration, anywhere from three to five years in length.
Since November 21, 2019, the day these earnings were released, Splunk's stock has increased by 33.9%. Over the last year, the share price has risen 24.95%, marginally outpacing the S&P 500's 22.29%.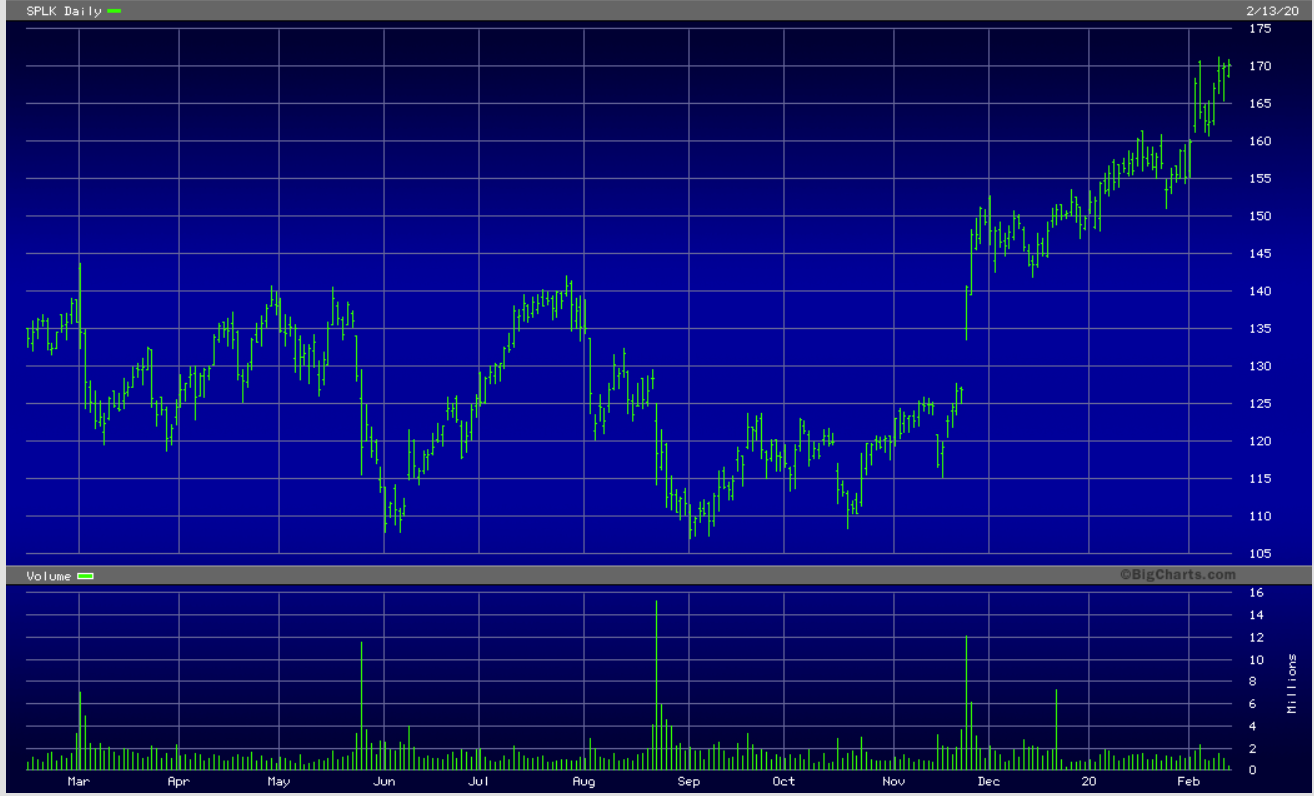 Image source: Big Charts
With more than 450 registered patents and many Fortune 100 customers, Splunk is a machine learning play during a time when organizations are maximizing performance through data metrics. According to IDC research, CFOs report that 60% to 70% of enterprise time is spent on gathering consistent information that is adequately understood by the organization before an actual business decision can be made by leadership. In cases like these, Splunk offers a real solution for companies that want to keep pace by integrating analytics quickly.
The company will report fiscal fourth quarter and full-year results, on Wednesday, March 4, 2020.
_____
Equities Contributor: Stephen L. Kanaval
Source: Equities News