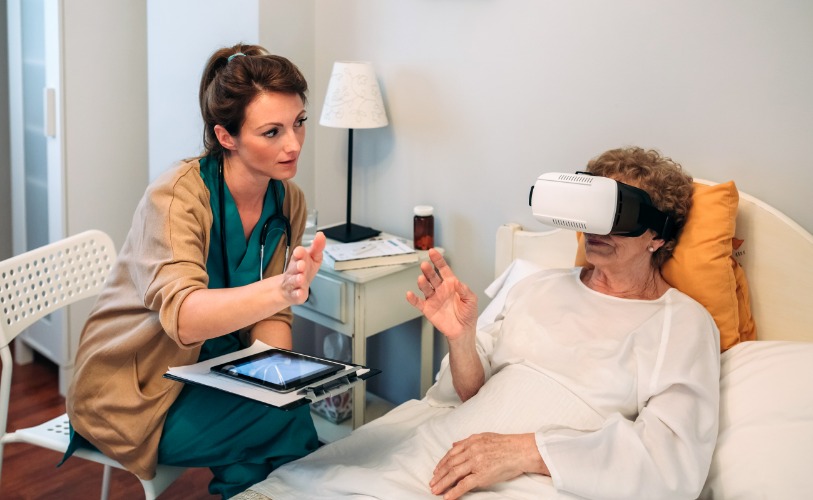 Image: iStock.com/doble-d
By now, it's well-known that the expanding senior demographic is reshaping the fabric of society, but have you thought about how the rapid growth of this group should affect your investment strategy? Evidence that you should do so is in the numbers.
The growth of the senior population is creating numerous speculative opportunities. In fact, according to veteran analysts, investment in the senior sector – while the population is an upward swing – is a terrific strategy for long-term investing.
The latest U.S. Census counts the rapidly expanding senior population at nearly 50 million citizens. While most investors may think naturally of housing when considering investing in this potentially lucrative market, there's a counterintuitive, but growing, opportunity in technology designed to serve the needs of the aging population, among other senior market prospects.
The Growth of the Senior Population Is Unprecedented
There's a significant body of evidence showing that the aging population is generating numerous investment opportunities. The KKR & Co. Inc. report, "What Does Population Aging Mean for Growth and Investments?", reveals that the urban senior housing market may indeed generate investment opportunities, and The Prudential Financial report, A Silver Lining: The Investment Implications of an Aging World, discloses several interesting facts about this increasingly vast population.
For instance, reveals the Prudential report, life expectancy has risen from 49 to 72 years old over approximately the last six decades. What's more, the world's population of seniors will reach 1.3 billion citizens, or double their numbers today. Over the next 35 years, analysts forecast that the number of citizens over age 80 will more than triple. The population will grow from 1.7-percent today to 4.5-percent by 2050.
In developed nations, the senior population will outnumber citizens over the age of 15 for the first time in history, and by the end of this decade, the group's spending power will reach $15 trillion. That's nearly twice their spending power in 2010.
Opportunities in Senior-Oriented Tech Investment
The aging population will produce significant opportunities in the healthcare tech sector, according to analysts. Most spending occurs as consumers age. Prudential's report reveals that Americans over the age of 85 spend twice as much on healthcare than seniors under that age, while seniors aged 64 to 84 spend twice as much as 45 to 64-year-olds.
Furthermore, chronic illnesses are rising in tandem with humanity's increased lifespan. These and other factors have led analysts to believe that the healthcare field will experience growth in the coming years across nearly all disciplines.
Prudential analysts believe that the pharmaceutical and biotech industries will experience continued growth. However, industries that deliver technology solutions for the aging population will experience growth in the mid- to distant future.
For now, many drug and biotech asset managers focus on solutions specifically designed for the aging population, such as treatments for dementia, Parkinson's disease and cancer. For enterprises that can successfully bring products to market, analysts forecast that their gains should prove phenomenal. Meanwhile, the tech industry is increasingly recognizing the opportunity in developing applications and technology to serve the aging population.
Relatively recent opportunities in tech investment have been in applications geared toward millennials. According to analysts, however, speculators will find the next wave of opportunity and technology designed to serve the needs of the aging population. In fact, there is already movement in this space.
For example, devices such as emergency response pendants and smart pill boxes are already gaining traction. However, this kind of technology – dubbed "silver tech" – isn't producing significant returns just yet.
For the time being, speculators interested in investing in opportunities that serve the senior market can achieve instant diversification via healthcare funds such as BlackRock Health Sciences Opportunities Fund, Fidelity Select Biotechnology Portfolio, Fidelity Select Health Care Portfolio and Vanguard Health Care Fund. Those seeking even broader exposure can test out senior biotech investments with diversified exchange-traded funds such as iShares NASDAQ Biotechnology IBB.
Most current and substantial silver tech investing is constrained to venture capital and private equity firms. Speculative opportunities for private investors will increase in this field, however, over time. In the interim, investors who are interested in silver tech should continue building their reserves and doing research.
Carving out a Piece of the Senior Tech Pie
Alternatively, speculators can focus on senior housing. For example, some real estate investment trusts (REITs) focus on healthcare housing.
Some investing experts recommend healthcare REITs as a way for speculators to generate income while reducing their exposure to liability. Ventas VTR, for instance, is one of the largest high-end REITs in the United States, and Welltower WELL is the largest global healthcare REIT, with assets in Canada, the United Kingdom and America.
In addition, medical diagnostic and treatment equipment are other potentially lucrative growth areas made more attractive by the burgeoning senior population. In fact, major wealth asset managers are keen on the emerging caregiving robotics market – especially those manufactured by Japanese enterprises.
In Japan, the need for caregiving robots is especially high, with the nation's shrinking job talent pool in combination with high demand for senior care services. Still, analysts forecast that the United States medical robotics industry will grow to $2.8 billion in revenue by the year 2021, as the nation's healthcare organizations struggle to close the growing talent gap.
Furthermore, analysts predict that the fitness equipment industry will also present substantial opportunities for growth. Today's seniors not only live longer, but they're also more physically active.
It's important to note that the rapidly expanding opportunity in investing in services and goods that cater to the senior demographic is an obvious trend. In fact, financial analysts already include senior market influence in valuation and growth forecasts.
Statistics indicate that the market is likely to continue to grow. However, the rapidly expanding senior market is not a get rich quick opportunity. Although growth among the senior populace is expanding fast relative to the growth of a population, in practice, demographic growth is a slow-moving animal. It's a long-term trend.
Between now and when it hits full steam, senior market investments will rise and fall just like any other investment. Accordingly, speculators who wish to enter this space must be careful to reduce their risk by diversifying their investments across enterprises and subsectors.