According to the CDC, nearly one-third of people in the US will develop shingles, or herpes zoster, at some point, with an estimated 1 million new cases of shingles each year. Anyone who has recovered from chickenpox may develop shingles, including children, though the risk of shingles increases as one gets older.
Scilex Pharmaceuticals, a subsidiary of Sorrento Therapeutics (Nasdaq: SRNE), announced yesterday that it had received FDA approval for its non-opioid transdermal patch that delivers lidocaine 1.8% to treat pain associated with post-herpetic neuralgia (PHN), or post-shingles pain. The ZTlido, as it will be marketed, is being hailed as a major advancement in analgesics because of its proprietary adhesion technology demonstrating 12-hour wear with efficient lidocaine delivery, even during exercise.

ZTlido's anhydrous topical system is based on a novel technology that is designed to achieve superior adhesion and drug delivery efficiency. ZTlido only requires 36 mg/topical system versus 700 mg/patch of Lidoderm, Endo Pharmaceuticals' (ENDO) lidocaine patch 5%, the US reference product, to achieve the same therapeutic dose of drug. The safety and efficacy of ZTlido was bridged to Lidoderm in comparative pharmacokinetic studies that demonstrated bioequivalence between products.
ZTlido was designed to solve a problem that is commonly reported with transdermal/topical patches: they don't stay on. Based on the adhesion study results with ZTlido, we believe that ZTlido product will be welcomed by healthcare providers, patients and payers who are looking for an effective and efficient, local pain treatment. We also intend to explore the expansion of ZTlido into additional indications and the underlining platform technology of ZTlido for other active pharmaceutical ingredients (APIs) and combinations of APIs. As demonstrated by the NDA approval for ZTlido, our team successfully executed on our development plan for the product and now, looks forward to executing on our commercial and strategic alliance plans as well.
– Dr. Henry Ji, Chairman and CEO, Sorrento Therapeutics and Scilex Pharmaceuticals
According to recent IQVIA data, more than 100 million prescription lidocaine patches were sold in the US in 2017. Sorrento intends to have Scilex complete the final steps necessary to commercial launch of ZTlido in the US with the objective to make the product commercially available to patients sometime in 2018.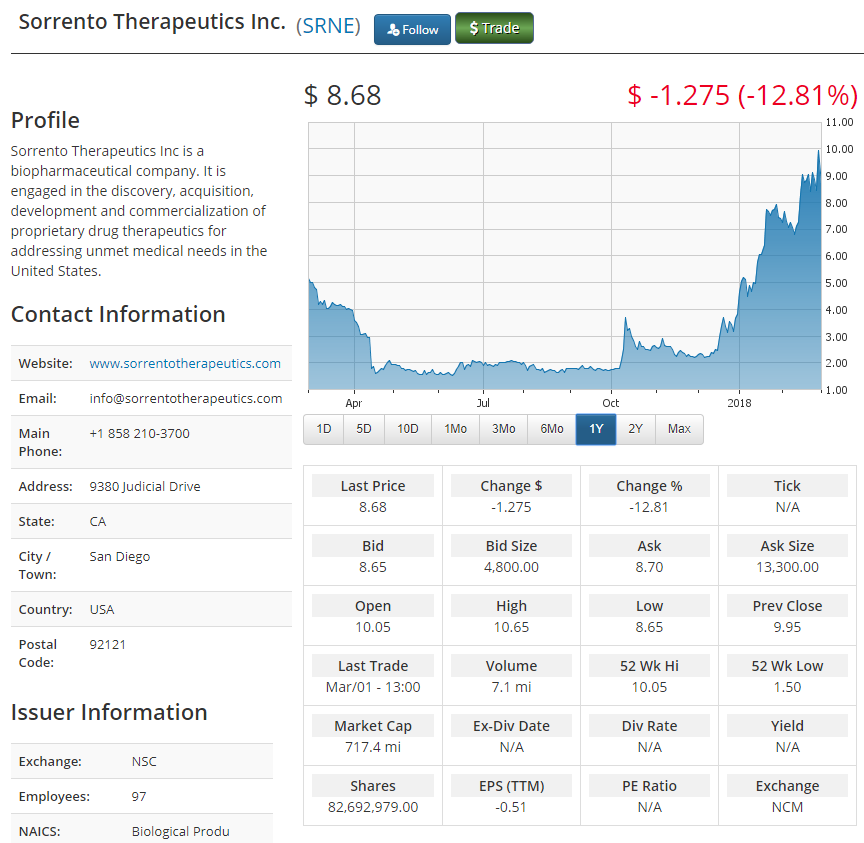 Please email us at [email protected] to see our Case Studies and Testimonials.
Please click here for information on our new trading platform.