Refugees fleeing their native countries due to the effects of the climate crisis in future years may not be forced to return if their lives are in danger, the United Nations Human Rights Committee said in a ruling Monday. The committee anticipates a flood of "millions" of climate refugees in the near future.
The first-of-its-kind ruling — which a U.N. official called "powerfully symbolic" —came in the case of Ioane Teitiota, who applied for protection in New Zealand in 2013. Teitiota claimed his family's lives were at risk in his home nation of Kiribati, a country severely threatened by rising sea levels. And while he actually lost his case, the U.N. committee took the opportunity to make a broader statement about climate refugees.

The situation in Tarawa, Teitiota's home island, "has become increasingly unstable and precarious due to sea-level rise caused by global warming," his counsel said. Saltwater contamination and overcrowding on the island have resulted in scarce freshwater resources and a growing housing crisis.

In 1947, South Tarawa was home to just 1,671 people. In 2010, its population surpassed 50,000 after nearby islands became uninhabitable. By 2017, Kiribati's population had soared to over 100,000 people.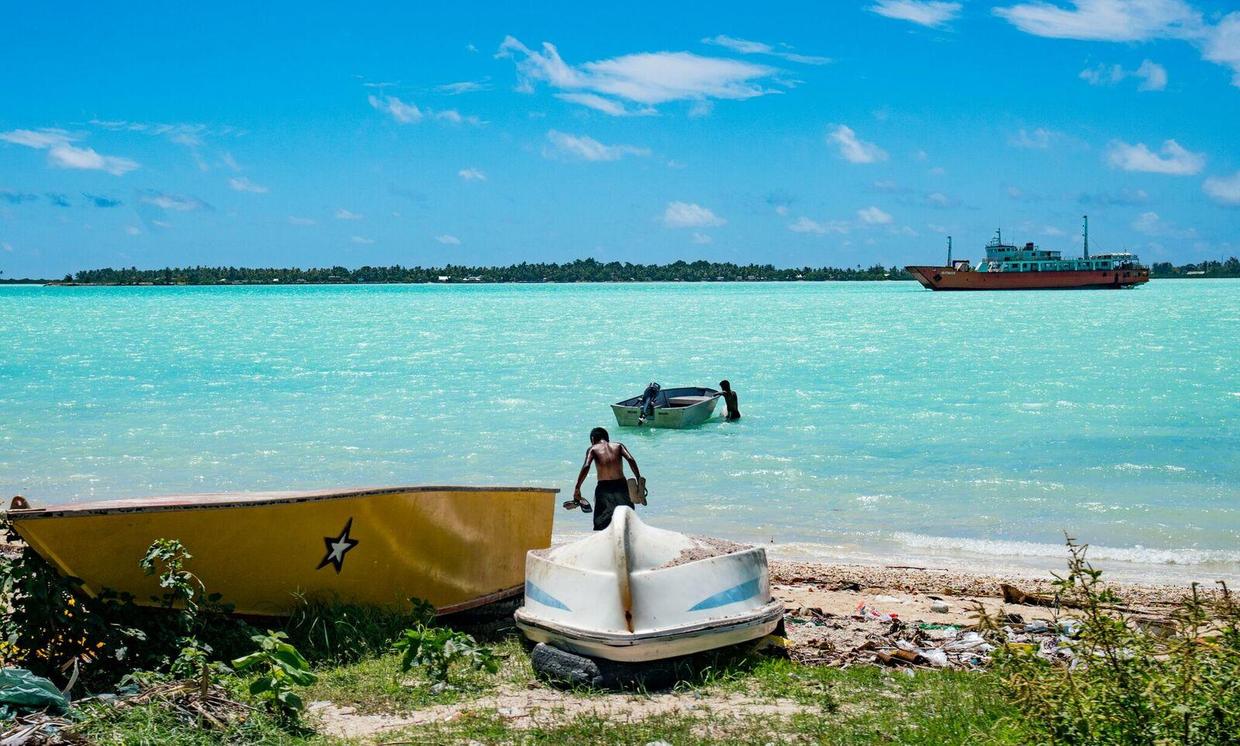 The turquoise sea in Kiribati is a paradox for many – a bedrock of their existence, but increasingly a threat to the future of their homeland.
Image Source: CBS NEWS
Additionally, storm surges and high tides have flooded residential areas. The population of the island suffers from vitamin deficiencies, malnutrition, fish poisoning and other ailments resulting from food insecurity. Unemployment has surged in the region and diseases spread easily through overcrowding and poor quality drinking water.
Teitota applied for refugee status in New Zealand after his visa expired in 2010. He was forced to return to Kiribati in September 2015 — putting his life and the lives of his family at risk, he said.
Teitota's application was rejected, but he appealed, claiming the ruling violated his right to life. New Zealand's Court of Appeal and Supreme Court each denied subsequent appeals, so he filed a complaint with the U.N.'s Human Rights Committee.
On Monday, the U.N. committee issued its judgment in the case. It ruled against Teitota — stating his life was not in immediate risk — but said that people in places where climate change poses an immediate threat to their lives could not be forced to return.
"The timeframe of 10 to 15 years, as suggested by the author, could allow for intervening acts by the Republic of Kiribati, with the assistance of the international community, to take affirmative measures to protect and, where necessary, relocate its population," the ruling said.