Sony surprised the market with a better-than-expected earnings report Tuesday, posting a profit of ¥233.3 billion ($2.2 billion) in the April-June quarter, up over 53% from the prior year's period.
The company handily beat analysts' estimates for the quarter of ¥143.21 billion, according to data from Refinitiv.
Sales for the quarter increased 2% to ¥1,968.9 billion ($18.6 billion).
For the full fiscal year ending March 2021, Sony projects:
Sales of ¥8,300 billion ($78.3 billion)
Operating income of ¥620 billion ($5.8 billion)
Pre-tax income of ¥685 billion ($6.5 billion)
Net income of ¥510 billion ($ 4.8 billion)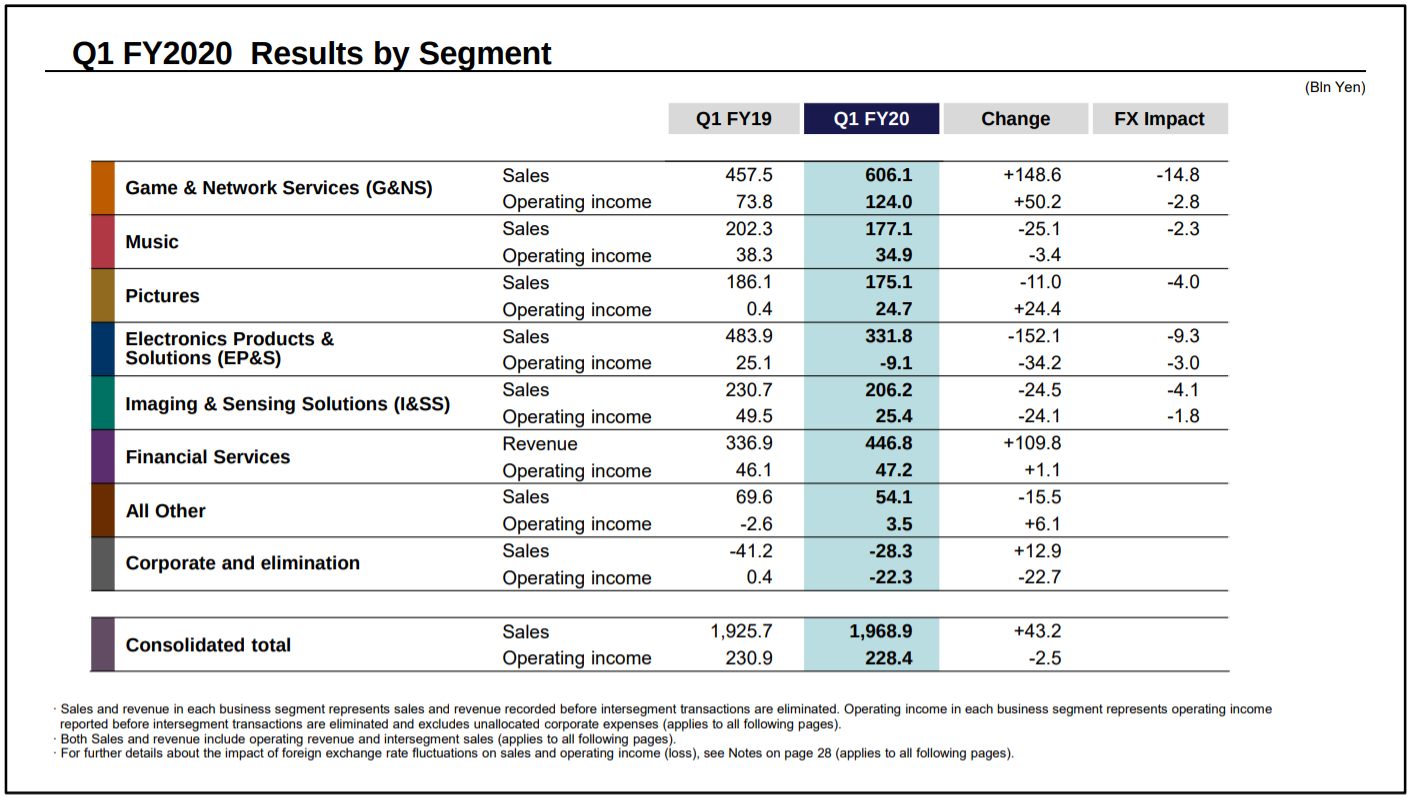 Significant strength in the company's gaming and financial services segments offset weakness in other operating areas:
Segment highlights for the quarter included (% change from prior year's period):
Gaming and Network Services

Sales up 32%
Operating income up 68%
PlayStation Plus subscribers reached 45 million
Expect other minority investments similar to Bilibili and Epic Games
Music

Sales down 12%
Operating income down 9%
Continued growth in paid subscription services
Movies

Sales down 6%
Operating income up from ¥0.4 billion to ¥24.7 billion (due to virtually zero marketing costs in the absence of movies)
Delays in theatrical releases will negatively impact financial results for two to three years
Electronics

Sales down 31%
Operating loss of ¥9 billion compared to previous operating income of ¥25 billion
Seeing customer demand beginning to recover
Imaging & Sensing

Sales down 11%
Operating income down 49%
Don't expect near-term growth; this segment will be a longer-term story
Financial Services

Sales up 33%
Operating income up 2%
Business (now fully owned by Sony) is a stable, high-margin unit
_____
Source: Equities News