According to GTM Research and the Solar Energy Industries Association, 2,387 megawatts (MW) of solar photovoltaic (PV) cells were added in the US in the 2nd quarter of this year to reach 47.1 gigawatts (GW) of total installed capacity, enough to power 9.1 million American homes. This represents an 8% increase over the same quarter last year, and the industry is poised to install more than 12 GW of solar capacity before the end of 2017. Q2 marks the seventh straight quarter of 2+ GW of capacity installed. Solar now accounts for 22% of all new electric generating capacity brought online in the US.
The Solar Investment Tax Credit (ITC) has provided industry stability and growth since its initial passage in 2006, according to the Solar Energy Industries Association. In the last decade, solar has experienced an average annual growth rate of 68%.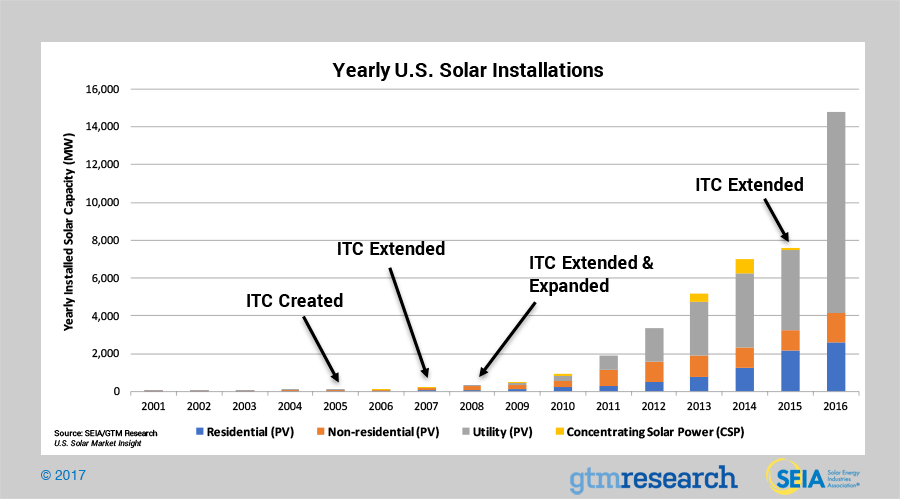 Source: GTM Research and Solar Energy Industries Association

Solar Integrated Roofing

We've been following a company called Solar Integrated Roofing (OTC: SIRC) that has transformed itself from a roofing company into an integrated roofer and solar cell installer through acquisitions. The company was known as Landstar Development until the 2015 acquisition of Secure Roofing and Solar, and the company has since been focused on acquiring other roofing and solar assets to increase its national footprint. SIRC acquired Jure Roofing and Solar in June 2016 and, according to CEO David Massey in an interview earlier this month with MoneyTV, the company is currently eyeing three additional acquisitions.
SIRC reported net income today of $72,099 on revenues of $3,637,105 in its fiscal first half ended August 31, 2017. Latest twelve month numbers show a loss of $177,443 on revenues of 6,398,704, so the company appears to be turning a corner.
Earlier this week the company announced that it's working with Sunrun (Nasdaq: RUN), the largest dedicated residential solar company in the US, to offer that company's financing options to all of Solar Integrated's clients. According to Mr. Massey, consumers can typically expect to save 20% on their electric bill through Solar Integrated. The arrangement with Sunrun "helps us expand our footprint," added Mr. Massey. "Electric utility companies have sent letters to consumers recently, warning of California-Mandated High Usage Charges going into effect next month. These surcharges can dramatically increase electric bills. Our range of financing and third party ownership (TPO) options now makes it easy for our customers to decide to go solar, because in every case, they will be saving money from day one. It simply makes no sense to not go solar."
Investors should be mindful that the company's float is particularly constrained with 90% of the stock held by the three principals, James DiPrima (CFO), Richard Melland (Director and Secretary) and Mr. Massey. Additionally, the company will clearly need to raise equity or debt capital in order to continue making acquisitions.

We like the risk-reward of the company at these levels - at yesterday's closing price of $0.40, the stock has a market cap of $49 million - and we like the strategy of rolling up smaller roofing and solar companies nationally. We think the company stands to benefit from continued adoption of solar power, as the roofing-solar combination presents a distinctive value proposition to consumers.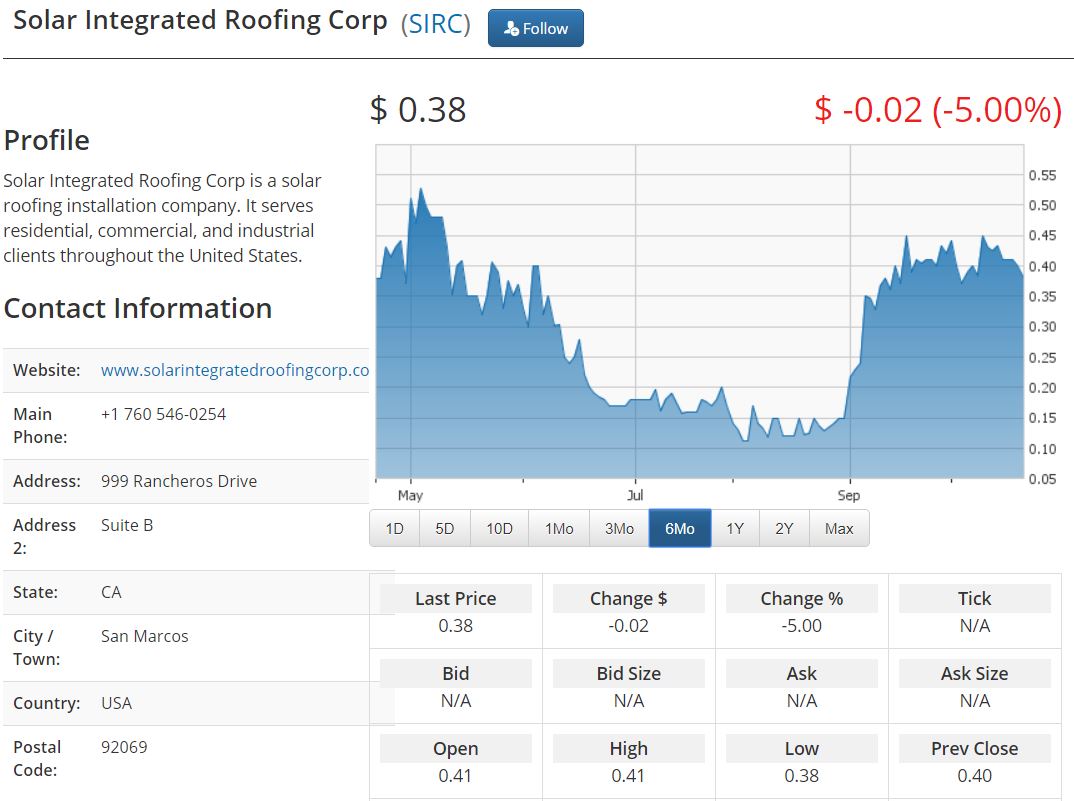 Please email us at content@equities.com to see our Case Studies and Testimonials.

Please click here for information on our new trading platform.
Please click here to see our weekly newsletter.
DISCLOSURE: The views and opinions expressed in this article are those of the authors, and do not represent the views of equities.com. Readers should not consider statements made by the author as formal recommendations and should consult their financial advisor before making any investment decisions. To read our full disclosure, please go to: http://www.equities.com/disclaimer