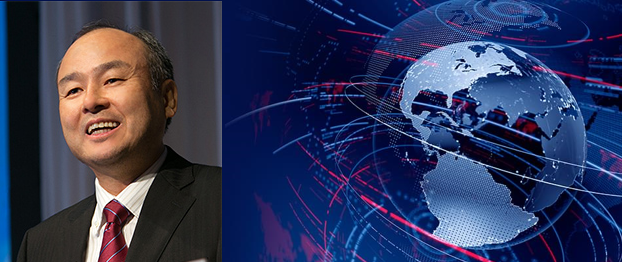 Japanese conglomerate SoftBank SFTBF, led by Masayoshi Son, has launched a $5 billion innovation fund to cement its commitment to investing in Latin American tech startups. SoftBank has already committed $2 billion to the fund, which looks to develop tech opportunities in Argentina, Brazil, Chile, Colombia and Mexico. The fund's objective is to invest in companies that will transform the future of Latin America and create new opportunities for its people.
Why Latam? A developing market with a growing middle class and increasing disposable incomes, Latin America accounts for 10% of the world's population. It is also a fast-growing hub for tech products and services and investors are starting to catch on.
SoftBank has already invested in the region, notably the Brazilian transportation service 99, which is a direct competitor of Uber, and Loggi, a Brazilian delivery service startup. "Latin America is on the cusp of becoming one of the most important economic regions in the world, and we anticipate significant growth in the decades ahead," said Masayoshi Son, chairman and chief executive officer of SBG, in a statement. As access to technology and internet usage increases, e-commerce is a booming industry, rife with opportunities.
Looking to form a tech startup in Latam?
Anyone looking to create a startup in Latin America will be excited by the buzz in the region. Opportunities to gain support through accelerator programs and funding from venture capitalists are encouraging for those starting out. Countries are facilitating and inviting investment from abroad. Chile, for example, has created an initiative called Visa Tech to provide visas for tech innovation services within 15 working days. Setting up your HQ locally has a wealth of benefits including talent acquisition, better localization of products and access to country-specific support. The region provides opportunities to capitalize and innovate on the regional demographics such as a fast-growing smartphone usage and a receptive market of early tech adopters. Latin America is full of untapped markets and opportunities waiting to be exploited. There's great momentum as startup hubs are being created which makes for an inspiring and exciting environment to work in.
How does it impact current tech startups?
As the Latam tech sector continues to be a willing recipient of investment, the region attracts more highly-skilled tech expertise. This promotes the area as a hub for knowledge transfer and encourages firms to set up shop in Latin America and reap these benefits. These spillover effects are good news for tech startups already established in Latin America. Collaboration between local and foreign firms can boost a startup's viability and productiveness. A growing tech industry helps to promote the field of technology at an educational level and improve a country's talent pool available to firms for hire.
Public and private accelerators who share a common goal have the potential to collaborate with one another. As governments continue to allocate funding to this sector, resources and expertise are being shared with private accelerators. This is to the benefit of everyone as startups can seek more effective assistance and mentoring from a variety of organisations. The desired result is that more startups become successful and move along the business life cycle. The spotlight on the Latam tech industry also spurs investor interest and may gain funding for startups previously dismissed by traditional accelerator programs.
How does this investment benefit the region?
The investment is a boost of confidence for the region. Investors who may be considerating a business expansion or funding a startup will be motivated to see such substantial investment. The attention will also help countries that close comparatively fewer deals than Brazil, such as Argentina, Chile and Colombia catch the eye of venture capitalists. This sort of investment coupled with government accelerator and incubator programs is the recipe for growth. As success stories continue to emerge, this injection of funding will help to propel Latin America forward as a world renown tech hub.
The opportunities for startups to incorporate a company and innovatively solve societal and local problems in Latin America are plentiful. Large populations provide opportunities in the numbers. Lack of participation in banking services, a large rural population and inequities in healthcare are just some of the areas startups are starting to target. "FinTech" is a huge industry in Latam that looks to bridge gaps created by financial services. Delivery focused startups like Corner Shop and Rappi combat inefficient transport systems and traffic issues by bringing products to customers. Other startups looking to improve productivity and sustainability within different industries also warrant the interest of investors. The benefits for the population are far-reaching. A diversified range of products and services provide variety and lower costs for consumers.
The creation of jobs not only in the tech sector but in a wealth of complementary sectors is good for the economy. Due to the lower cost of living than other tech hubs, such as Silicon Valley, mean wages are lower and startups are cheaper to fund. This is an attractive consideration for foreign investors and those looking to hire the right talent for their business. Local staff in startups ensure market awareness, cultural understanding and bridge language barriers. Latam startup success stories show this clearly. Despegar is Latin America's answer to Expedia, as 99 is Brazil's Uber and MercadoLibre is the region's version of Amazon. The localisation of products and services is an invaluable asset and this brings business to the economy.
Foreign firm's commitment to Latin America also works to strengthen trade ties between countries and influence preferential trade agreements. As more governments look to facilitate the visa process for startups, it is becoming easier to access business opportunities abroad. Such investment also incentivises countries to improve their own physical and technological infrastructure to facilitate this growth and keep up with global standards of development. This a benefit to the wellbeing of a whole country's economy.
What next?
Latin America is currently in the midst of an investment storm and startups and those considering one should take action now. Reaching out to a local firm to help you get started can help give you a soft landing in a foreign market. Outsourcing legal requirements and accounting services leave more time to innovate and focus on your idea. SoftBank's major investment is a huge opportunity for the region that can't be ignored. Those sitting on the fence should act quickly to grab a piece of the action.