​SocketMobile is the Tool Helping Turn Small Businesses into Big Businesses
Stephen L Kanaval Follow |

Mobile barcode scanners are no longer the pistol-gripped, red-laser flashing devices of years past. Scanner technology has rapidly evolved to allow for Bluetooth connection along with all-day battery life. One of the most popular brands on the market is Socket Mobile Inc. SCKT.


Socket Mobile's diverse array of scanners are growing especially popular for millennial small business owners. The company's model consistently receives rave reviews on Amazon with comments like this: "This item is fantastic. I do arts and crafts shows and have developed bar codes for my inventory in Square Store. Rather than having to price each item with a tag or looking it up all I need to do is point and shoot and it is registered. Several of my customers at the show thought it was great since I was the only one with a scanner" (via Tom Billone, a verified purchase on Amazon).

Of course, this is only one review among many, but this review encapsulates SCKT's business model: the customer has a Square account and with their Square account they were able to improve their business with barcodes on their products. Then, a Socketmobile scanner allowed them to sell products fluidly in a fast-paced sales environment. And, all of this was due to SocketMobile's vital relationship with developers.
A Scanner Designed for Modern Business
The company has well developed partnerships with the most popular point of sale apps - Square, Shopkeep, Shopify, TeamWork Retail, Lightspeed and Vend - and these POS apps recommend their customers use a SocketMobile product.
All images are taken from the company's website
Since SocketMobile's relationship is with the developers, the company is agnostic to sector or industry and can fluidly work for small businesses to large-scale logistics operations. The latter is demonstrable when you look at a snapshot of the company's customer list: Verizon VZ, Lockheed Martin, GE, Google GOOG, Facebook FB, Kaiser Permanente, Abbott, Pepsi, Taco Bell, Home Depot and the list goes on.
According to the company's own words, they are the "appcessory" of choice for mobile point of sale.
In fact, the company has been working with developers of point of sale and logistical operators since the beginning, which is why the company is leading name in the companion scanner market. Overall, the total mobile barcode scanner market is $124 million with a CAGR of 7.2% and SocketMobile continues to expand its reach into more sectors of this market.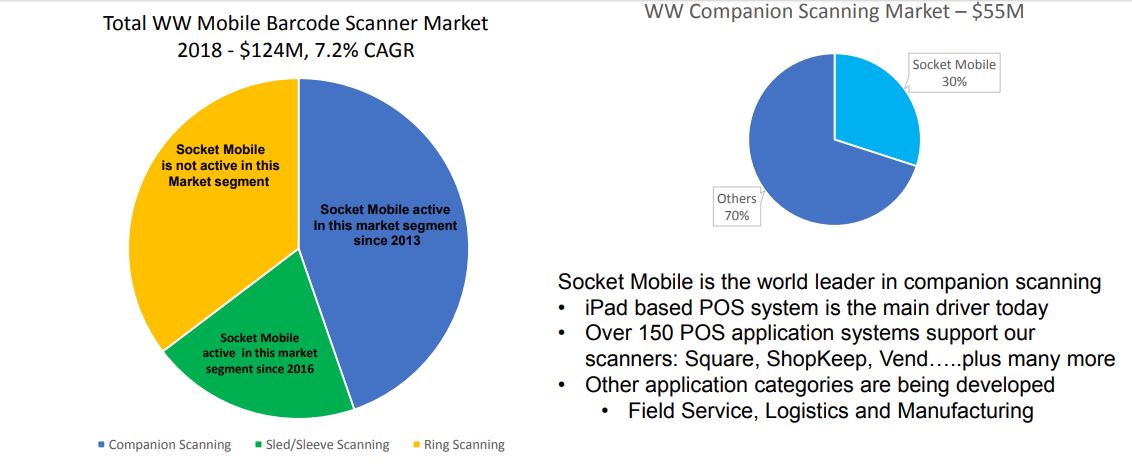 "We have always been early, but today we are in the right place at the right time," said SocketMobile CEO Kevin Mills. "What we are really good at is collecting the data - whether it is from a barcode or a smart phone - we are really good the capture and delivery mechanisms that capture the data."
SocketMobile has just rolled a new line of products that are remarkably better than their previous models. The company's S700 or SocketScan has an extended battery life accommodating full work days along with robust Bluetooth long-range connectivity. The newest SocketScanner, the S840, is one of the smallest and lightest 2D barcode scanners that can fit in your pocket or the palm of your hand when attached to a smartphone.
"Socket Mobile recognizes the advantages and demand for 2D barcode scanners, but understands the typical 2D imager carries an intimidating price, said James Lopez, Vice President of Marketing. "Similar to our D740 and S740, which have been very well received, we intend to break the mold with the S840, and be the affordable, attachable 2D option in the market."
With operating results that continue to trend upward, SocketMobile is on the right side of the mobile business revolution. The company is easy-to-use for growing business owners looking for a performance scanner as they grow, but also perfect for established businesses just looking to upgrade their inventory tracking and data analysis.
Stock price data is provided by IEX Cloud on a 15-minute delayed basis. Chart price data is provided by TradingView on a 15-minute delayed basis.
DISCLOSURE: The views and opinions expressed in this article are those of the authors, and do not necessarily represent the views of equities.com. Readers should not consider statements made by the author as formal recommendations and should consult their financial advisor before making any investment decisions. To read our full disclosure, please go to: http://www.equities.com/disclaimer.
Trending Articles
Market Movers
Sponsored Financial Content