Based on the Bull & Bear Tracker's signal going from RED to GREEN before the market's close on Friday November 2nd market volatility is likely to decline for the US midterm elections and the foreseeable future. Since there are typically 50% retracement rallies for significant and sharp declines, it's quite possible the S&P 500 could work its way back to at least 2800 before the index resumes its downward direction. Even though the Bull & Bear Tracker's signal is now GREEN the probability is high that 2018, will be S&P 500's first decline for a year since 2008. It's for two reasons:
For October the S&P 500 declined by 7% and the NASDAQ by 9.2% from their September closes. This resulted in the end of month mutual fund and client statements depicting a decline of greater than 7%. The larger than normal decline as compared to less than 4% for both February and March will increase selling pressure that will be caused by mutual fund liquidations.
Individual investor bullish sentiment increased by almost 10 percentage points from 27.97% to 37.93% for the week ended November 1st as compared to the week ended October 25th. The reading is the second highest since September 6th. The only higher reading was the October 4th reading of 45.66%. Most importantly, the neutral sentiment reading of 27.59% was the lowest since the February 1, 2018 reading of 27.59%. This indicates that individual investors who had been on the sidelines believe that there is a buying opportunity. The chart below depicts what happened after February 1st.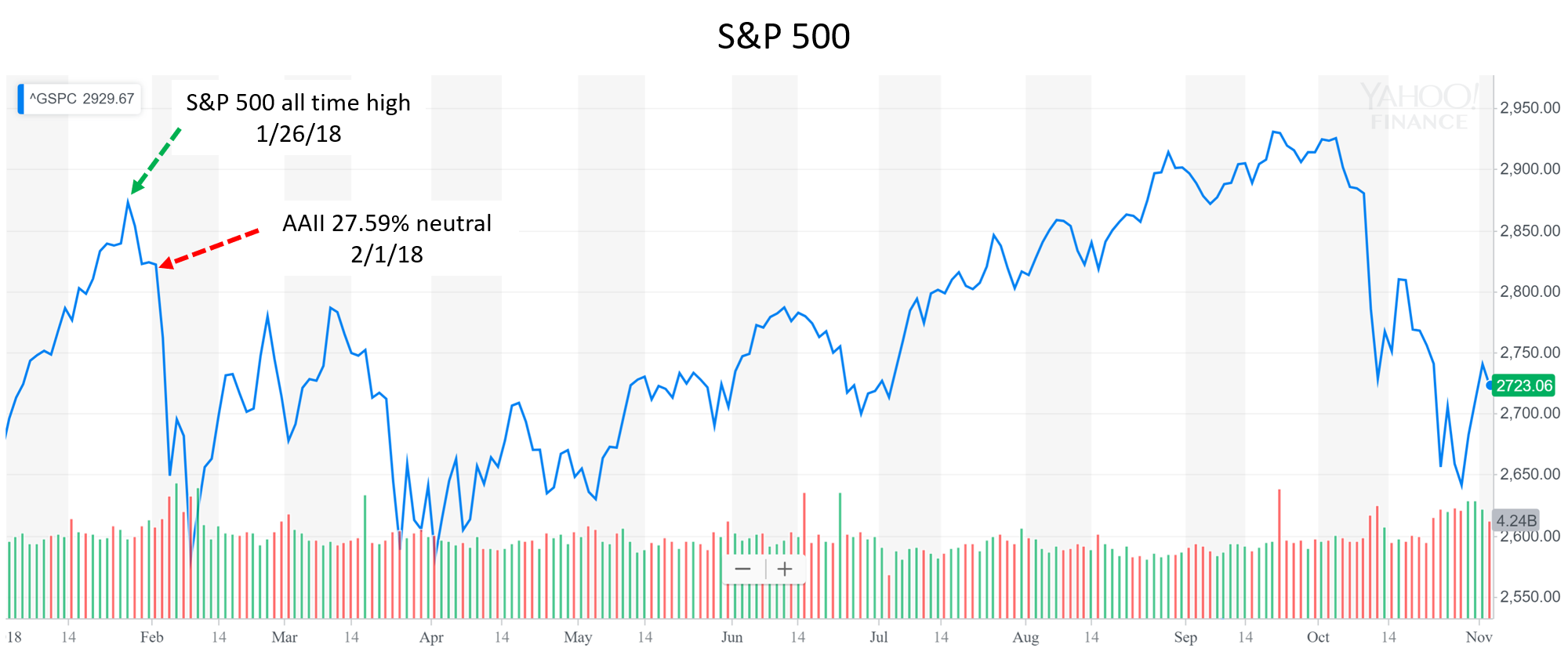 Now that the secular Bear market is underway, I highly recommend the Direxion Daily S&P 500 Bull 3X Shares (SPXL[ARCA] ETF be utilized to capitalize from the Bull & Bear Tracker's GREEN signal. Investors should also sign up for the Bull & Bear Tracker's alerts which are currently freely available at www.BullsNBears.com. The Bull & Bear Tracker is powered by an algorithm that I developed which is by best ever. It even trumps my EPS Syndrome algorithm which I utilized to predict the collapse of Lehman, Bear Stearns and Merrill Lynch in my September 2007, Equities Magazine article. See "Have Wall Street's Brokers Been Pigging Out?
The Bull & Bear Tracker is a workhorse since its signals are operational 24/7 and for 365 days per year. Investors can profit from the S&P 500 when it goes up and also when it goes down. The table below depicts that the Bull & Bear Tracker had issued four GREEN and four RED signals since April 9th when it was taken out of retirement. See NIRP Crash Indicator Renamed "Bull & Bear Tracker"; Signal Now GREEN, April 9, 2018.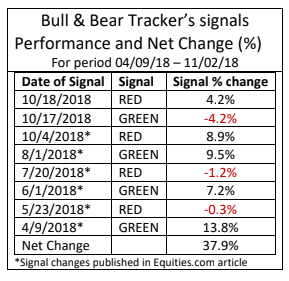 The good news for those who believe that S&P 500 will march to a new high by the end of the year or in 2019 is that the Bull & Bear Tracker has track record for its signal being GREEN for extended periods. From April 9th to October 4th the GREEN signals produced profits of 13.8%, 7.2% and 9.5% for a combined 30.5%.
Below are my October 2018 must-read articles pertaining to why I believe that the market will be substantially lower in the coming weeks and months:
Additional information about the tariffs including videos are available at BullsNBears.com which covers the research categories listed below.
Disclaimer. Mr. Markowski's crash predictions are frequently ahead of the curve. The September 2007 predictions that appeared in his EquitiesMagazine.com column stated that share-price collapses of the five major brokers, including Lehman and Bear Stearns, were imminent. While warnings were accurate, they proved to be premature. For this reason he had to advise readers to get out a second time in his January 2008 column entitled "Brokerages and the Sub-Prime Crash". His third and final warning to get out, and stay out, occurred in October of 2008 after Lehman had filed for bankruptcy. In that article "The Carnage for Financials Isn't Over" he reiterated that share prices for Goldman and Morgan Stanley were too high. By the end of November 2008, the share prices of both had fallen by an additional 60% and 70%, respectively — new all-time lows.