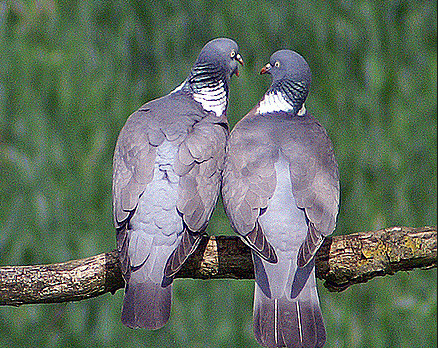 Investing can be a lonely road. So many stocks to follow and charts to study, so little human contact. However, even the most fastidious trader needs time to relax sooner or later, and hopefully, somebody to share that time off with. Fortunately, it's the 21st Century, and all that technology you use to set yourself up with the latest trades can also be used to set yourself up with your algorithmically-approved perfect match!
With Valentine's Day this Sunday (this is your final warning, gentlemen), now's as good a time as any to familiarize yourself with the current crop of dating sites -some of which, as it happens, just might provide intriguing investing, as well as romantic, opportunities. After all, most dating sites are essentially tech start-ups supplying a product with an inexhaustible demand - the need for human connection. With that in mind, here are some of the most intriguing dating apps out there today:
Happn (iOS and Android) -
The market for dating apps is essentially completely flooded at this point, so in order to survive and thrive, an app needs a great hook, and Happn has precisely that. Happn is sort of like a "Craigslist Missed Connections" page, but far less depressing and creepy.
Happn tracks others around you with the app, and creates a timeline of missed connections that you can then review, perhaps eventually even setting up real, in-person meetings with the people you've crossed paths with. Not bad for the more introverted among us.
Bumble - (iOS and Android) -
Bumble is a lot like Tindr (which shouldn't be surprising, it's founders are former Tindr employees). However, with Bumble, there's one notable difference: once a match is made, the woman can only ever make the first move (except of course for same sex couples). For men who tire of constantly reaching out to women who show no interest, Bumble could be a refreshing change of pace.
Luxy (iOS and Android) -
Luxy is highly rated among its users, and offers the opportunity to meet, match, chat and of course date. Much like Tindr (and just about every other dating app these days), you swipe right if you're interested, or swipe left it you're not. Want to sign up? Great! Oh, there's one other thing: You have to earn a minimum of $200K. That's right...as the name implies, Luxy is a dating app for the affluent.
So...maybe once oil rebounds?
HowAboutWe (iOS and Android) -
Along with more well-known apps like OkCupid and Tindr, HowAboutWe is owned by Match Group, Inc. (MTCH). Much like the title suggests, HowAboutWe is focused on getting off your phone and out into the world to do something you and your match agree would be a fun date. Simple enough, and certainly more enjoyable than another night of endless left and right swiping.
The Grade (iOS and Android) -
Do you miss the structure and performance rankings of school? Well, perhaps The Grade can fix that for you. Owned by Snap, Interactive (STVI) The Grade measures eligibility between two potential matches based on a grade...from A to F, based on your messages and pictures. Sounds simple enough - but what about the girls attracted to bad boys getting poor marks? Could be a wrinkle…
Coffee Meets Bagel (iOS and Android) -
The app with the most cutesy title (and in the world of dating apps, that's saying something) is also actually based on a pretty clever concept. With Coffee Meets Bagel, you get a "bagel" match every day, based on personal preferences. If you both like each other, a private chat is set up...which expires after a week. It could be the ideal dating app for those who feel overwhelmed by the sheer number of people vying for attention.
Granted, there are almost an overwhelming number of web-based options for finding your soulmate, but that's the free market for you - where there's a need, you'll have countless people trying to fulfill it, until the perfect fit comes along. Not unlike a great relationship, come to think of it...
DISCLOSURE: The views and opinions expressed in this article are those of the authors, and do not represent the views of equities.com. Readers should not consider statements made by the author as formal recommendations and should consult their financial advisor before making any investment decisions. To read our full disclosure, please go to: http://www.equities.com/disclaimer