Each month, Stan Harley publishes The Harley Market Letter, a newsletter that provides advanced technical analysis of stocks, bonds, and precious metals. Below, you'll find key highlights from the most recent Harley Market Letter update.
Stalking Pivotal High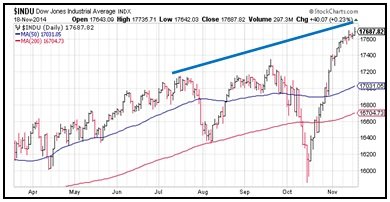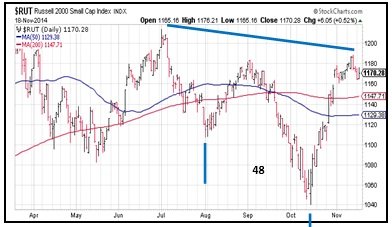 At 42 trading days (TDs) from the crest of the prior 39.8 TD cycle high – and 82 trading days from the prior 79.6 TD duplex high – the time parameters are there for the next important pivotal peak. I note that we have the Dow Industrials, the Dow Transports, and the S&P 500 at record highs, yet still conspicuously absent from the new high roster: the New York Composite, the NASDAQ Composite, the Russell 2000, and the European indices – notably the U.K. FTSE-100. If the 79.6 TD duplex function (two consecutive 39.8 TD cycles) were to expand to 89 trading days – a very plausible possibility – that would suggest we could have about another six trading days to go before we reach my expected cyclical peak.
Given the breakout today by the Dow and S&P, I'm inclined to view that as a very possible scenario. I also note that the prior low-to-low sequence spanned 48 trading days – a repeat of that 48 TDs from the 19-Sep-14H would also suggest a peak in the vicinity of 26-Nov-14 – with SPX at roughly 2,062.50. Given that modest upside risk in price, I'm inclined to take that continued measured risk.
Want to learn more from acclaimed market analyst Stan Harley? Visit his site and subscribe to the full Harley Market Letter. You can also learn more from Stan this Friday, Nov. 21st, where he will be hosting a workshop called Exploiting Market Cycles - The Key to Successful Investing at The International Traders Expo in Las Vegas.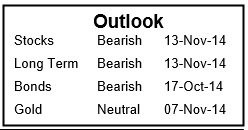 DISCLOSURE: The views and opinions expressed in this article are those of the authors, and do not represent the views of equities.com. Readers should not consider statements made by the author as formal recommendations and should consult their financial advisor before making any investment decisions. To read our full disclosure, please go to: http://www.equities.com/disclaimer