Silver has been down each year this entire decade except for one year. That can be disheartening and removes focus for investors hoping for the growth of yesteryear, but if you look at the performance of silver in this decade alone, you can see how holding the metal is a lesson in patience.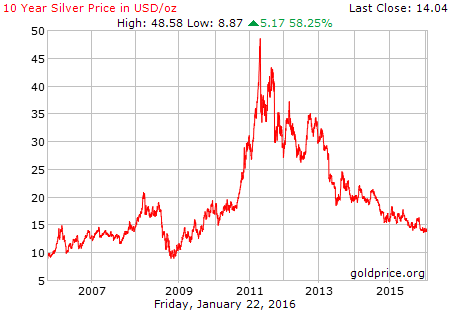 When you look at the price action above, you realize that without the irrational move in 2010 and 2011 the 10-year values for silver show that the metal spent so little time over $30 that it is an outlier for historical trading. In short, silver didn't really belong above this price and we may not see that again in our lifetime. I would be willing to make a wager today that we I will never see $50 in my lifetime, and I doubt the metal has 100% plus move in it. It would take extraordinary circumstances, but that is why investors buy this asset class. There is no equity bug, nor bond bug, but there is a gold and silver bug.
Having said that, it is important to look at that same outlier range in gold, and logically we see the same thing. Shorting gold was one of the better investment decisions any manager could make if you shorted the 18-month extension in 2010 and 11. If the portfolio manager stayed with this trade, or sold the equivalent ETF in (GLD), they have a +50% winner somewhere on the books.
I would make similar bets these metals will never reach irrational levels no matter what "flight to quality" asset class the world chases. For alternating years it was only oil that saw the terror premium fully removed and prices back off to under $30 for crude. Many years ago, it was the 30-year treasury bond, and after stocks crashed in the 80's it was Put Premium in US Equity Indexes which occupied the "flight to quality" trade. The 30-Year treasury is essentially gone, and the Put Premium in Equities has been a risky place to be since 2009 and until 2016 has been a loser.
The only true hedge was to own Smith & Wesson (SWHC) who have been up 100% five years running. This is a lesson in the ever changing chase for a safe harbor, and shows where the flight to quality shift ended up. Few made the bet, choosing instead a single gun stock. But as usual, it was the unlikely play that was a winner. Metals will always be a large part of investing strategy, but let us not fall for the irrational exuberance that occurred in 2010 and 2011. It was a mirage.
I took to reviewing a few companies who are at an upcoming conference for us in Vancouver (which is what got me on the metal thing), and below is my quick take on these companies. I hope to learn more about them as we focus more on Canada in 2016.
Nova Gold - NG.TO 1.2B valuation $3.80 Nova has been range trading for much of this decade. They are liquid and have many shareholders and have a $1B + valuation while they explore and develop mineral properties in Canada and the United States. The company primarily explores for gold, silver, and copper deposits. Its flagship project is the 50%-owned Donlin Gold project covering an area of 81,361 acres located in the Kuskokwim region of southwestern Alaska. The company was formerly known as NovaCan Mining Resources (1985) Limited and changed its name to NovaGold Resources Inc. in March 1987.
Osisko Gold Royalties - OR.TO 1.2B valuation $13.14 Osisko extended its credit facility recently and is the less liquid sister of the Billion dollar plus valuation club. The have a tighter shareholder base than Nova and is headquartered in Montreal. Much of the 2015 discussion revolved around Private equity and pension funds providing funding to the slumping mining sector through metal streaming deals as dedicated funding sources struggle to raise their own cash, industry sources said.
With many miners unwilling to issue equity given their weakened shares amid falling commodity prices, streaming may help them avoid credit downgrades and fund new mines. About $4.5 billion worth of these deals, an alternative form of financing where miners are paid cash upfront for future output, have been inked this year, making 2015 a record year for metals streaming as miners slash debt five years into a commodities downturn.
MAG Silver (MAG.TO) 626m valuation $9.02 has been liquid yet sideways as we see the metal market move grind lower, shareholders point to missed earnings and a tight trading range since January 2014 and a frustrating two year 3 dollar trading range makes portfolio managers ask where they can get performance. Liquidity is just fine here but a focus on the upcoming quarterly revenue picture and a discussion about what catalyst is needed to get shares above $11 is what any smart investor would ask if they were to take the plunge here. Those of you who own shares or follow MAG know the story. But these are stories I like, and ones worth investigating.
Below are some smaller stocks I will also get a chance to meet at this upcoming conference:
Pilot Gold - PLG.TO 25m valuation .23 cents had a tough 2015 down near 60% with some year end tax loss selling noted by a huge spike in volume. The question for this company is about leadership when in November the company announced a change with a mandate while the Board of Directors initiated a recruitment process with the objective of selecting a new full-time CEO with deep industry experience.
To shore up the change Robert Pease guided the existing management team in advancing the current portfolio and evaluating new opportunities in the market. The company said in a press release, " Mr. Pease is supported by a strong team of technical and capital market professionals that will continue to apply industry leading expertise and business savvy on behalf of shareholders". This is clearly something to watch
SilverCrest Metals - SIL.V $7m valuation .16 cents is a new entry to the field and launched with an over subscribed private placement raising xxx SilverCrest is a Canadian precious metals exploration company headquartered in Vancouver, BC, that is focused on new discoveries, value-added acquisitions and targeting production in Mexico's historic precious metal districts.
The Company is led by a proven management team in all aspects of the precious metal mining sector, including experience and success in applying a responsible "phased approach" business model in taking projects from discovery, finance, on time and on budget construction, and production with subsequent increased value to shareholders. The Company was formed following the acquisition of SilverCrest Mines Inc. by First Majestic Silver Corp., which remains a shareholder in SilverCrest Metals Inc.
DISCLOSURE: The views and opinions expressed in this article are those of the authors, and do not represent the views of equities.com. Readers should not consider statements made by the author as formal recommendations and should consult their financial advisor before making any investment decisions. To read our full disclosure, please go to: http://www.equities.com/disclaimer