Precious metals moved visibly lower yesterday, but we can't say the same about gold and silver mining stocks. The miners refused to follow the metals lower and the question is if this is a sign of a local (or major) bottom.
In our opinion, it's too early to say so. Miners did outperform yesterday, but due to the recent major technical development (namely, the breakdown below the key long-term support line), the implications are not necessarily bullish.
Let's take a closer look at the HUI Index chart (chart courtesy of http://stockcharts.com).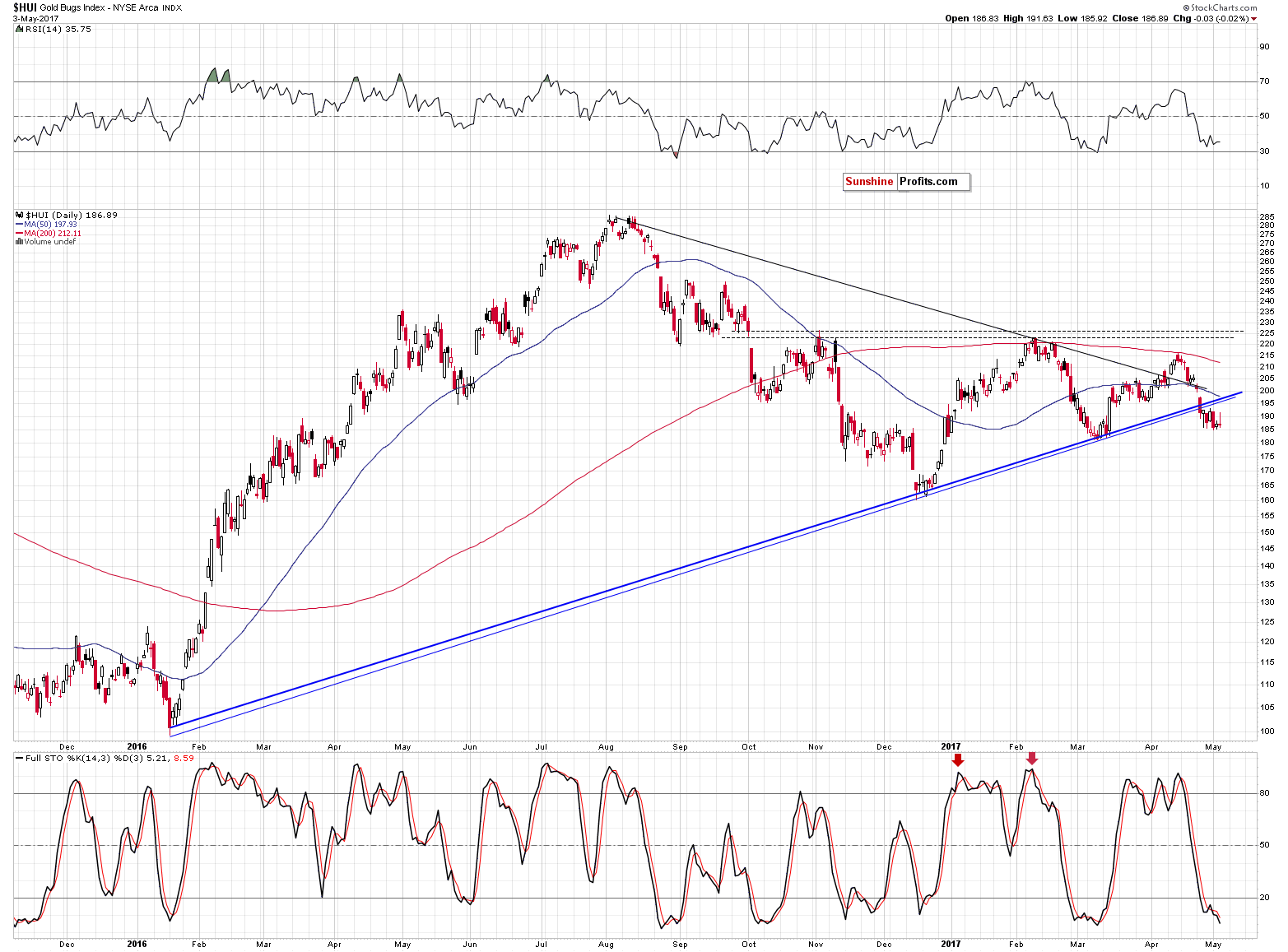 In a recent Gold Trading Alert, we wrote the following:
Wednesday's decline immediately confirmed Tuesday's comments, but we may need to wait an extra day or so for another wave lower. Why? The key breakdown (the one in gold stocks that we focused on in yesterday's alert) may need to be verified. As epic as the above may sound, it doesn't actually seem to be a big deal.
(…)
How high could gold miners rally based on the reversal? Most likely back to the previously broken support line and the previous lows. Both coincide close to 195, so a move to this level would not surprise us and it would not change anything as it would be very small.
If the HUI Index closes today's session above 195, it could imply another short-term upswing before the big plunge. However, a lot would depend on what happened in other markets – gold miners themselves have visible resistance at about 200 (declining resistance line and the 50-day moving average), so any resulting rally could easily end right there. All in all, it doesn't seem that any bullish implications of the reversal are strong at this time.
The above puts yesterday's "strength" into perspective. It was not a strong reaction per se – it was a weak way for mining stocks to rally and verify the previous breakdown. They didn't even correct to the lower of the mentioned levels (195).
What does it imply for the following days? Generally, nothing new. Miners could still move higher to the mentioned resistance area and it would not change the bearish outlook for miners that is based on the breakdown below the key rising support / resistance line and multiple other technical factors (i.a. silver's likely decline). However, at this time, such a reversal is less likely and we have already seen a form of consolidation – a small ABC (zigzag) pattern (with the first high on April 28 and the second one yesterday), so technically, the main move (decline) can now return. The overall implications for the PM market remain bearish. Naturally, the above could change in the coming days and we'll keep our subscribers informed, but that's what appears likely based on the data that we have right now. If you enjoyed reading our analysis, we encourage you to subscribe to our daily Gold & Silver Trading Alerts.
Thank you.
Sincerely,
Przemyslaw Radomski, CFA
Founder, Editor-in-chief, Gold & Silver Fund Manager
Gold & Silver Trading Alerts
Forex Trading Alerts
Oil Investment Updates
Oil Trading Alerts